Description
The Andrew Olle Media Lecture is an annual black-tie dinner that focuses on the role and future of the media.
The lecture is held in honour of one of the ABC's iconic broadcasters, Andrew Olle. Following his death from a brain tumour in 1995, a fund was set up for brain cancer research. The money raised on the night goes directly to the Olle Fund for Brain Cancer Research.
This year's lecture will be delivered by multiple Walkley Award-winning sports journalist Caroline Wilson. Wilson was the chief football writer for The Age for 19 years and was the first woman to cover Australian Rules football on a full-time basis. She is a dual Walkley Award-winner for her coverage of the Essendon Football Club drugs scandal in 2013, and was named the Graham Perkin Australian Journalist of the Year in 2014.
"I'm tremendously honoured. Andrew was an inspirational pillar of Australian journalism and broadcasting and I so look forward to trying to do justice to his legacy at such an important event, and during what is clearly a pivotal period in media history," said Caroline Wilson.
As one of Australia's most experienced journalists, Wilson's lecture will cover the role of the media in holding institutions to account and her thoughts on unwinding male domination in the sports arena.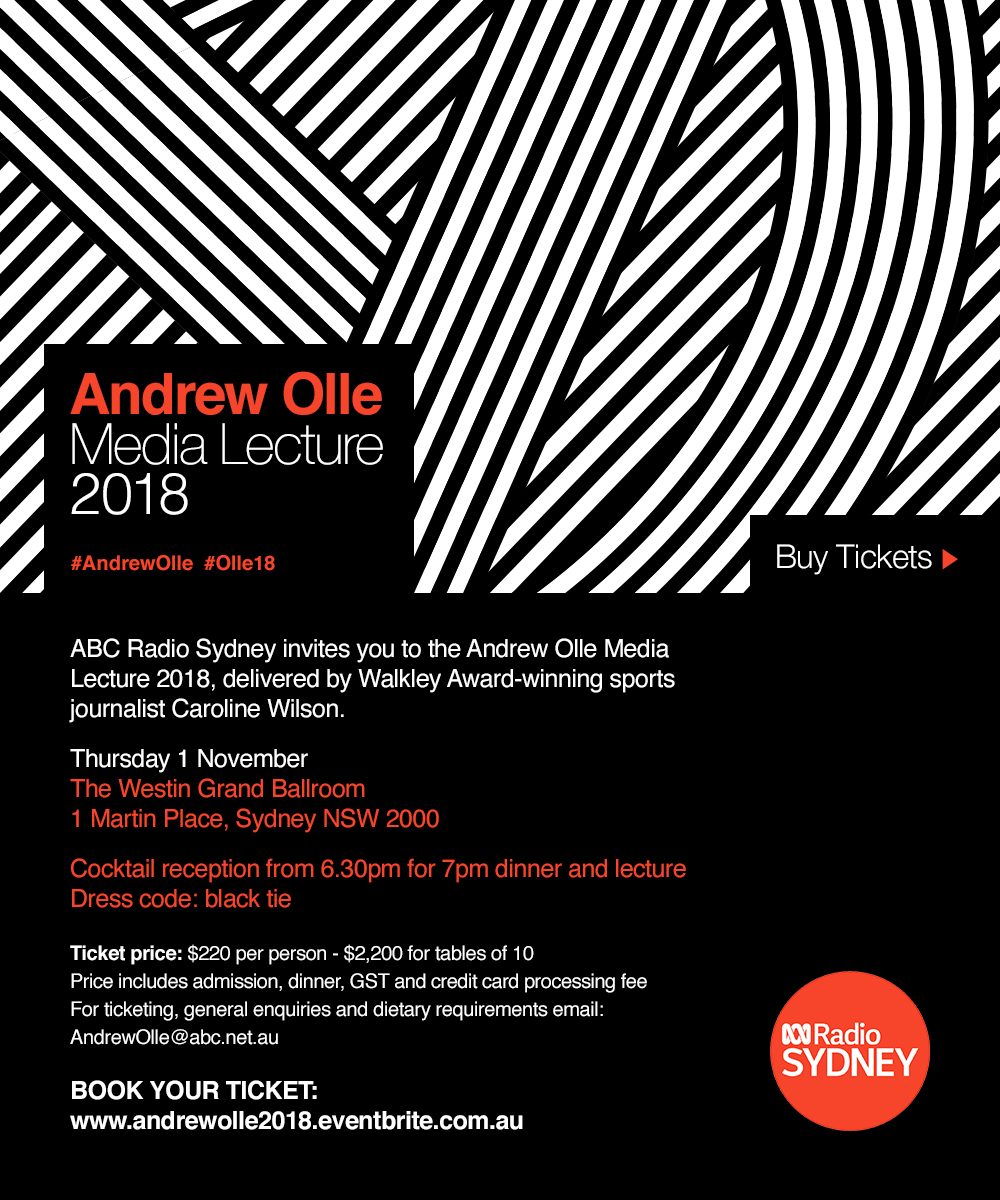 FAQs
Q. Are tickets refundable?
A. We don't offer refunds for the Andrew Olle Media Lecture. You're welcome to find a replacement, or donate the ticket price to the Olle Fund for Brain Cancer Research.
Q. I want to buy a table, but don't have all the names yet. Is that OK?
A. Yes, you can book a table under an organisation or a single person, then confirm all attendees via andrewolle@abc.net.au closer to the date.
Q. My friend/colleague has booked a ticket. Can I request to be on their table?
A. Yes, we will facilitate if there is room, please contact andrewolle@abc.net.au.
Q. There are 11 of us, can we fit one more person on the table of 10?
A. Due to venue requirements we are only able to facilitate tables of 10.
Q. Dietary requirements
A. The Westin caters to a wide range of dietary requirements. Please contact andrewolle@abc.net.au and let us know your requirements once you've booked. Please note that dietaries must be confirmed at least four days prior to the event.
Q. Is there parking at the venue?
A. There is a paid Secure Parking below The Westin at 1 Martin Place, Sydney. Further details can be found here.