Artist, Rosemary Mibus, helps you achieve exciting results with Alcohol Ink. This is a 2 day workshop for adults.
About this Event
Description
Vibrant inks are an adventure in colour waiting to be explored. They have a mind of their own, but the resulting surprise and joy of their movement will excite the artist within you. From animals to abstract, the focus of the weekend will be to gain a comfortable mastery of the inks. In the process, we will explore concepts such as transparency, luminosity, vibrancy, colour, interplay of dark and light, movement and simplicity. Everyone can create something beautiful with alcohol inks which makes them accessible to everybody.
Dates:
Saturday 27 February 2021: 9:00am to 4:00pm
Sunday 28 February 2021: 9:00am to 4:00pm
Don't want to pay online? Give us a call on 07 4632 2727.
To view the materials list please click here.
*** Murray's Art and Framing has a full selection of art supplies, if you need them for your materials list ***
Murray's Art and Framing and Myart Studio comply with the Government contact tracing requirements. For more information go to:
https://www.covid19.qld.gov.au/updates/important-changes-to-record-keeping-for-contact-tracing
Participants will be required to sign in.
About the Tutor: Rosemary Mibus
My name is Rosemary Mibus and I love beauty and colour. To work with colour in many forms – garden beds, clothing, home décor, and in more recent years, painting – is a joy and satisfaction.
The rhythmic energy of the natural beauty around us can be interpreted with bold colour, playful rhythms and emotional impact. I love to see spontaneous colour dance across the canvas.
Being particularly drawn to compositions that emphasise the simplified nature of the outdoors, my art journey has consolidated as styles and mediums have been trialled.
When I "retired", I was "refired" for passions not possible while working and parenting. My journey led me through art-in-bark, Hebel sculpture, watercolour, pastels, pen and wash, mixed media, acrylics and charcoal. Currently I am moving between alcohol inks, resin and large canvases of acrylics.
I love to demonstrate the dappled quality of light filtering amongst trees, with a mosaic-like application of paint. My hope is to convey my vision directly to the canvas without hesitation, to bring lush freedom of the open air to the viewer.
Regularly I open my home studio to others wanting to experience the magic of alcohol inks. Our Saturday, or holiday, workshops are met with great enthusiasm and beautiful finished works.
A one-day workshop at Crows Nest school and an invitation to tutor students in the art course at that school were a highlight of last year. I have also been invited to tutor in acrylics and alcohol inks with the Artists of Crows Nest group.
As a trained teacher, I am loving the opportunities to learn, experiment and teach others as I grow in artistic skill.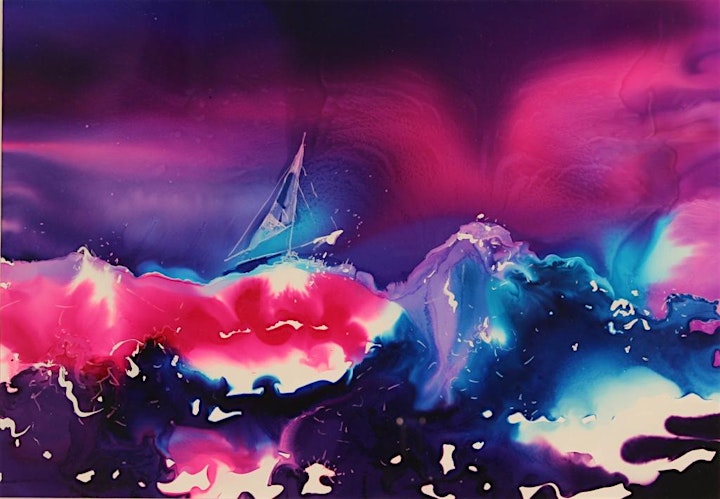 MyArt Studio Workshop booking and cancellation policy
The 16 Duggan Street entrance to the classroom will be opened 15 minutes prior to commencement of the class. Students are responsible for their own artists materials unless otherwise stated. A materials list is available for each class and will be emailed to you once your booking is confirmed. Materials lists are also available on our website.Tea and coffee will be provided, and students have access to the kitchenette and toilet facilities. No parking facilities provided. Street parking is time limited and shopping centre parking is at your own expense. Classes with outdoor activities are attended at your own risk.
Fees
Please book into a workshop at least one month prior to its commencement if possible. This will secure your spot in the class and allow us to confirm tutor bookings. If there are insufficient number workshops may be cancelled.
Cancellation of enrolment by you
If you choose to withdraw from a course or workshop up to one month before its commencement, you will be charged a $25 administration fee. The remainder (minus Eventbrite fees) will be refunded. If you choose to withdraw from a course or workshop within 1 month of its commencement, you will be charged a $25 administration fee and the remainder (minus Eventbrite fees) will only be refunded if the position can be filled.
Missed Classes
Once a workshop has commenced there are no refunds. MyArt Studio cannot accept responsibility for changes to students' personal circumstances that prevent attendance. Classes missed are the student's responsibility and are non-refundable. Students are not entitled to a discount or 'make-up' class if they miss a class for any course they are enrolled in.
Cancellations of workshops by us
In the event of a class being cancelled due to insufficient enrolments, a full refund will be given.