Description
Tickets are selling

FAST

to the 2016 AIMA conference!
BOOK YOUR TICKETS NOW
MEET OUR MIND-BLOWING SPEAKERS

JUSTIN SINCLAIR
Cannabis and the Endocannabinoid System – breaking through the myths & misconceptions

Justin will be lecturing on the Cannabis plant, its botany, morphology, phytochemistry, some of the major phytochemicals (cannabinoids and terpenes) that are of clinical interest and introducing the Endocannabinoid system and its role in human physiology. He will also be running a two-hour workshop on Integrative Pain Management & Medicinal Cannabis

Justin Sinclair is a pharmacognosist, lecturer and phytochemical consultant for his full biography click here
DR ROBERT SAPER
Integrative Medicine and Health: Historical Trends and Future Opportunities

Integrative Medicine and Health is an emerging field that is growing in acceptance globally. Evidence for this approach is growing but not yet mature in many areas. Facilitators, barriers, and opportunities for how the field can grow and contribute meaningfully to global health will be discussed.

Dr Saper is Director of Integrative Medicine, Associate Professor of Family Medicine; Chair of The Academic Consortium for Integrative Medicine and Health. For Dr Saper's Biography click here
PROF. JULIA RUCKLIDGE
Micronutrients as a Treatment for Psychiatric Disorders: Rethinking the Scientific Paradigm.
Despite the advent of medications and other therapies over the last 50 years, the rates of mental illness have been on the rise rather than a decline. Over the last decade, scientists have been uncovering an uncomfortable truth: What we eat is affecting our mental health. In this lecture, Prof Rucklidge will discuss the recent paradigm shift of using broad based micronutrients to treat psychiatric disorders, reviewing the hypothesized mechanisms of action and the evidence to date.

Julia Rucklidge is Professor of Psychology at the University of Canterbury, Christchurch, NZ for her Biography click here
CHRISTABELLE YEOH
Mitochondrial metabolism and mismatch: an evolutionary perspective.

Our mitochondria are structures we have for evolutionary advantage- affording us enduring energy and survival. We are all familiar with the ATP energy associations of the mitochondria. How about the other aspects of survival however? Are we looking after these? This talk will provide an overview of mitochondrial metabolism, the nuts and bolts of Life and its requirements as Nature has dictated from an evolutionary perspective. This includes not only what and how we feed our mitochondria, but also translating the needs of innate immunity.

Christabelle Yeoh is a General Practitioner with a Masters Degree in Nutrition for her Biography click here
---
Speakers
Click here to see a list of confirmed speakers and topics.
---
Program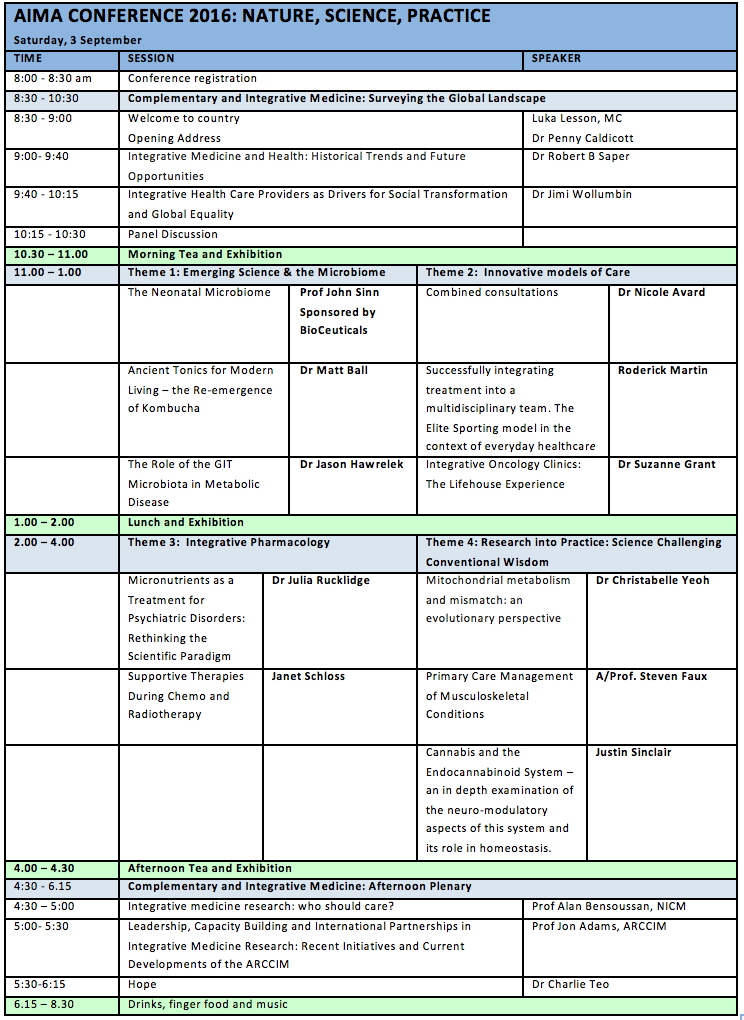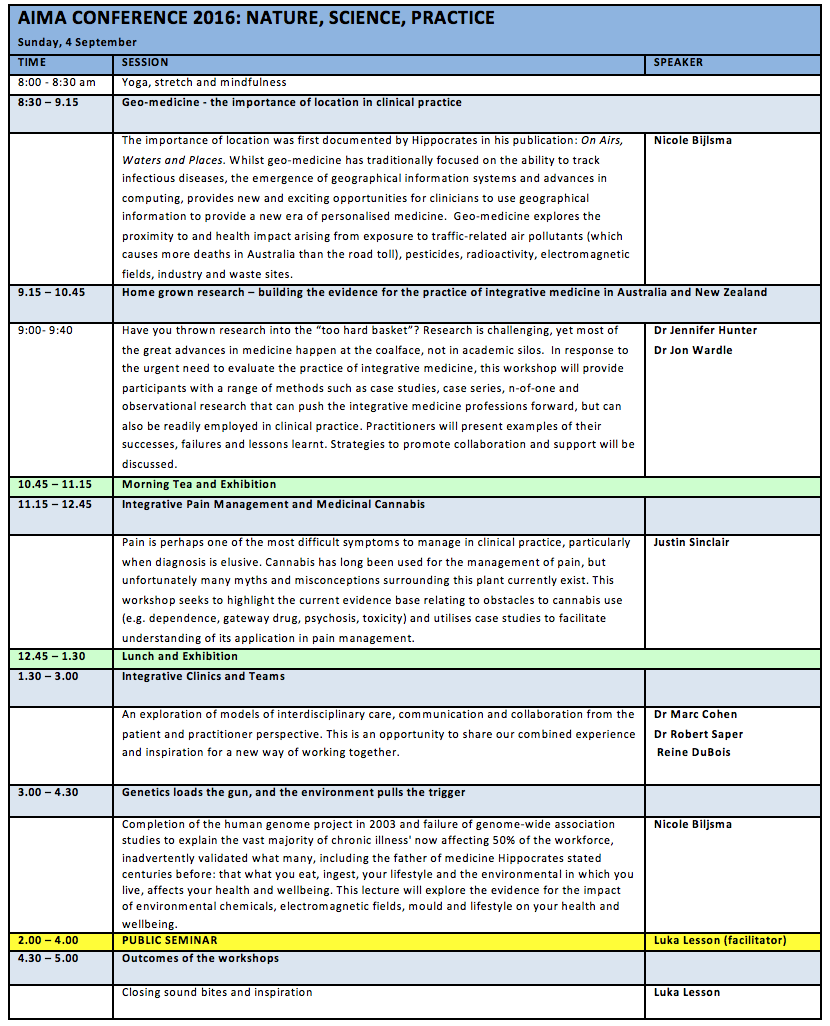 ---
Sponsorship and Exhibition
An expanded trade exhibition will run over both days of conferencing, and there is a range of sponsorship opportunities available. To find out more about sponsoring or exhibiting at the symposium please contact Cressida Hall at admin@aima.net.au
We warmly welcome your contributions to this event.
---
Accommodation
Delegates of the symposium have access to a discounted rate at The Urban Hotel, Newtown.
To book please visit www.theurbanhotel.com.au and book using the promo code AIMA-CMA16.
---
Refunds
No refunds will be available after the 14th of August
Organiser of AIMA Conference 2016
AIMA

Australasian Integrative Medicine Association is a not-for-profit membership organisation representing doctors and other health care professionals who practice integrative medicine.
Integrative medicine is a philosophy of healthcare that combines conventional western medicine and evidence-based complementary medicine and therapies.