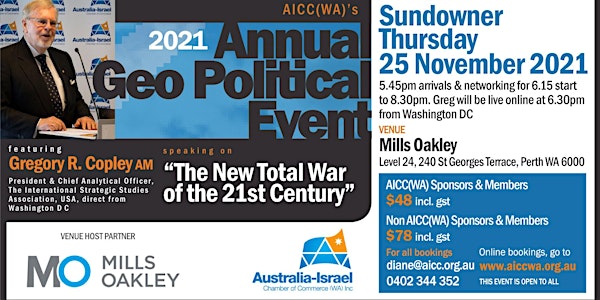 AICC(WA) 2021 Annual Geopolitical Event - sold out waitlist started
Location
Mills Oakley
Level 24, 240 St Georges Terrace
Perth, WA 6000
Australia
Refund policy
Contact the organiser to request a refund.
Eventbrite's fee is nonrefundable.
Sales Have Ended
Ticket sales have ended
We look forward to welcoming you to the event.
EVENT SOLD OUT - WAITLIST STARTED Email diane@aicc.org.au to be added to waitlist
About this event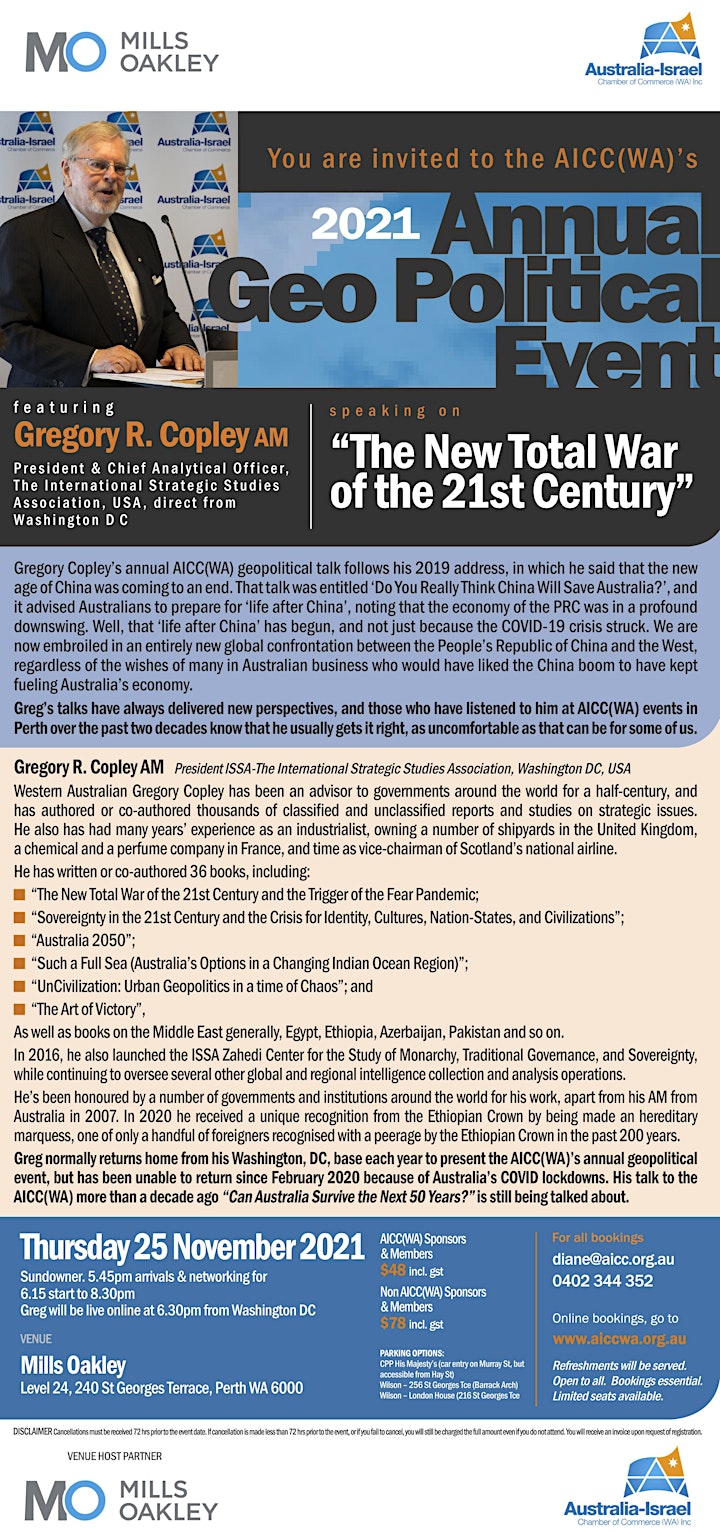 AICC(WA) 2021 Annual Geo Political Event
"The New Total War of the 21st Century"
featuring
Greg Copley AM
President & Chief Analytical Officer, The International Strategic Studies Association, USA, direct from Washington DC.
Gregory Copley's annual AICC(WA) geopolitical talk follows his 2019 address, in which he said that the new age of China was coming to an end. That talk was entitled 'Do You Really Think China Will Save Australia?', and it advised Australians to prepare for 'life after China', noting that the economy of the PRC was in a profound downswing. Well, that 'life after China' has begun, and not just because the COVID-19 crisis struck. We are now embroiled in an entirely new global confrontation between the People's Republic of China and the West, regardless of the wishes of many in Australian business who would have liked the China boom to have kept fueling Australia's economy. Greg's talks have always delivered new perspectives, and those who have listened to him at AICC(WA) talks in Perth over the past two decades know that he usually gets it right, as uncomfortable as that can be for some of us….."
Gregory R. Copley AM
President, ISSA-The International Strategic Studies Association, Washington DC, USA
Western Australian Gregory Copley has been an advisor to governments around the world for a half-century, and has authored or co-authored thousands of classified and unclassified reports and studies on strategic issues. He also has had many years' experience as an industrialist, owning a number of shipyards in the United Kingdom, a chemical and a perfume company in France, and time as vice-chairman of Scotland's national airline.
He has written or co-authored 36 books, including:
• "The New Total War of the 21st Century and the Trigger of the Fear Pandemic;
• "Sovereignty in the 21st Century and the Crisis for Identity, Cultures, Nation-States, and Civilizations";
• "Australia 2050";
• "Such a Full Sea (Australia's Options in a Changing Indian Ocean Region)";
• "UnCivilization: Urban Geopolitics in a time of Chaos"; and
• "The Art of Victory",
As well as books on the Middle East generally, Egypt, Ethiopia, Azerbaijan, Pakistan and so on.
In 2016, he also launched the ISSA Zahedi Center for the Study of Monarchy, Traditional Governance, and Sovereignty, while continuing to oversee several other global and regional intelligence collection and analysis operations.
Greg normally returns home from his Washington, DC, base each year to present the AICC(WA)'s annual geopolitical event, but has been unable to return since February 2020 because of Australia's COVID lockdowns. His talk to the AICC(WA) more than a decade ago "Can Australia Survive the Next 50 Years?" is still being talked about.
He's been honoured by a number of governments and institutions around the world for his work, apart from his AM from Australia in 2007. In 2020 he received a unique recognition from the Ethiopian Crown by being made an hereditary marquess, one of only a handful of foreigners recognised with a peerage by the Ethiopian Crown in the past 200 years.