Location
Forbes Golf and Sportsmans Hotel
17 Parkes Road
Forbes, NSW 2871
Australia
Refund policy
Refunds up to 7 days before event
Eventbrite's fee is nonrefundable.
AGRIBUSINESS TODAY FORUM 2022
About this event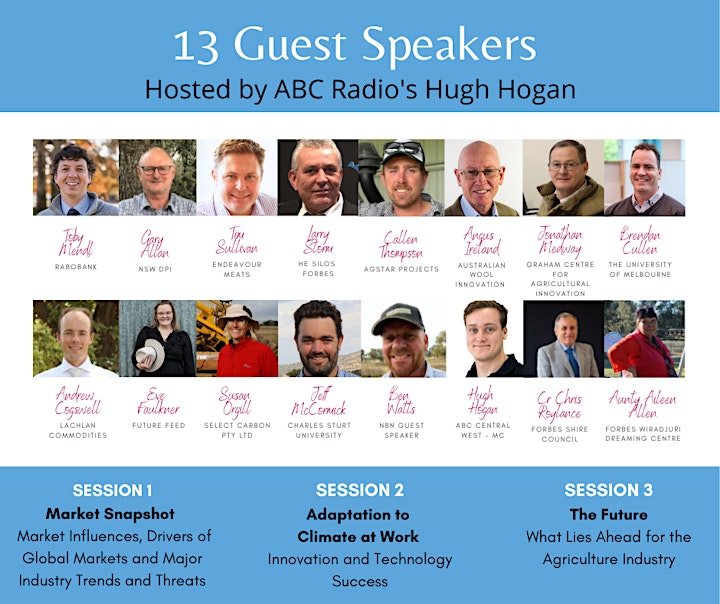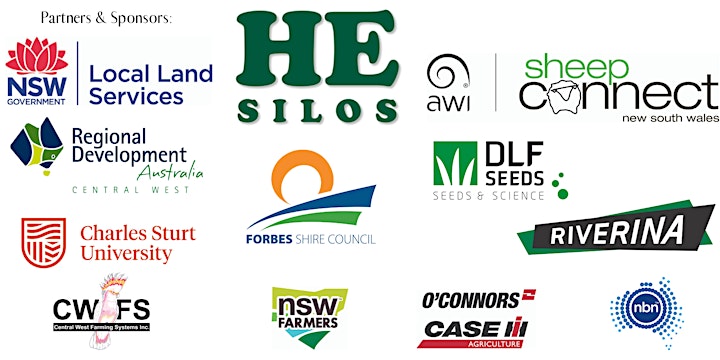 The Agribusiness Today Forum is back in 2022 with the Forbes Golf and Sportsman's Hotel hosting the major event on Thursday, 4 August from 8.30am until 4pm, followed by networking drinks at Sundowners from 4pm - 5pm.
Join us the next day on Friday, 5 August for a field visit and bbq lunch in collaboration with HE Silos, Austasia Animal Products and Advanced Animal Nutrition.
For more than 25 years the Agribusiness Today Forum has brought together expert speakers to give an insight into domestic and international market trends, the opportunities for improving productivity and sustainability, and increasing market growth.
The forum will feature high calibre speakers including representatives from Rabobank, Department of Primary Industries, Future Feed, Endeavour Meats, HE Silos, Lachlan Commodities, Charles Sturt University, AWI Sheep Connect NSW, AgSTAR Projects, Select Carbon Pty Ltd and Meat and Livestock Australia.
FORUM PROGRAM
08:30am Registration
09:00am Welcome, Hugh Hogan, ABC Central West
09:10am Welcome to Country, Aunty Aileen Allen
09:20am Official Opening, Chris Roylance, Deputy Mayor of Forbes
09:30am Session One: Market Snapshot - Market Influences, Drivers of Global Markets and Major Industry Trends and Threats
• Economic and commodity snapshot - Toby Mendl, Rabobank
• Climate change impacts and adaptation options for mixed farms in the Central West – Gary Allen, NSW DPI
• International and domestic livestock markets and the influence of climate change - Tim Sullivan, Endeavour Meats
• Q&A Panel
10:30am Morning Tea
11:00am Session Two Part One: Adaptation to Climate at Work - Innovation and Technology Success
• Effective grain storage techniques used to store grain to ensure global food security – Larry Storm, HE Silos
• Adapting irrigated maize production to the changing climate - Andrew Cogswell, Lachlan Commodities
• Developing an Australian seaweed additive for livestock feed – Eve Faulkner, Future Feed
• Q&A Panel
12:10pm Lunch
01:10pm Session Two Part Two: Adaptation to Climate at Work - Innovation and Technology Success
• Soil carbon; an essential part of resilient farming systems - Dr Susan Orgill, Select Carbon Pty Ltd
• Pastures on mixed farms for a future climate - Jeff McCormick, Charles Sturt University
• Tropical grasses in Central West NSW - Callen Thompson, AgSTAR Projects
• Q&A Panel
02:15pm Afternoon tea
02:35pm Session Three: The Future - What Lies Ahead for the Agriculture Industry
• R&D showcasing wool's sustainable future – Angus Ireland, Australian Wool Innovation
• Spatial Ag - it's use to tackle changes in climate - Jonathan Medway, Graham Centre for Agriculture Innovation CSU
• Adapting to a changing climate, red meat research and development - Brendan Cullen, University of Melbourne
• On-farm IoT enabled by nbn - Ben Watts, nbn Guest Speaker and AgTech specialist
• Q&A Panel
04:00pm Sundowners networking drinks and nibbles
FIELD VISIT PROGRAM
08:30 am Depart HE Silos
08:45 am Site visit hosted by Austasia Animal Products and Advanced Animal Nutrition
11:00am Presentation and lunch with HE Silos
For more information contact Regional Development Australia Central West (RDA Central West) on (02) 63 69 1600 or by emailing commsevents@rdacentralwest.org.au.
Stay up to date by following the Agribusiness Today Forum on Facebook, Instagram and LinkedIn or visit the Agribusiness Today Forum website.