AFIN International Film Festival Brisbane - New Farm Cinemas - Award-Nominated Showcase Screening 1
About this Event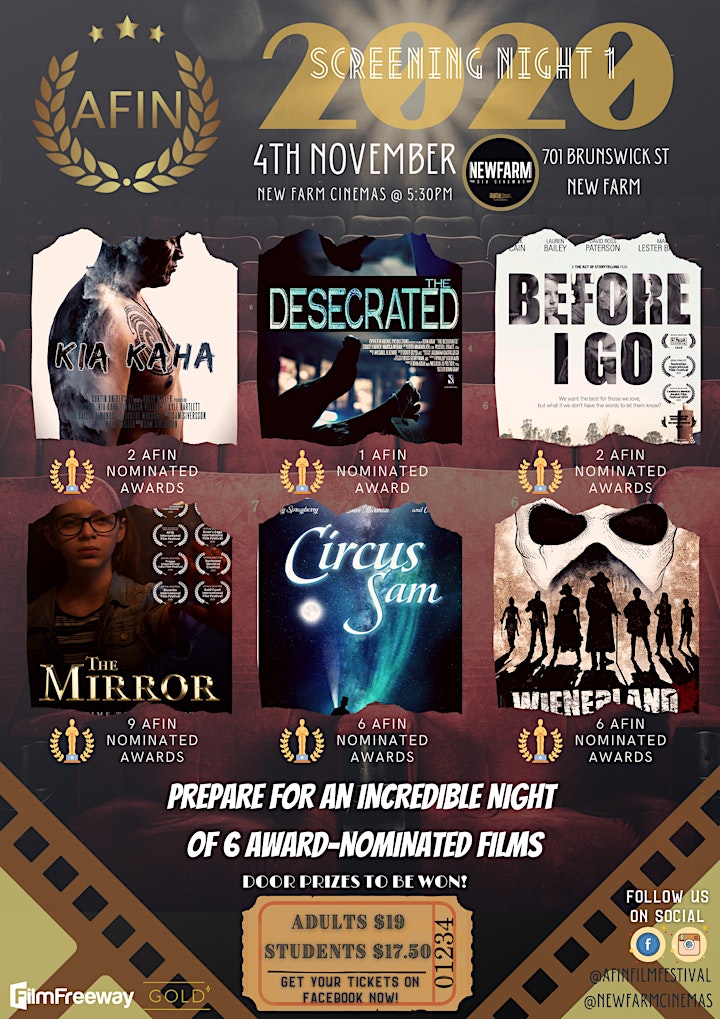 2020 has certainly been a year full of unique challenges, and the COVID-19 Pandemic has hit creative industries such as film particularly hard. But that has not prevented AFIN International Film Festival from curating an incredible line up of films, screenplays and comics for it's 2020 season. AFIN International Film Festival celebrates and showcases excellence in filmmaking and storytelling from emerging and established filmmakers and screenwriters, from every corner of the globe.
We are grateful that here in Brisbane, Australia restrictions are lifting, and we are thrilled to be hosting two screening nights at the beautiful New Farm Cinema showcasing some of the best AFIN nominated films for the year. The festival concludes with a Red Carpet Awards Ceremony at The Triffid, which is an event not to be missed. The awards night is the perfect opportunity to celebrate excellence in film, network, feast, and dance the night away with the live 9 piece Motown band The 8- Tracks.
AFIN INTERNATIONAL FILM FESTIVAL PRESENTS: SCREENING NIGHT 1
Students: Use STUDENTAFIN promo code to receive a discount. Student IDs need to be presented at event check-in, for student tickets.
This is a COVID-Safe event. Tickets and seats are STRICTLY LIMITED. Don't miss out.
NOTE: TICKETS ARE PRE-SALE ONLY AND MUST BE BOUGHT PRIOR TO THE EVENT. TICKETS CANNOT BE BOUGHT AT THE DOOR.
NIGHT 1 SCREENING LINEUP
Note: All film ratings are self-rated by the filmmakers. These films are not yet rated
FILM 1. KIA KAHA (Short Documentary) - Australia - 20 Mins (MA15+)
Nominated For : Best Documentary Short Subject, Best Student Film
Key Cast: Leon Ruri
Story: "A documentary film about a proud Maori father living in Perth, Australia, who draws upon his personal struggle with depression and suicidal thoughts to encourage other men to choose life."
FILM 2. BEFORE I GO (Short Film - Drama) - Australia - 15 Mins (MA15+)
Nominated For : Best Australian Film, Best Australian Actor (Nick Cain)
Key Cast : Nick Cain, Lauren Bailey, David Ross Paterson (The Curious Case Of Benjamin Button), Maisy Lester-Bryant, Josephine Croft (The Legend Of Ben Hall)
Trailer: https://vimeo.com/368174603
Story: "Frank Ryan survived the drought, he put food on the table for his children and a roof over their heads, and he raised them to be strong enough to face the world. And now he has time on his hands... We want the best for those we love, but what it we don't have the words to let them know?"
FILM 3. THE DESECRATED (Short Film - Horror) - United States - 8 Mins (PG)
Nominated For : Best Visual Effects
Key Cast : Stacey Farber (Degrassi: The Next Generation), Marcia Moran (New Girl, Shameless).
Story: "A young morgue attendant working the night shift encounters an unwelcome visitor."
FILM 4. THE MIRROR (Short Film - Drama) - Australia - 20 Mins (PG)
Nominated For : Best Short Film, Best Australian Film, Best Director (Joel Kohn), Best Australian Actor (Matt Day), Best Young Artist (Ingrid Torelli), Best Cinematography, Best Film Editing, Best Sound, Best Visual Effects
Key Cast : Matt Day (Shackleton, Muriel's Wedding), Ingrid Torelli (Bloom), Amelia Westlake
Trailer: https://vimeo.com/401202154
Story: "When a young girl discovers a mysterious antique mirror in the basement of her ailing grandmother's house, she accidentally opens a window between time that allows her to cross over into war-torn Nazi-occupied Poland."
FILM 5. CIRCUS SAM (Short Film - Drama) - Japan - 30 Mins (PG)
Nominated For : Best Short Film, Best Director (Rayner Wang), Best First-Time Filmmaker (Rayner Wang), Best Actress (Ellery Sprayberry), Best Film Editing, Best Sound
Key Cast : Ellery Sprayberry (Teen Wolf), Steve Marshall (Penn & Teller: Fool Us), Cary Elwes (Princess Bride, Stranger Things, Saw), Kyle Card, Edward Zo
Story: "A young girl befriends a mute circus clown, who offers his guidance to help her win the heart of her high school crush."
FILM 6. WIENERLAND (Feature Film - Fantasy) - Austria - 1h 8 Mins (M)
Nominated For : Best Feature Film, Best First-Time Filmmaker (Jan Woletz, Stefan Polasek), Best Actor (David Wurawa), Best Actress (Barbara Kaudelka), Best Ensemble Cast, Best Visual Effects
Key Cast : David Wurawa, Jeannine Mik, Michael Pink (Skyfall), Barbara Kaudelka (Cop Stories), Max Grodenchik (Star Trek: Deep Space Nine & The Next Generation), Clara Montocchio
Trailer: https://youtu.be/ty38uXYL1Mk
Story: "Atalja is chased by Kramer and the Imperial Forces and has to flee Motherstown. Accompanied by Gruben and Keona, she sets forth on a journey through a world full of mysterious creatures, rivalling gangs, and dark secrets."
FAQs
Are you COVID-19 compliant? Yes, we take the health and safety of our guests and staff extremely seriously. We will be complying with our Industry COVID-Safe Plan including (but not limited to) socially distancing and providing sanitising facilities/stations. We will also be capping the numbers for each section according to the square metre restrictions and capacities of the venue.
What happens at the event close? We encourage attendees to stay afterwards, in New Farm Cinema's open sections, to be able to network and discuss the films screened.
Are there ID or minimum age requirements to enter the event? There are age restrictions in place for certain films. R18+ films cannot be seen by under 18's, and they cannot be in attendance at the time of the screening.
What's the refund policy? We understand that COVID has given us some unpredictable times. If the venue is forced to close due to COVID restrictions imposed by the Government and the event is cancelled as a result, tickets will be refunded. We do not offer refunds for any other reason.
IMPORTANT: PLEASE READ THE BELOW INFORMATION
Due to COVID safe protocols, please DO NOT ATTEND the event if -
• you are experiencing, or have recently experienced any COVID-19 symptoms including cough, fever, sore throat, fatigue or shortness of breath
• you, or a member of your household, has travelled overseas in the 30 days prior to the event
• you, or a member of your household, has travelled to a COVID hotspot in Australia in the 30 days prior to the event
• you have been in close contact with a person who is positive for COVID-19
• you are an active COVID-19 case
To limit the spread of the virus we ask you to please:
• practice physical distancing (1.5m+)
• don't shake hands and avoid any other close physical contact where possible
• cover coughs and sneezes with an elbow or tissue
• avoid touching your face, eyes, nose and mouth
• wash your hands or use hand sanitiser after touching any surfaces, eating or drinking
• understand if you are showing any COVID-19 signs or symptoms onsite, organisers have the right not permit entry to site
NOTICE OF FILMING AND PHOTOGRAPHY
When you enter an AFIN INTERNATIONAL FILM FESTIVAL ("AFIN") event or program, you enter an area where photography, audio, and video recording may occur.
By entering the event premises, you consent to interview(s), photography, audio recording, video recording and its/their release, publication, exhibition, or reproduction to be used for news, web casts, promotional purposes, telecasts, advertising, inclusion on websites, social media, or any other purpose by AFIN and its affiliates and representatives.
Images, photos and/or videos may be used to promote similar AFIN events in the future, highlight the event and exhibit the capabilities of AFIN. You release AFIN, its officers and employees, and each and all persons involved from any liability connected with the taking, recording, digitizing, or publication and use of interviews, photographs, computer images, video and/or or sound recordings.
By entering the event premises, you waive all rights you may have to any claims for payment or royalties in connection with any use, exhibition, streaming, web casting, televising, or other publication of these materials, regardless of the purpose or sponsoring of such use, exhibiting, broadcasting, web casting, or other publication irrespective of whether a fee for admission or sponsorship is charged. You also waive any right to inspect or approve any photo, video, or audio recording taken by AFIN or the person or entity designated to do so by AFIN.
You have been fully informed of your consent, waiver of liability, and release before entering the event.