About this Event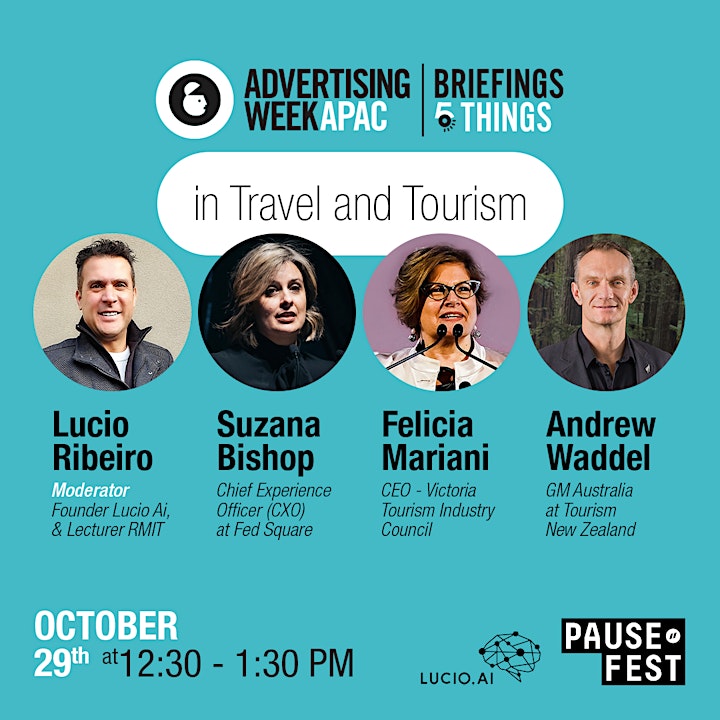 This month we will cover Travel and Tourism.
In partnership with Advertising Week APAC, and Pause Festival, this month we will be diving into the fascinating and challenging world of Tourism:
Advertising Week Briefings 5 Things: Travel and Tourism.
In 2019, Tourism was Australia's fourth largest exporting industry, accounting for 8.2% of Australia's exports earnings. $60.8 billion is contributed to the national GDP from tourism, a 3.4% yoy growth, which was faster than the national economy.
666,000 Australians were directly employed by tourism, 5% of Australia's workforce.
In New Zealand, Tourism comprises an important sector of the national economy – it directly contributed NZ$16.2 billion (or 5.8%) of the country's GDP in the year ended March 2019. It's estimated that 7.5% of New Zealand's workforce is connected to Tourism.
Travel and Tourism have been one, if not the most impacted category during COVID, Revenue in the Tourism industry is forecast to decrease heavily, due to international travel restrictions and limits to domestic travel implemented by state governments, social isolation and loss of tourism jobs.
Speakers:
Suzana Bishop - Chief Experience Officer (CXO) at Fed Square. Suzana has over 20 years' experience in the events industry, including leadership roles with some of Melbourne's most esteemed event organisations including the Melbourne Convention and Exhibition Centre (MCEC), The Australian Grand Prix and The Royal Agriculture Society (Royal Melbourne Show). During her time as General Manager of the Club Melbourne Ambassador Program at MCEC, she led the rebranding and relaunch of the prestigious program responsible for attracting international business events to the City of Melbourne. Suzana is experienced in delivering customer experience strategies incorporating marketing, PR, commercial and programming activities. She is an advocate for the tourism and visitor economy and a Committee Member of the Victorian Tourism Industry Council Attractions Committee as well as the Vice-Chair of the board of Meetings & Events Australia – MEA. Suzana is an alumnus of the Committee for Melbourne's Future Focus Group program, has a Masters in Advertising and an Executive MBA from RMIT University
Felicia Mariani - Chief Executive Officer (CEO) at Victoria Tourism Industry Council. Felicia has had a long and accomplished career in the tourism, entertainment and events sectors across Australia, commencing her career in Australia in the early 90's with Tourism Victoria as part of the team that launched the highly successful and internationally lauded 'You'll Love Every Piece of Victoria' campaign. Since that time, Felicia has held senior executive and CEO roles in the tourism world in VIC, NSW and Tasmania, as well as leading the national industry body representing Australia's inbound tourism sector. In 2014, she returned to VIC after a decade away and, in January 2018, took up the role as Chief Executive of the Victoria Tourism Industry Council (VTIC). Felicia is a Graduate of the Australian Institute of Company Directors and sits on the board of RSPCA Tasmania as Vice President and Deputy Chair, along with being a non-executive Director on the Cultural Attractions of Australia Board and the Mornington Peninsula Regional Tourism Board.
Andrew Waddel, General Manager Australia for Tourism New Zealand. Andrew Waddel joined Tourism New Zealand in 2018 from organic syrup manufacturer Soda Press Co, which he joined after founding his own consultancy Freewheelers & Co. and prior, was the Marketing Director at Red Bull Australia. Andrew has extensive marketing experience with Fonterra and leading brands including Stella Artois, Beck's and Red Bull. His international senior leadership experience across UK, South Africa and Australian markets, sees him lead New Zealand's largest tourism market. As Tourism New Zealand's General Manager - Australia, Andrew is a strong advocate of understanding consumer needs and developing brands. Born in Wellington, Waddel studied marketing at the University of Otago and is a brand marketer by trade. Please see Andrew's LinkedIn profile here.
PLEASE NOTE: This event will take place at the following times:
Australian Eastern Standard Time (AEST) 12:30 pm - 13:30 pm
Singaporean Time (SGT) 10:30 am - 11:30 am
Advertising Week Briefings 5 Things is presented by Lucio Ribeiro, marketing consultant and RMIT and Deakin Lecturer of Market Insights, Digital Marketing and A.I., the Advertising Week Briefings: 5 Things, are monthly sessions where experts in different categories and verticals respond to five questions about their industry.
Packed with category insights and educative content, these sessions are ideal for:
future leaders looking to understand category dynamics
brand managers
technology professionals
marketers and agencies
Come along for an evening full of exclusive and remarkable opportunities to learn.
By submitting your email address to RSVP, you agree to receive updates about news, programs, and special events from the event's partners: Lucio.ai, Pause Festival and Advertising Week APAC. Please refer to Lucio.AI's Terms of Service and Privacy Policy for more information.