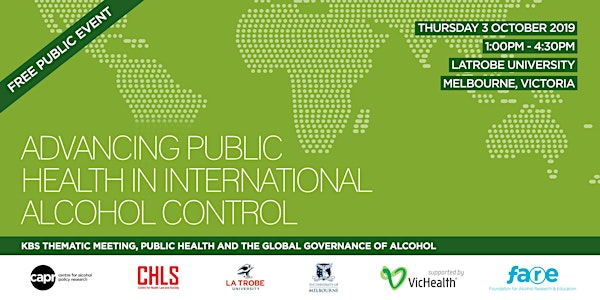 Advancing Public Health in International Alcohol Control
Description
Urgent action is needed by governments to control the marketing, labelling and availability of alcohol given the growing evidence about the burden of disease and premature mortality associated with alcohol use.

Alcohol is a global health issue. The sources of the harm (especially in the form of global alcohol industry conduct) cross borders, and the potential solutions to these problems increasingly require international innovation and solidarity through global governance. Yet alcohol is the great exception among problematic psychoactive substances in not being covered by any public health-oriented international drug control conventions.


Join us at this public event to hear from leading international alcohol policy experts as they examine:
Options for the future global governance of alcohol

Australia's role in the global governance of alcohol


Registration is essential, places are strictly limited.
View the full program here.
Featured Speakers


Professor David Jernigan (USA)
Health Law, Policy & Management, Boston University
Professor Sally Casswell (New Zealand)
Director SHORE & Co-Director SHORE/Whariki Research Centre
President of the Global Alcohol Policy Alliance, as well as of the Kettil Bruun Society
Maik Dünnbier (Sweden)
Director of Strategy and Advocacy
IOGT International
Public event (admission free)
Thursday 3 October 2019, 1:00pm - 4:30pm
Rooms 2.10 and 2.11, Level 2
La Trobe University (City Campus)
360 Collins St, Melbourne
VICTORIA
Organiser of Advancing Public Health in International Alcohol Control
The Foundation for Alcohol Research and Education (FARE) is a not-for-profit organisation working towards an Australia free from alcohol harms. We do this through developing evidence-informed policy, enabling people-powered advocacy and implementing behaviour change campaigns. We work with people and values-aligned organisations around Australia to create change to improve our collective health and wellbeing.