| | |
| --- | --- |
| Adult Dinghy Learn to Sail | |
Event Details
Adult Start Dinghy Sailing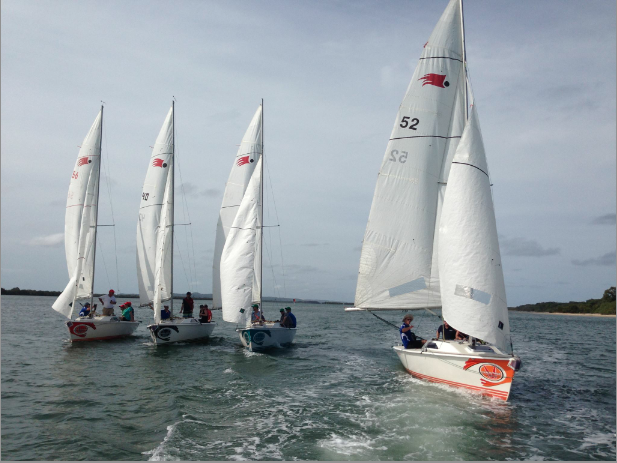 February 4th, 18th, 25th, March 4th
8:00am til 12:00pm
$395
The Adult Start Dinghy Sailing course is perfect for those  new to the sport who wish to learn how to sail or even for those wishing to refresh their sailing skills. Southport Yacht Club's certified and highly experienced instructors teach this course in the club's dinghy boats following Yachting Australia's Learn to Sail 1 & 2 Training syllabus. 
Our aim at the completion of the course is to have all sailors confident and comfortable to purchase their own boat and  safely operate it independently.
What will you learn?
Learn to Sail 1 - The fundamentals of dinghy sailing are taught to provide you with a good foundation and understanding of dinghy sailing.
Learn to Sail 2 - This develops the skills learnt in Learn to Sail 1. More skills and techniques are taught to provide you as the sailor with the confidence of operating your own boat independently.
A general breakdown of topics:
- Safety and sailing
- Parts of a Sailboat
- Environment awareness (wind, tide, safe locations)
- Rigging the boat
-The different Sailing directions
- Capsize recovery
What to expect on the days: 
- The course consists of a total of up to 4 participants
- Everyone will meet at the Sailing Office 15 minutes prior to the commencement of the course
- Both on and off water sessions will take place 
- Boats used are SYC's 23' Blazers or Lasers which you will operate under the supervision of the instructor
What to Bring:
- Water bottle, hat, sunscreen, towel and a change of clothing
- Our Waterfront Bar+Bistro will be open from 10:30am!
Where and when?
- The course is taught from the Southport Yacht Club Sailing Squadron located at 1 Marina Cres Hollywell
-  8:00am till 12:00pm 
Should you have any enquiries please do not hesitate to contact us at the Sailing office on 07- 5537 7030.
We look forward to seeing you all out on the water!
Southport Yacht Club
Where

Southport Yacht Club - Hollywell
1 Marina Crescent
Hollywell, QLD 4216
Australia

Organiser
Yachting with the community since 1964...
Southport Yacht Club, the Gold Coast's Premier Sports Club.
Our purpose is to provide excellent facilities hosting for those persons interested in boating and its associated activities, or simply wish to unwind in a unique, relaxed atmosphere.
67 years on, SYC enjoys a reputation of not only providing facilities for its members and visitors, but has also become an integral service to the Gold Coast business and residential communities.