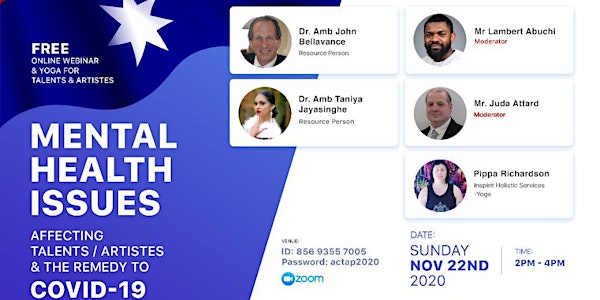 ACTap Mental Health Online Webinar and Yoga for Talents and Artistes
Topic: Mental health Issues affecting Talents/Artistes and the Remedy to Covid-19.
About this event
Event Name: ACTap Mental Health Online Webinar and Yoga for Talents and Artistes.
Topic: Mental health Issues affecting Talents/Artistes and the Remedy to Covid-19.
Date: Sunday 22nd November, 2020
Time: 2:00 PM - 4:00 PM (Australian Eastern Standard Time EST)
Resource Persons: Dr Amb John Bellavance and Dr Amb Taniya Jay.
Yoga Session: Pippa Richardson of Inspirit Holistic Services.
Moderators: Mr Lambert Abuchi and Mr Juda Attard.
Zoom invite link: https://us05web.zoom.us/j/85693557005?pwd=NUlVUUN1Q0VyeGUyQ0tIUmFuaXVSdz09
Meeting ID: 856 9355 7005
Passcode: actap2020
For Participation, Partnership, Sponsorship, Support, Volunteerism and Inquiry contact.
Website: www.australiancommunitytalents.org
Evangelist Ambassador Adeniyi Ekine, Founder/CEO: ACTapPHONE/WHATSAPP/SMS: +61432595508 Email: actapexecutive@gmail.com
Ambassador Taniya Jay, ACTap Executive Director. PHONE/WHATSAPP/SMS: +61423528971 Email: actapexecutive@gmail.com
Website: www.australiancommunitytalents.org
​
​
#ACTap #ACTapMentalhealth #ACTapYoga #Communitytalents #FestivalofTalents #actapawards
#Actapawards #Festal #Festal2020 #ACTap #Talentswelfare #Multiculturalism #Entertainment #Talentsshowcase #Talentsempowerment #Peace #Talentsaward #Paytalentstheirdues #Talentsadvocate #Melbpeace
Organiser of ACTap Mental Health Online Webinar and Yoga for Talents and Artistes
Australia Community Theatre & Talents Practitioners Incorporated (ACTap)
ABN: 43 811 445 102
MISSION:
Multiculturalism, Unity, Peace, Welfare, Advocacy and Talents Empowerment
PURPOSES:
The purposes of the association are to advocate and create proper environment for upcoming and famous talents in Victoria State and Australia wide to be harnessed in order to empower them, unite them, showcase their talents and support their wellbeing and mental health by organising festivals, workshops and events that engages priority groups in the community such as people living with disabilities, Indigenous, Aboriginals, Australians, new arrivals from continents of Africa, Europe, Asia, North America, South America, Oceania, migrants, asylum seekers, refugees, visitors, women, young people, regional and rural Australian, socially isolated and disadvantaged people in our community.

ACTap is a guild and platform for practicing talents, including performers, actors, singers, dancers, directors, producers, cinematographers, editors, DJs, MC, instrumentalists, models, broadcasters, photographers, magicians, fine artist, craft talents, journalists and related community upcoming and professional, talents in the industry.

ACTap assists the creative efforts of its members by seeking to improve their conditions of work,
opportunities and also partnering and working with other professional bodies, government, associations and organisations to peacefully organise and perform at live multicultural concerts, festivals, parties, competitions and
community events regularly.

To manage talents.

To promote, sponsor, support and partner member events and activities as auspice.

To regularly organise and present awards to upcoming and famous community talents, community leaders, sponsors, supporters and partners.
​
ACTap is committed to bringing talents together with the idea of pursuing laudable artistic courses that would be sustaining in the long term.
​
MEMBERSHIP: 
ACTap's registration and membership is confirmed and satisfied by applicant(s) social media, photo, audio visual evidence, referral, recommendation in Australia or overseas by individual or organisation as an upcoming or professional talent(s) that has the potential to peacefully unite the community.

Members logo, website and other social media links are added to the association's website, social media and all communication platform.