Achieving Justice: Community Law in a Changing Environment
Description
As the need in the community for free legal help climbs steadily beyond current funding, how can legal assistance services achieve justice for communities over the next ten years?
What will our justice system look like in 2026, and how will legal assistance, strategic advocacy and technological innovation shape the path we take and the ultimate destination of access to justice for all?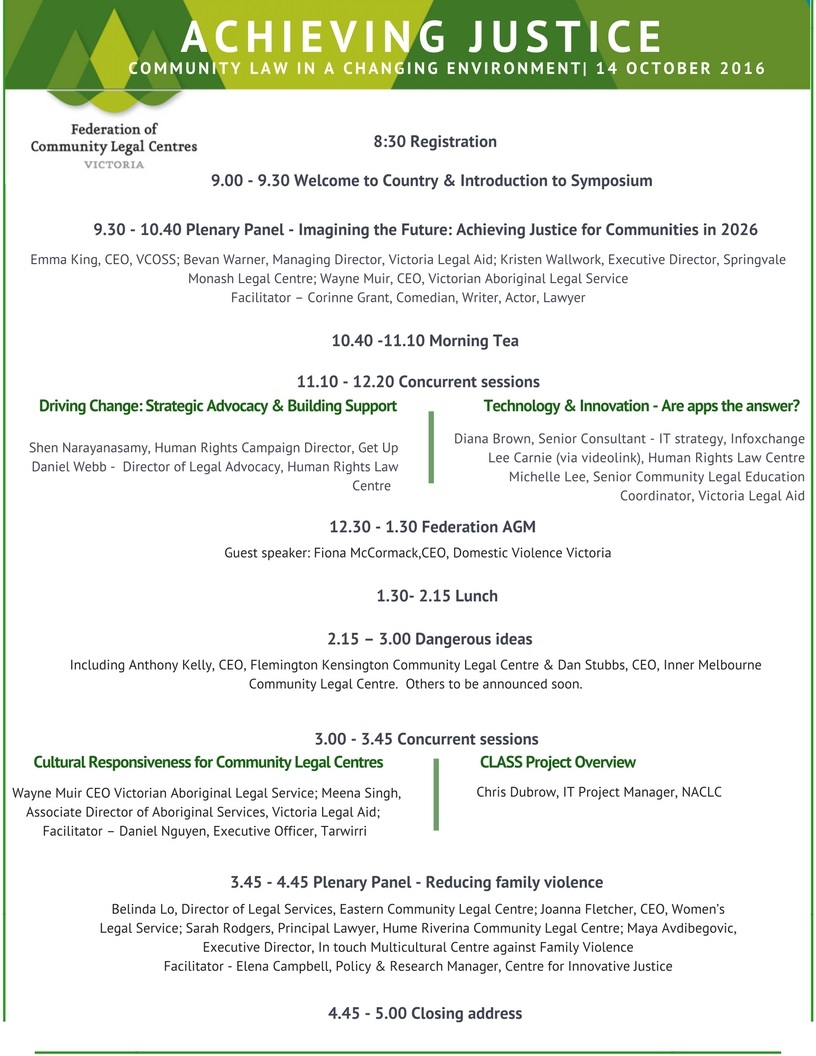 VCOSS CEO Emma King will join with Victoria Legal Aid Managing Director Bevan Warner and leading community lawyers in a panel that will discuss and imagine how we might meet escalating legal need and progress vital law reform in ten years' time.
GetUp's Shen Narayanasamy and Daniel Webb from the Human Rights Law Centre will show how strategic advocacy and building support can drive change for people seeking asylum.
The Victorian CLC Symposium will inspire and challenge and provide an opportunity for people to share their 'dangerous' ideas.
Join us for inspiration and insights from:
Corinne Grant, Comedian, Writer, Actor, Lawyer
Emma King, CEO, Victorian Council of Social Service
Bevan Warner, Managing Director, Victoria Legal Aid
Wayne Muir, CEO, Victorian Aboriginal Legal Service
Daniel Webb, Director of Legal Advocacy, Human Rights Law Centre
Shen Narayanasamy, Human Rights Director, Get Up
Sarah Rodgers, Principal Lawyer and Manager, Hume Riverina Community Legal Service
Diana Brown, Product Manager, Infoxchange
Please note: If you require a separate Tax Invoice, please complete the booking and then email administration@fclc.org.au with your reciept and request.