ACBC NSW: Australia-China Trade Summit: Food. Consumer. Services. Technolog...
Description
Event Partners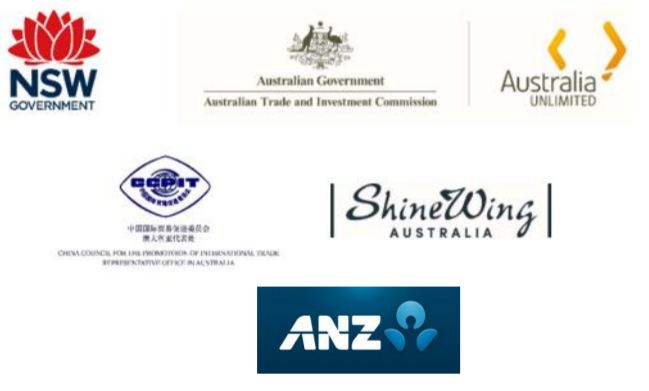 Australia-China Trade Summit: Food. Consumer. Services. Technology.
Event Overview
At the ACBC Business Forum in March 2018, the Hon. Niall Blair announced he would attend the first China International Import Expo (CIIE) in November. Following his visit to China, he will be our keynote speaker at the 2018 Australia-China Trade Summit.
This is an exciting opportunity to hear from the Minister as well as a range of experts and industry leaders in consumer, food and beverage, services, agriculture and technology.
Event attendees will gain key insights and learnings from this significant trade sector to apply back to their business.
Event Details
Date: Tuesday, 4 December 2018.
Time: 9:00am arrival and registration, 9:30am start - 4:00pm.
Event Status: Members and non-members.
Venue: Four Seasons Hotel, 199 George Street, Sydney NSW 2000.
Format: Summit (presentation and panel discussions).
Tickets: $250 Member, $340 Non-Member (plus GST and eventbrite processing fees).
Group Tickets (10 tickets): $2,100 Member, $3,000 Non-Member (unreserved). To receive this ticket price you must purchase a minimum of 10 tickets at the time of booking.
Why Attend
Hear from Minister Blair about his recent trip to the China International Import Expo (CIIE) and the opportunities ahead for Australian businesses.

Be updated with the latest news and trends.

Network with peers from government, corporate and industry groups.

Achieve critical insights about trends in the sector.

Gain access to relevant networks and influencers.

Take away key insights and learnings from other industries to apply to your business.
The 2018 Australia-China Trade Summit will be structured in three key sessions:
Insights

– from thought leaders and industry experts.

Inspiration

– through case studies covering challenges and success stories.

Implementation

– practical advice on how to make it happen.
Keynote
The Hon. Niall Blair MP, Minister for Primary Industries, Minister for Regional Water, and Minister for Trade and Industry.
Insights – from thought leaders and industry experts

China Economic Outlook: What this means for Australian business
Dr Craig Emerson, President, ACBC NSW (former Federal Trade Minister).
China-Australia relationship: The view from Beijing
Madam Wang Hongbo, Commercial Counselor, Consulate General of People's Republic of China in Sydney.

China market insights: Trends in food and agribusiness in China
Anne Maree Weston, Senior Investment Specialist, Austrade.
Market Sentiment: Latest findings from KPMG-ACBC 'Doing Business in China Report'
Doug Ferguson, Partner in Charge, Asia & International Markets and Deal Advisory Partner, KPMG
Inspiration – Challenges on the way to Australian success in China

High value products for the premium market
Peter Verry, Managing Director, Peloris Global Sourcing.

Secure and grow your business in China through partnerships.
Jason Li, Chairman, Vantage Holdings.

Tapping into lucrative market segments in China
Benjamin Sun, Managing Director, Think China.

Panel - Bringing food, wine and services together
Damian Shaw, Managing Director, Philip Shaw Wines, Orange

Caddie Marshall, General Manager, Orange360 (Orange region)

Angus Barnes, Executive Officer of NSW Wine Industry Association and Chair of Wine Communicators of Australia
Inspiration - Technology transforming trade.
Ecommerce: the latest data and trends
Livia Wang, Director, Access CN

Industry based eCommerce platforms
Michael Chandler, Founder & Executive Director
Relationships that underpin digital platforms
Patrick Hutchinson, CEO, Australian Meat Industry Council
IoT and Blockchain: How it is changing how we trade with China
John Baird, CEO, Ultimo Digital Technologies

Panel: Leveraging the foreign investment opportunity
Ian Hanrahan, Head of Food, Beverage & Agribusiness Australia, Institutional Banking, ANZ

Rawdon Briggs, Head of Agribusiness, Transaction Services, Colliers International

Dr Lei Zhang, CFO, Yancoal

Ian Sanders, Director, International Engagement, Department of Industries
Implementation - How to make it happen

Building your digital brand: How to reach tech-savvy Chinese consumers
Ophenia Liang, Director and CO-Founder, Digital Crew

Daigou phenomenon: Marketing through online and offline channels
Joshua Zhou, Founder and CEO, AuMake.

Practical advice: The lessons from 1000+ exporters
Sara Cheng, Head of China practice, Australian Business Solutions Group (part of the NSW Business Chamber)

Panel – Successfully addressing challenges in trade with China
Vanessa Smithyman, Director, Goldthumb

Wendy Wang, Edengate Wines

Sara Cheng, Head of China practice, Australian Business Solutions Group (part of the NSW Business Chamber)
Network Partners