Description
A Girl's Guide to World War
22nd November to 1st December
---
Update 29 November: The Season is now sold out! But we definitely want to do another run! To stay in touch follow us on www.facebook.com/musicaltheatreoz
---
Update 26 November: NEW SHOWS ANNOUNCED! Due to popular demand, we're extending the season.
Two new shows are now available for bookings:
Wednesday 28th November 7.30pm

Sunday 2nd December 5pm

Thank you to everyone for supporting this new Australian musical. www.facebook.com/musicaltheatreoz
---
'A Girl's Guide to World War' is a new musical that tells the astonishing true story of 'lady doctors' who open a hospital on the frontline in World War 1. Come along for an unforgettable night of live music, tears and laughter.
Book online through Eventbrite, or call Geoff on 5445 8441.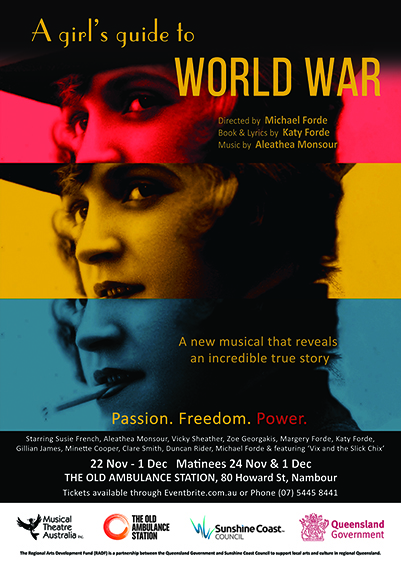 Highlights
Featuring the award-winning all-girl band 'Vix and the Slick Chix'!
Starring musical theatre legend Susie French as Dr Lilian Cooper, Australia's first female surgeon.
Join the adventure as Australia's fearless heroines find freedom, power and passion on the frontline.

Dates
Thursday 22nd November
Friday 23rd November
Saturday 24th November (2pm matinee and evening shows)
Wednesday 28th November
Thursday 29th November
Friday 30th November
Saturday 1st December (2pm matinee and evening shows)
Sunday 2nd December (5pm matinee)
Times
Evening performances: 7.30pm - 10.00pm
Matinee performances: Sat 24th Nov, Sat 1st Dec 2.00pm - 4.30pm; Sunday 2nd Dec 5pm - 7:30pm)

Running time: 2.5 hours

Ticket prices

General admission: $42

Concession: $36
You can book online, or call Geoff on 5445 8441
Location
The Old Ambulance Station
80 Howard St
Nambour


Parking
There's a free open-air car park on the corner of Sydney and Howard Streets.
Free parking is also available on William Street.
Cast
Starring:
Susie French as Dr Lilian Cooper
Aleathea Monsour as Dr Agnes Bennett
Zoe Georgarkis as Miss Josephine Bedford
Also starring, in alphabetical order:
Minette Cooper, Margery Forde, Michael Forde, Katy Forde, Gillian James, Duncan Rider
Band
Vicky Sheather, Clare Smith, Aleathea Monsour - and cast



Creative team
Writers and producers: Katy Forde and Aleathea Monsour

Director: Michael Forde
Production manager: Linus Monsour

Musical director: Aleathea Monsour
Assistant musical directors: Vicky Sheather, Zoe Georgarkis
Set designers: Michael Forde and Linus Monsour
Lighting design: Scott Anderson
Costume design: Anne Grant
Set and prop makers: Geoff Clarke and Jeroen Flach

Choreographers: Katy Forde, Robyn Schacht
Any questions? Contact Katy on katy.forde@gmail.com.