A Course in Miracles Australian 3 day Conference 2016

Saturday, 29 October 2016 from 10:00 am to 5:00 pm (AEDT)
Event Details
A Course in Miracles - Australian Conference

Online ticket sales end: 10.00 am Thursday 27/10/2016
Limited tickets are for purchase on the door- $120.00 per day- *cash only*
Door opens 9.30am- ticket sales end 9.55am
Please purchase Gary Renard tickets online as he is very close to
selling out

Love, Forgiveness and Nothing else.
With Guest Speakers Gary Renard, David Hoffmeister and more..
3 day Conference - October 28th to 30th, 2016
Friday October 28  - Held at Unity Church of Melbourne, 4 Renown Street, Burwood, Victoria, Australia
Saturday and Sunday October 29 and 30 - held at Deakin University, Theatre 12 (Building X)  221 Burwood Hwy, Burwood 3125
*Tickets limited to 200 participants per day, please book early to ensure your place*
Do you want to know a Love that transcends space and time. A Love that never ends and doesn't waver? Then this is the conference for you!
A call to anyone on a spiritual path who wants Love, Forgiveness and Nothing else. Pathway to Peace present, The Australian Course in Miracles Conference, 2016. Our vision is to bring people together from Australia, New Zealand, Asia and the South Pacific region, with the aim to get to know your community and host several great ACIM teachers.
We are thrilled and honored to host Gary Renard, David Hoffmeister and Frances Xu from the USA alongside several Australian teachers. Get ready to shine the Light of Love, brightly in your lives. God's plan for you is Perfect Happiness and these teachings will assist you in revealing that Perfect Happiness.
The Conference outline:
FRIDAY October 28th - 10am to 5pm - Feel the LOVE. Join with your Miracles community through gentle experientials which bring The Course teachings to life. "Teach only Love, for that is what you are". Presentations by Cate Grieves (Vic), Melanie Doyle from Living Miracles (NSW) Sophie Delphoi (Vic) and Sonia Stocco (Vic).
SATURDAY October 29th - 10am to 5pm - With Gary Renard. Gary is the author of 3 best selling books - The Disappearance of the Universe, Love has forgotten No-One and Your Immortal Reality - How to break the cycle of Birth and Death.
SUNDAY October 30th - 10am to 5pm. With David Hoffmeister and Frances Xu. David is the author of many best selling books including Unwind Your Mind Back to God, Quantum Forgiveness and his recently released book The Mystical Teachings of Jesus.
Live Music performed everyday by Songstress Gabrielle Parbo.
The Conference will run over 3 days from Friday 28th October - Sunday 30th October 
10am - 5pm each day with a 1.5 hour lunch break and afternoon break. 
TESTIMONIALS for Gary Renard and David Hoffmeister
Dr. Wayne Dyer, author of more than 40 books, 21 of them NYT bestsellers says this about Gary's book, The Disappearance of the Universe:
"Destined to be one of the most significant contributions to spiritual literature in this century." 
Marianne Williamson, author of A Return to Love, says this about David's book, Awakening through A Course in Miracles:
"A book that gives the real scoop on A Course in Miracles, is a treasure for any serious student of its teaching. David Hoffmeister does just that in his book Awakening through A Course in Miracles. I learned from it and so will you."
For FAQs (frequently asked questions) -https://www.facebook.com/FAQs-For-the-A-Course-In-Miracles-Australian-Conference-2016-107491326330286/
& to link in and connect, please join our facebook group- - https://www.facebook.com/groups/186878151674714/
Our offical website - https://acimaustralia.wordpress.com/
Map of Deakin University - http://www.deakin.edu.au/…/assets/p…/0018/330363/burwood.pdf
Where do I park?
*Deakin has FREE onsite parking.We will have volunteers at carparks - CP6 & CP1 to direct you to Theatre 12 (building x) from 9.30 - 9.55. Please park in the white general car park bays which are free.
 *Unity has very limited parking on the site (16 places), We highly recommend public transport. The parking outside the venue is 30 mins but there is all day parking in Cypress Av, Mc Cubbin St. Also Finch St- but only beyond Leonard St, please check the signs!- these all day parking spots are 10 mins walk from the venue. Also 3 hour parking is available behind Woolworths on the corner off Burwood hyw and Middleborough rd.
This event offers NO REFUNDS except in the case of the event being cancelled by the organizers. You may however sell or give your tickets to another person.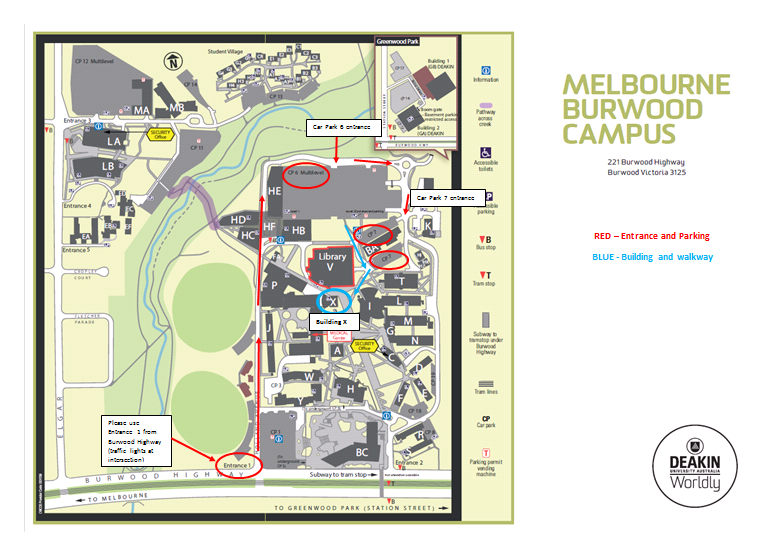 When & Where

Friday- Unity Church Burwood-Sat/Sun- Deakin University
Theatre 12, 221 Burwood Hwy, Burwood 3125
(Unity Church on Friday: 4 Renown Street, Burwood)
Burwood, VIC 3125
Australia

Saturday, 29 October 2016 from 10:00 am to 5:00 pm (AEDT)
Add to my calendar