Sales Have Ended
Registrations are closed
12月14日下午2点-5点 相约DFS店内一楼圣诞树下 三重好礼!三大福利!开启回家旅程 这次可是银联卡&DFS的专属优惠你心动了吗?心动的话 快来悉尼DFS,用银联卡买买买吧! About this Event 主题: 晒回国礼物赢$2020 时间:12月14日2:00pm-5:00pm 地点: DFS旗下悉尼T广场 155 George St, The Rocks NSW 2000 好礼1.凭银联购物小票, 免费领取新年礼物1份 好礼2.朋友圈集赞,晒回国礼物,一起瓜分赢$2020 好礼3.投票"最值得买的回国礼物"赢终极大奖 礼物数量有限,送完即止!先到先得哦! 12月14日下午2点-5点 相约DFS店内一楼圣诞树下 三重好礼!三大福利!开启回家旅程 快来悉尼DFS,用银联卡买买买吧! 活动提示: * 请准备以下文件进行DFS免税购物卡登记:护照正本;机票行程;六个月以上有效期的信用卡 * 使用62开头的有效期银联卡结账 * 学生证还能享受额外优惠 * 受条款限制,活动详情,请见店内公告 活动咨询 电话: 02 8006 4816
Sales Have Ended
Registrations are closed
12月14日下午2点-5点 相约DFS店内一楼圣诞树下 三重好礼!三大福利!开启回家旅程 这次可是银联卡&DFS的专属优惠你心动了吗?心动的话 快来悉尼DFS,用银联卡买买买吧! About this Event 主题: 晒回国礼物赢$2020 时间:12月14日2:00pm-5:00pm 地点: DFS旗下悉尼T广场 155 George St, The Rocks NSW 2000 好礼1.凭银联购物小票, 免费领取新年礼物1份 好礼2.朋友圈集赞,晒回国礼物,一起瓜分赢$2020 好礼3.投票"最值得买的回国礼物"赢终极大奖 礼物数量有限,送完即止!先到先得哦! 12月14日下午2点-5点 相约DFS店内一楼圣诞树下 三重好礼!三大福利!开启回家旅程 快来悉尼DFS,用银联卡买买买吧! 活动提示: * 请准备以下文件进行DFS免税购物卡登记:护照正本;机票行程;六个月以上有效期的信用卡 * 使用62开头的有效期银联卡结账 * 学生证还能享受额外优惠 * 受条款限制,活动详情,请见店内公告 活动咨询 电话: 02 8006 4816
12月14日下午2点-5点 相约DFS店内一楼圣诞树下 三重好礼!三大福利!开启回家旅程 这次可是银联卡&DFS的专属优惠你心动了吗?心动的话 快来悉尼DFS,用银联卡买买买吧!
About this event
主题: 晒回国礼物赢$2020
时间:12月14日2:00pm-5:00pm
地点: DFS旗下悉尼T广场
155 George St, The Rocks NSW 2000
好礼1.凭银联购物小票, 免费领取新年礼物1份
好礼2.朋友圈集赞,晒回国礼物,一起瓜分赢$2020
好礼3.投票"最值得买的回国礼物"赢终极大奖
礼物数量有限,送完即止!先到先得哦!
12月14日下午2点-5点
相约DFS店内一楼圣诞树下
三重好礼!三大福利!开启回家旅程
快来悉尼DFS,用银联卡买买买吧!
活动提示:
* 请准备以下文件进行DFS免税购物卡登记:护照正本;机票行程;六个月以上有效期的信用卡
* 使用62开头的有效期银联卡结账
* 学生证还能享受额外优惠
* 受条款限制,活动详情,请见店内公告
活动咨询
电话: 02 8006 4816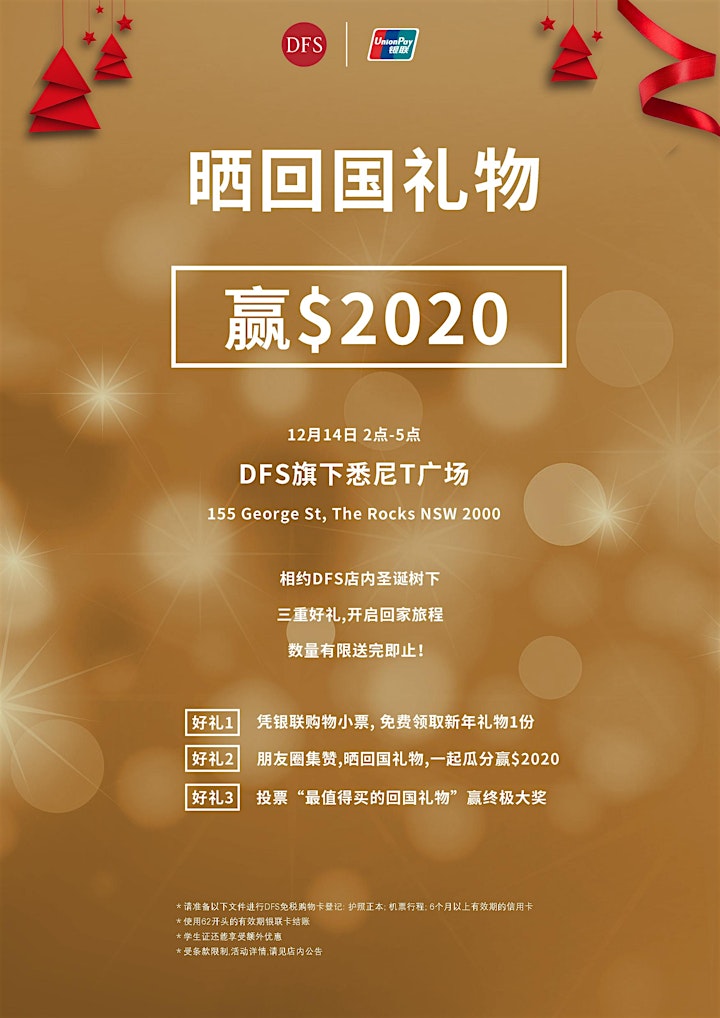 About MayT Media
MayT, pronounced like the Chinese word "meiti, translation (media)". MayT.com.au is the official website of "MayT Media" Our professional team, has many years of experience in: Film, TV, Photography, Editing. Radio Broadcasting, Digital advertising, Website designing and development; Event Planning; Educational and Cultural Exchange Programs. Providing you with a professional solution.
Our understanding, in bridging the borders between Australian and China, is second to none. Via WeChat, Weibo and other social media; Thus, providing you with a professional solution. We walk you step by step, through the best Chinese social media service and production. We are here for the long haul.