Sales Have Ended
Registrations are closed
Thanks for registering! Stay tuned to your inbox as we will send event information regularly in the lead up to the 2020 Gold Coast Elite Sports Conference.
Sales Have Ended
Registrations are closed
Thanks for registering! Stay tuned to your inbox as we will send event information regularly in the lead up to the 2020 Gold Coast Elite Sports Conference.
Connect, Educate and Inspire those with a passion for sport.
About this Event
The 2020 Gold Coast Elite Sports Conference is back in a new & exciting online format.
Based off the success of the 2019 Conference and the 2020 Webinar Series, we are bringing world-class speakers and invaluable networking opportunities right to your screen.
The online, interactive virtual format will take place over three days in October, where attendees will be able to listen to CEO's & executives, well-known professional coaches, sports marketing & fan engagement specialists, professional athletes and so many other incredible speakers from some of the best organisations around the globe.
Topics include:
Managing Elite Teams & Organisations through COVID-19
Fan Engagement & Innovation
Athlete Pathways
Health & Well-being
Transition & Development
Coaching
Building Successful Teams in Sport & Business
plus much, much more.
The conference portal will be an engaging and exciting platform, powered by Virtual Reality technology where you will feel as if you are in auditorium and networking lounge. With 12 sessions taking place over three days, you will be able to learn from world-class speakers as well as network with likeminded people around the world.
All sessions will take place outside of typical working hours between the hours of 7am-9am and 3:30pm-5pm AEST to ensure our working professionals and international guests are able to attend. Once the sessions are complete, they will be available to re-watch to ensure you don't miss out!
Registration is FREE, so don't miss out by securing your ticket to the virtual conference.
For more information, head to www.goldcoastelitesportsconference.com
Speakers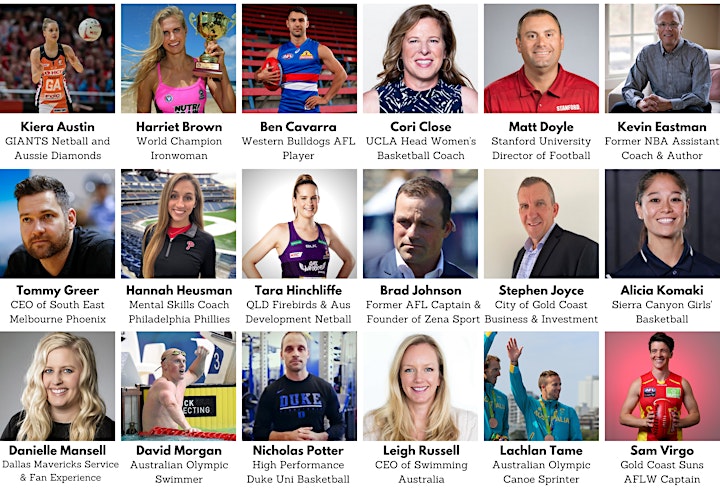 Kevin Eastman
Highly acclaimed Author of 'Why The Best Are The Best' and former long time NBA Assistant Coach of the Boston Celtics and Assistant Coach and VP of Basketball Operations at the LA Clippers.
Kevin Eastman is a highly acclaimed author of 'Why The Best Are The Best', former long time NBA Assistant Coach of the Boston Celtics and Assistant Coach and VP of Basketball Operations at the LA Clippers.
Eastman's book has been touted highly by many in and outside of the sporting industry, as it explores the lessons he learnt over his 40 year career in Basketball. After helping guide the Boston Celtics to victory in the 2008 NBA Championship, to then losing the NBA Finals in 2010, Kevin Eastman experienced both the extreme highs and lows of sport. These experiences were seen as learning opportunities and inspired him to write the book: 'Why The Best Are The Best'.
The book takes you behind the scenes into what mindsets, habits and strategies helped elite athletes overcome failures, which are easily applied to every day people.
Cori Close
Head Women's Basketball Coach at UCLA, 2019 Pac-12 Women's Coach of the Year
Cori Close is the Head Women's Basketball Coach at the extremely successful UCLA University. In 2019, Close was named the Pac-12 Women's Coach of the Year after her team finished fourth in an incredibly competitive Pac-12 Conference, winning 13 in their last 17 games.
She has coached in 15 consecutive NCAA basketball tournaments, where she has led 13 players to enter the WNBA alongside numerous other professional international athletes. Close has been touted as 'one of the finest up-and-coming associate coaches in America', due to her experience and passion for the game, players and community.
Instagram: https://www.instagram.com/coachcoriclose/
Twitter: https://twitter.com/CoachCloseUCLA
Leigh Russell
CEO of Swimming Australia
Leigh Russell is currently the CEO at Swimming Australia. She is an accomplished sports leader, having developed a successful career building, growing and leading across challenging high performance environments, with significant understanding of sport at all levels – through working with a number of AFL teams, the AFL Players Association, Melbourne Vixens, and a number of national and state sporting organisations. She was the first woman to hold a senior executive position within an AFL Club (working across football and administration) and the youngest CEO appointed in Netball Victoria's history.
Leigh also built a successful management consultancy and coaching practice - Inspired Heads, working with sport and corporate organisations around leadership, high performance, governance, building positive cultures and executive coaching. She established 'The Ignition Project' – an online leadership and personal development program for women. With a deep understanding of governance, she has previously served as Chair of Tennis Victoria's Nominations Committee, a Director of the State Sport Centres Trust, and is a former Chair of Women's Health West and Director of AFL SportsReady.
Leigh serves as a Special Advisor to the Male Champions of Change (Sport) and is also a member of Chief Executive Women (CEW). Founded in 1985, CEW represents more than 560 of Australia's most senior and distinguished women leaders, whose shared vision is 'women leaders enabling other women leaders', which Leigh lives by mentoring and advocating for women in sport.
Leigh holds a Bachelor of Arts, Graduate Diploma Social Science (Education), Graduate Diploma in Career Counselling for Elite Performers, and a Postgraduate Diploma in Business. She is a professional member of the Australian Institute of Company Directors and the Australian Human Resources Institute. Leigh is also a Myers Briggs Practitioner and an Extended DISC® Accredited Consultant and Trainer.
Matt Doyle
Senior Associate Athletics Director & Director of Football Operations & Player Development at Stanford University
Matt Doyle is one of the most respected and admired Sports Administrators in USA Collegiate Sports.Entering his 21st year at Stanford University, Matt began his role in recruiting and Football Operations and has since progressed to one of the most important and influential roles within their Athletics program overseeing the day-to-day operations of the Football Department and as a pro liaison with NFL Clubs, Agents and former alumni.
The Stanford Football program has developed hundreds of NFL players and currently boasts over 30 players on current NFL rosters. One of the most prestigious Academic & Athletics programs in the world, Stanford University has also produced many famous alumni including Tiger Woods (Golf), John Elway, Jim Plunkett & Christian McCaffrey (NFL).
Tommy Greer
CEO of South East Melbourne Phoenix
A two-time NBL champion Tommy Greer, through hard work and dedication, has made the transition from athlete to CEO. Post his playing career he worked in the media for SEN, Fox Sports and worked as Operations Manager at Melbourne United. In March 2016 he started with the NBL as Special Projects & Player Relations Manager, and just over a year later was promoted to General Manager - Major Events & Programs. He was in that role when the opportunity to lead the NBL's newest franchise, the South East Melbourne Phoenix presented itself.
His experience includes planning and delivering high profile local and international events. These events have also required extensive stakeholder engagement, both internally and externally across corporate, philanthropic and government sectors. Presented with the licence in August 2018 he began the enormous task of building a club.
Under his leadership, the Phoenix has exploded onto the NBL landscape, connecting actively with the community, and building the foundations of a rabid fanbase. In their first season, they broke the record for the highest ever opening night home crowd, came within 500 people of selling out their second home game, and are in the mix for the NBL finals.
Danielle Mansell
Director of Service & Fan Experience for the Dallas Mavericks
With almost 12 years of experience in professional sports, Danielle Mansell has worked across multiple leagues including NBA, NHL and USL.  Danielle began her career with the Oklahoma City Thunder (NBA) and spent 5 seasons working with their Premium account base including Courtside, Club and multi-year suites. She was excited to accept an opportunity to put together a service and premium service team for the New Jersey Devils (NHL) team and spent 3 seasons working to continue to improve the driveway to driveway experience for New Jersey fans.  
Danielle jumped at a chance to be involved with Energy FC (USL) as Director of Ticket Sales and Service. After almost 3 seasons in soccer, she took her current role as Director, Service & Fan Experience with the Dallas Mavericks (NBA). As a member of the Mavericks, Danielle works to be innovative and proactive in how her team approaches 365 days on engagement with their Club Maverick Members. 
Since COVID-19 hit, the NBA has had to play without crowds, which meant that servicing fans had to change dramatically. Tune in to Danielle speak about how the franchise and the NBA have overcome these challenges, and how she thinks the future of fan experience will play out.
Alicia Kreutner (nee Komaki)
Middle School Athletics Director & Head Coach of Women's Basketball at Sierra Canyon School
Alicia is a highly acclaimed and recognisable member within the American Basketball scene, due to her success as Girls Head Coach of the Sierra Canyon School Basketball program. In 2019, Alicia was named the Californian High Schools Coach of the year, LA Times Coach of the Year and Daily News Coach of the Year. Alicia has been praised for her coaching methods by the media, her athletes and their parents. Sierra Canyon is not your typical high school, as it is home to well-known American celebrities' children, including Lebron James Junior and the son of Dwayne Wade, who are both in the Basketball program.
Hearing from Alicia will be an invaluable experience for all, as she will provide fantastic insights into the American sporting system, how they are handling the COVID-19 situation, and of course, her methods into coaching and mentoring young, talented athletes.
Hannah Heusman
Mental Skills Coach for the Philadelphia Phillies MLB
Hannah Heusman is a Mental Performance & Skills Coach for the Philadelphia Phillies Major League Baseball (MLB) team. Hannah has worked with the FDNY, MLB, business executives, actors and athletes of all ages to help train their mental skills.
Hannah earned a Master of Science degree in Sport Psychology and Motor Behaviour from The University of Tennessee, where she focussed on improving performance amongst athletes of all different ages.
With a strong presence on digital platforms, Hannah has created a following after beginning a series called #MentalSweatMondays, where she posts weekly her thoughts on topics surrounding Mental Toughness in all aspects of life, ranging from elite sport to growth-mindset.
Brad Johnson
Former Western Bulldogs Captain, AFL Hall of Fame Member, Fox Footy Commentator & Founder of Zena Sport.
Brad Johnson is a highly recognisable figure within the AFL, through his time as a player, captain, commentator, coach and now entrepreneur. Brad played 364 games for the Bulldogs throughout his career, and received a number of incredible accolades including the Western Bulldogs Best & Fairest Player in 1999, 2002 & 2006, a member of the AFL All-Australian team six times - in which he was the captain in 2006, Western Bulldogs Captain from 2007-2010 and was included in the Western Bulldogs Team of the Century. All of these achievements have resulted in Brad being inducted in the AFL Hall of Fame in 2014.
Since retiring at the end of 2010, Johnson joined the Fox Footy team as a commentator. His passion for the game also extends towards development coaching, which has seen him be involved in the AFL Academy since 2012, as well asat the Geelong Football club for the past three years in both the men's & women's programs.
With his wife Donna, Brad has now created his own business called Zena Sport. Zena is a protective vest for females playing contact sport, with breast and rib protection. Launching in 2020, there are now over 40 girls in the AFLW competition that wear the vest, alongside a number of other contact sports.
Stephen Joyce
City of Gold Coast - Coordinator Business and Investment
Stephen Joyce is the Coordinator of Business and Investment for the City of Gold Coast and oversees the investment attraction, export, international trade and investment, sector development and economic research aspect for the City. The City of Gold Coast is the second largest Local Government area in Australia with over 610,000 residents.
 Over the past three and a half decades Stephen has primarily worked in regional areas throughout NSW including working as the Regional Manager for Australian Business Limited within the Murray-Riverina region. He then took on the role as the Economic Development Manager with Griffith City Council in regional NSW, in 2005.
Stephen led Griffith City Councils international relations programme, leading delegations to China, UK and Europe to realise economic, social and educational benefits for the city. In 2012, Stephen took the role of Director Works at Carrathool Shire Council, overseeing the maintenance and new construction works on over 3,000km of road network including 2,500km unsealed roads across a 19,000 km2 shire.
Stephen moved to the Gold Coast in 2017 to take up a role as Team Leader Strategy and Strategic Projects before progressing to his current position within the Innovation and Economy team.
Pete Lock
Marketing & Commercial Manager for Brisbane Heat
The Brisbane Heat have been placed alongside Liverpool Football Club and the LA Lakers when comparing social media interactions in 2020.
However, this has not happened overnight.The Brisbane Heat have been able to develop one of the most successful Digital Marketing Strategies in the sports industry, boosting their reach throughout the International Cricket community.
We chat with Pete Lock, the Marketing and Commercial Manager for the Brisbane Heat about how they have been able to reach such success and what this means for the club in terms of memberships, growth and overall success.
Kiera Austin
GIANTS Netball Player & Aussie Diamond Squads Member
Kiera Austin is a rising Australian Netball Star who has continued to make her mark on the International Netball Scene over the past years. She plays an integral part in the GIANTS Netball attacking line up, where she has been named in the League's team of the week on multiple occasions due to her incredible shooting accuracy and court smarts.
Kiera is a clear part of the Australian Diamonds Netball teams future, as she first made her way into the extended squad in 2018. She stays busy outside of training and games, as she is currently studying Medical Science part-time! Kiera is a fantastic idol for young women around the world who are passionate about moving Women's sport forward.
Instagram: https://www.instagram.com/kiera_austin/
Harriet Brown
World Champion Surf Iron Woman
Harriet Brown is a World Champion Surf Iron Woman, Nutri-Grain Ironwoman Series Champion, Australian Team Captain and the Molokai to Oahu Paddleboard Champion.
Based on the Gold Coast, Harriet trains up to 16 times a week for her sport. For a competition that is so physically and mentally gruelling, this preparation has been the key for her success! However, this determination was not born over night, as in 2016 she faced a major setback when breaking her jaw, forcing her to be side lined for months, right before World Championships. However, she fought back once she was cleared to train to go on to winning her first ever World Iron Woman Title.
From this, Harriet has become a role model to so many. She continues to give back to the community, by coaching junior teams at her surf life saving club and mentoring young athletes. On top of this, Harriet is an Exercise Physiologist, Pilates instructor and Public Speaker.
Instagram: https://www.instagram.com/harrietbrown/
Website: https://www.harrietbrown.com.au/
Lachlan Tame
Australian Canoe Sprinter, Olympic Bronze Medallist
Lachlan Tame is an Australian Canoe Sprinter, who represented his country at the 2016 Rio Olympics where he received a Bronze Medal in the K2 1000. Tame first gained his strength on a professional stage in 2011 where he won the single ski event at the 2011 Australian Surf Life Saving Championships. However, his Canoe Sprint breakthrough came in 2014 where he partnered with Olympic Gold Medallist Ken Wallace to win the World Championships in the K2 1000 metres.
Lachie is a talented open water athlete, where he is also an Australian Surf Life Saving Champion and was inducted into the Surf Life Saving Australia Hall of Fame in 2015. After taking a two year break after Rio to recover post shoulder surgery, Tame returned to the sport, where he led the Men's K4 500m at the World Championships to secure an Olympic quota spot for Australia for Tokyo 2020.
In March 2020, Lachie was announced a member of the Australian Olympic Team for Tokyo.
Samantha Virgo
Gold Coast Suns AFLW Player
Sam Virgo is a Professional AFL Women's Player & Co-Captain of the Gold Coast Suns. Sam was in the very first AFLW Draft, where she was taken by the Brisbane Lions in the inaugural season of the AFL Women's competition. She has had a decorated career in the league, being named as the Brisbane Lions MVP in 2017, a member of the 2017 All-Australian Team and 2020 co-captain of the Gold Coast Suns in their first year of the competition.
Sam is extremely passionate about the development of female sport. When she isn't playing for the Suns, Sam undertakes specialist coaching roles with the Gold Coast Suns Academy, where she leads and guides the next generation of female athletes. Alongside this, Sam is an ambassador for Tribal Sport, where she has developed her own apparel line, SV Performance.
David Morgan
Australian Swimmer, Commonwealth Games & Olympic Medallist
David Morgan is a Professional Australian Swimmer, Olympic Bronze Medallist, 2x Commonwealth Games Medallist and World Short Course champion swimmer. Born in Wales, David now is based on the Gold Coast where he trains under Head Coach Chris Nesbit. His passion for swimming was developed from his strong swimming pedigree, where his mother represented Great Britain at the Montreal Olympics.
2020 was meant to be a big year for David in the pool, where he would hope to continue his Olympic Career and represent Australia at the Tokyo Games. However, due to COVID-19 and the postponement of the Games, his entire training & competition schedule was turned upside down. For a significant amount of time, he wasn't even able to train in an 50m Olympic Standard pool, resorting to swimming on a tether in his apartment's small plunge pool.
We chat with David Morgan on how he has been able to reset his mindset and training schedule in order to prepare for Tokyo 2021.
Tara Hinchliffe
QLD Firebirds Netball Player & Australian Development Player
Tara Hinchliffe is a Netball Player for the QLD Firebirds, as well as an Australian Development Player. The Super Netball Season was flipped on its head this year due to COVID-19, which similar to most national competitions, saw interstate teams move to Queensland in order for their season to go ahead.
Although Tara didn't have to move states and was able to remain at home, the shortened season played a large role in how the season played out. There were points throughout the year, where players would have 3 games take place within 7 days, which for the sport is extremely uncommon. We chat with Tara on how she managed her performance and recovery throughout this period, the challenges she faced with the strict Hub restrictions and how she thinks the sporting landscape will change coming out of COVID-19 and 2020.
Ben Cavarra
Western Bulldogs AFL Player
Ben Cavarra is an AFL Player for the Western Bulldogs. 2020 was a season like no other in the AFL. Due to COVID-19, the AFL formed a playing hub in Queensland, where all Victorian based teams had to move to for the entire duration of the season in order for the competition to go ahead.
Moving away from home for months on end and living in a hotel with strict social distancing regulations certainly has impacts on routine and performance for professional athletes. We sit down with Ben to talk about the challenges that he faced in the hub, how he handled his performance routine, the opportunities that presented themselves and the lessons he learnt from spending this amount of time with his teammates.
Michael Thwaite
Professional Football Player & Founder of That's Football
Michael Thwaite is an Australian Soccer Player who currently is the Captain of the Gold Coast United in the Queensland National Premier League. Michael has played professional football for 18 years across Australia, Europe and Asia. He represented Australia for the Socceroos, U23 and U20 National teams. He has also completed a degree in Human Movement Science with distinction and currently holds an AFC B-Licence in coaching.
In 2018, Michael started a mentoring company 'That's Football', helping people transition into and out of a profession, whilst balancing my personal life with my wife and 2 children. He is very passionate about the sports industry and helping people special needs in his new role at Gold Coast Recreation and Sport.