Description


9 FORMAL CPD POINTS
---
Always was, always will be.
Architects are taught how to analyse a site and understand place. We all do this on some level, but from whose perspective? Are we seeing the real country, or just an Anglo-European interpretation?
Imagine an approach that considers site as not land, but Country. Imagine an approach that considers site not as soil, rocks and substrate, but as a living, breathing organism.
Imagine a collaborative approach with the local community that gives you a treasure trove of culturally rich meanings and understandings; an approach that asks you to consider what the Country tells you.
Australia is the oldest landmass on earth. This unique land of low nutrient and eroded timelessness required adaptations to survive the harshness of our droughts and flooding rains, our wide-open spaces and thick bushland. Our First Peoples specialised in how to live with the land to sustain life and prosper. Their sophisticated social and cultural structures and cleverness lived with this Country for more than 60,000 years.
The Australian Institute of Architects' 2019 NSW Regional Conference will be looking to develop a deep understanding of Country. The conference will describe what a shared future can look like, and how it can make out architecture better, more meaningful, and more of this place. But this is not possible without architects and architecture beginning an authentic engagement on reconciliation with our First Peoples.
Always was, always will be will ask a diverse range of speakers to lead the audience to a broader and deeper understanding of the cultural, historical, environmental and political perspectives of the Country in which we live and seek to build on.
The final day of the conference will be spent at CHROFI project Lune de Sang, where we hope to show you a different way of thinking; where we connect some of the pieces of the process to arrive at new and better ways of thinking about our relationship to Country and how our architecture responds to it. Andy and Deirdre Plummer will share with us their rebuilding of a rainforest, while John Choi of CHROFI will guide us through the architecture created to support the shared vision.
Please note: all three day registrations include a ticket to the awards night dinner
AACA Competency: Design: 1.7; 2.1; 2.2; 3.3; 4.2; 4.3 Practice Management: 8.9; 9.6
---
LEARNING OUTCOMES:
Develop a deeper understanding of cultural, historical, environmental and political perspectives of Country, in which we live and seek to build.
Appraise and understand the importance of reconciliation within the architectural profession.

Attain familiarity with guides and frameworks prepared by artists, architects and landscape architects for promoting sensitive and appropriate approaches to land and Indigenous culture.

Discuss education, legislation and policy drivers shaping how architects engage within this space.
Examine how reconciliation activities can be implemented within a project context.
Promote good design principles that require sustainable management of built and cultural heritage, including Aboriginal cultural heritage.
Discuss moving beyond conserving Aboriginal heritage to a deeper engagement with values.
Gain knowledge of key instruments addressing cultural heritage
Understand and evaluate submissions prepared for the Office of Environment and Heritage, through interpretation, context and consultation.
Generate and evaluate principles into the built environment, embedding Aboriginal and Torres Strait Islander narratives.
Develop Indigenous cultural literacy towards respectful, sensitive and productive engagement with communities.
PEOPLE'S CHOICE AWARDS - VOTE NOW
Your vote counts. Choose your favourite project and vote here before 4pm 9 Oct. The winner will be announced at the awards dinner on 10 Oct
---
Creative Directors

About the speakers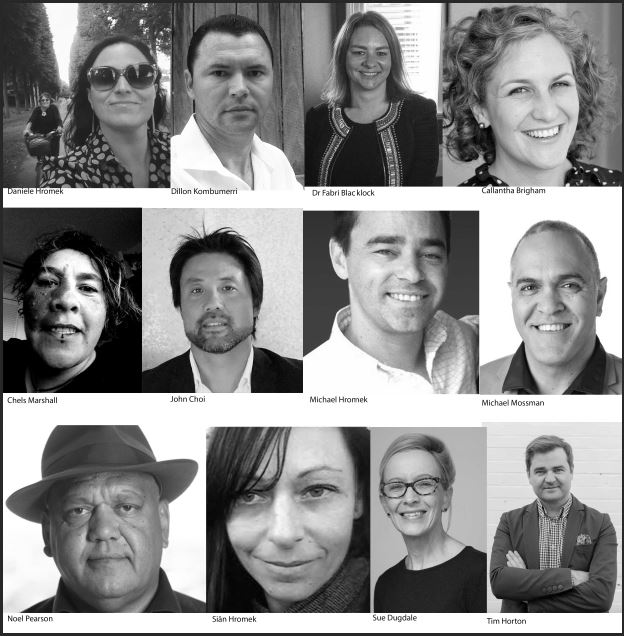 Daniele Hromek
Danièle is a spatial designer, speculative designer and public artist, fusing design elements with installations, sculptural form and research. Danièle also works as a researcher, educator and cultural advisor considering how to Indigenise the built environment by creating spaces to substantially affect Indigenous rights and culture within an institution.
She works at the intersection of architecture, interiors, urban design, performance design and fine arts. As an Aboriginal researcher and designer her work is grounded in her cultural and experiential heritage, often considering the urban Aboriginal condition, the Indigenous experience of Country and contemporary Indigenous identities. Gaining her experience globally, she has lived in London, Paris, Barcelona, Vancouver and Sydney.
Dillon Kombumerri
Dillon Kombumerri is the Principle Architect for the Government Architect NSW. Originally from Queensland, he grew up on North Stradbroke Island (Minjerriba) and is a Yugembir descendent from the Gold Coast.
He is a strategic design thinker and social conciliator with a passion for projects that seek to improve the health, well-being and prosperity of Indigenous communities.
With over 25 years of experience in architectural practice he brings his own unique indigenous perspective to re-imagining the built environment.

During this time Dillon has also been teaching and lecturing globally in many forums to shine a light on the hidden value of indigenous knowledge and how it can positively influence private and public agencies to deliver better outcomes for the built and natural environment.
Dr Fabri Blacklock
Dr Fabri Blacklock's family are Nucoorilma/Ngarabal people from Tingha and Glen Innes and Biripi people from Dingo Creek in NSW, she also has English and Scottish ancestry. Dr Blacklock is a Scientia Research Fellow at UNSW Art and Design who is passionate about improving equity in education for Aboriginal people. She is a textile artist who encompasses environmentally friendly arts practises utilising natural dyes on natural materials. She is particularly interested in the combination of traditional Aboriginal art practices with modern technologies, as well as the important role art plays in wellbeing in Aboriginal communities.
She has secured over $1 million dollars in ARC research funding and is currently a Chief Investigator on two ARC Indigenous Discovery grants and two Linkage granta with the Exodus Foundation and the Powerhouse Museum, Sydney. She is committed to embedding Aboriginal research methodologies, pedagogies and perspectives into mainstream education.
She graduated from UWS with her PhD in 2014, and UTS in 1999 with a BA Communication, majoring in Aboriginal Studies and Film and Video. She was Assistant Curator of Koori History and Culture at the Powerhouse Museum from 1999 to 2008. She is an artist, designer, curator, historian and educator with extensive experience in Aboriginal art, design and education.
Callantha Brigham
Callantha Brigham is an architect with experience across architecture, urban design and project management. She has had a range of public sector roles at NSW Public Works, the Government Architect NSW and City of Parramatta Council.
Her current role involves managing a team to deliver large scale strategic projects and advocating for positive outcomes on complex projects delivered by others. Central interests are the realisation of high quality public projects, collaborative multidisciplinary processes, community engagement, and contributing towards areas of social injustice or inequity. Callantha has pursued these interests through a Byera Hadley Travelling Scholarship, a Graduate Certificate in Social Impact and an ongoing commitment to public projects.
She is a member of the Institute's Reconciliation Committee, was a co-founder of the NSW Gender Equity Taskforce, editorial member and contributor to Architecture Bulletin (2011-2015), currently sits on NSW Chapter Council and has participated in award juries, AIA committees, guest crits and lectures at universities.
Chels Marshall
Chels Marshall is a Gumbaynggirr woman and Traditional owner from the Baga Baga/Ngambaa Clan (Nambucca Northern NSW Australia).
Chels is a leading Indigenous ecologist with extensive experience in cultural landscape management and design. She has over 27 years of professional experience in cultural ecology & environmental planning, design and management within government agencies, research institutes, Indigenous communities, and consulting firms.
She is currently completing her PhD on traditional knowledge systems and climate change in the Pacific, with the school of International Governance at the Australian National University. She holds a Masters in Marine Science and Management University of New England on Spatial Analysis of Indigenous Marine Associations. Chels also has Degrees in Wildlife Management and Cultural Resource Management.
Chels is a Director and cultural ecologist with Flying Fish Blue an indigenous-owned company that specialises in socio-cultural design and ecological assessment and advisory services. Specialising in design, develop and implement solutions that incoporate indigenous knowledge systems and principles into business and project planning for greater ecological, social, economic and spiritual outcomes. Our aim is to support our clients in achieving bio-cultural resilience within their communities through appreciation of custodianship and caring for the place through Indigenous lenses for co-operative and integrated cultural landscape management.
John Choi
John Choi is founding partner of CHROFI. Established in 2000, the practice is internationally recognised for its competition winning design of TKTS booth at the centre of Times Square in New York. CHROFI is the architect for Lune de Sang, a former dairy farm in Federal NSW which is now the centre of an ambitious project to regenerate subtropical rainforest. To date six structures have been designed and built on the site.
The design of the buildings is a result of a close collaborative relationship with the client and a collective understanding of the site, landscape and time. The rainforest timber's unhurried growth has influenced the approach for inserting architecture in the site with all the buildings being designed to respond to the notion of a 300 year lifecycle. The structures are endowed with a sense of permanence. They have been conceived as ruins in the landscape; ancient concrete and stone structures that have been unearthed and retrofitted for comfortable habitation with crisp glass and steel details.
John is Adjunct Professor of Architecture at University of Sydney, member of Sydney Olympic Park Authority Design Review Panel and serves on the board of 4A Centre for Contemporary Asian Art.
Michael Hromek
Michael has a range of specialisations in the broad area of design, theory and architecture. These include the nature of design and its role towards society, and the relationships between theory and practice in planning, society and the city. Michael is currently doing a PhD at the University of Technology Sydney and teaches in the Bachelor of Design in Architecture covering architectural design and history and theory subjects.
His thesis focuses on the idea the urban indigenous community in Redfern and questions, what are the values that constitute this community? How do they differ from what might be considered 'traditional' indigenous values? How have they been altered by inner city processes? How might the proposed future development of The Block contain these values? Descended from the Budawang tribe of the Yuin nation, his other research interests surround the idea of contemporary indigenous identity and how it might be formalised through built form
Michael Mossman
Michael Mossman is a Lecturer, PhD Candidate and Researcher at the Sydney School of Architecture, Design and Planning at the University of Sydney. He is a trained architect with over 15 years of professional practice engagement. His architectural design expertise relating to Aboriginal community-focused outcomes provides a basis for his unique perspectives to be applied to the designed environment.

Michael's research 'Aboriginal narratives in the created environment through spaces of engagement', investigates the influential and enriching role Aboriginal narratives play in the architectural design process. The research explores perceptions of the designed environment through community-focused Aboriginal research frameworks when engaging and collaborating with broader non-Aboriginal contexts.

His previous position at the NSW Government Architect's Office focused on the inception, planning, design and delivery of architectural projects. Projects ranged from Indigenous specific community hubs to large scale projects such as new schools.
Noel Pearson
Prominent Indigenous leader Noel Pearson comes from the Guugu Yimidhirr community of Hopevale on South Eastern Cape York Peninsula. Noel is one of Australia's most influential indigenous lawyers and activists and has, for many years, campaigned tirelessly on behalf of the Aboriginal people.
Noel is the founder of the Cape York Institute for Policy and Leadership, an organisation promoting the economic and social development of Cape York in Far North Queensland. He is also an Advisor for the Cape York Partnership (CYP), Co-Chairman of Good to Great Schools Australia (GGSA).
CYP is an Indigenous policy reform and leadership organisation dedicated to empowering Cape York Indigenous people and encompasses the Cape York Institute, Cape York Enterprises, Djarragun College, Cape York Employment, Cape York Timber and Bama Services.
Good to Great Schools Australia supports schools to transition from Poor to Fair, Fair to Good and Good to Great. Good to Great Schools Australia's education program was developed by the Cape York Aboriginal Australian Academy (CYAAA). It is responsible for delivering significant improvements in literacy and numeracy.
Noel's goal is to enable Cape York's Indigenous people to have the capacity to choose the life they have reason to value by reinstating the rights of Aboriginal people to take responsibility for their lives.
As a land rights activist, Noel Pearson has been involved in many key Indigenous issues including as a member of the Indigenous Negotiating Team during the drafting of the Native Title Act in 1993. He also participated in the drafting of the Cape York Heads of Agreement. This historic agreement ensured an effective cooperative platform between Indigenous, Conservation, Mining and pastoral interests in Cape York.
In November 2014, Noel Pearson's powerful eulogy for Gough Whitlam at his state memorial service was hailed on social media as "one of the best political speeches of our time". In fact, one media commentator went so far as to say that, "... Pearson is, by a considerable distance, the best orator in Australia."
Siân Hromek
Born in Byron Bay NSW, Siân grew up with a curiosity for the environment and how humans interact with it. This led to study a range of interests from Horticulture to Conservation Land Management and Landscape Architecture. A Bachelor of Environmental Design majoring in Sustainable Design at Griffith University on the Gold Coast has provided Siân a suite of transferable design and planning based skills. Current work with the Firesticks program based in the Northern Rivers in NSW involves working with a range of partners to apply Indigenous and contemporary fire management practices to Country to enhance biodiversity, connectivity and create social and ecologically resilient landscapes. Siân's vision is to work with communities to bring together contemporary land management and design with Indigenous knowledge and culture with the aim to enhance biodiversity and connectivity and to create social and ecologically resilient landscapes.
Sue Dugdale
Sue Dugdale has a personal passion for discovering and developing a unique regional identity based on the particular culture, climate and geography of central Australia. The practice evolves this broader project with each commission undertaken, by embedding stories in design; manipulation of water and light; landscape design and creating a particular sense of place; and through design of form, and selection of materials and colour.
Sue's practice provides creative design and responsive project management on urban and remote projects including commercial, residential and institutional projects along with projects for Indigenous communities and organisations.
The practice carefully considers the cultural and economic context of each client and project. This philosophy extends to all 'cultures', including Indigenous clients and communities, youth and aged groups, and the corporate culture of particular organizations. The practice engages with artists where possible and develops opportunities for local employment on projects, with some very positive outcomes. The practice believes culturally appropriate design has positive repercussions beyond the provision of functional facilities and aims to affirm and enrich individual and community life through their work.
Tim Horton
Sydney-based architect and Fellow of the Australian Institute of Architects with an enduring interest in built environment policy, professional standards and regulation. Educated at the University of Canberra and the University of Sydney, and first registered as an architect in 2000 - working in small and large practice over almost 20 years - moving on to hold executive roles advising government in SA, NSW and nationally.
Registrar of the NSW Architects Registration Board (2014-2018) leading public programs like the Sydney Architecture Festival, and designing nationally-leading models for digital transformation and mediation.

Led Sydney's shortlisted bid to be declared World Design Capital (2017), and was national host of 'Australia by Design' - a free-to-air television series that aired on the Ten Network, with almost 5 million viewers in 2017-2018.

Appointed a full time Commissioner of the Land and Environment Court in 2018. Accredited Mediator.
Andy and Deirdre Plummer
Andy and Dierdre Plummer are owners of the 113 hectare Lune de Sang estate in Federal in the Byron hinterland. Lune de Sang is located within the Big Scrub, which was once a subtropical lowland rainforest covering approximately 90,000 hectares. The area has been commercially exploited since the 1840's by first, the timber and then the dairy industries. Now, only around 300 hectares of its original rainforest exists as isolated remnants.
Andy and Deirdre Plummer acquired the first of the Lune de Sang properties in 2007. Since then, a further 6 properties have been purchased. The plantation was started in 2008. It contains some 50 species of valuable and important trees which are endemic to the Big Scrub such as Red Cedar, White Booyong, Silver Ash, Teak, Rosewood and Quandong.
The Lune de Sang plantation is designed to be a long-term, sustainable operation that will function over many years. As mature trees are harvested, new trees are planted. Approximately 100,000 trees have been planted thus far and a further 40,000 trees will be planted over the next 3 years. Wood that has been harvested from these trees will eventually be used to make fine furniture, flooring and panelling. As well as the plantation itself, significant riparian rehabilitation and maintenance has been carried out on around 2.5 kilometres of stream frontage.
---
Accommodation
Accommodation packages are not offered for this conference. Attendees may wish to book any of a range of accommodation options in and around Byron, including Airbnb and Stayz.
---

With thanks to our partners
AWS Architectural Window Systems Hebel Cemintel
Termimesh Built Environment Channel

---
Terms & conditions for CPD events
Fees must be paid in full before the event.

Institute members are entitled to the discounts shown, provided their membership number is quoted when the booking is made, and their membership subscription is active at the time of booking.

The Institute reserves the right to cancel or alter the dates, speakers or venue. In the event of cancellation, bookings will be transferred to the next available event unless the registrant requests otherwise.

Cancellations by the attendee must be received in writing. No refunds or cancellations are permitted within two (2) full working days prior to the event. 'No shows' will not be refunded. Note: Cancellations by Institute Members due to sickness on the day of the event will receive a full refund contingent on receipt of a medical certificate.

'No Shows' - Due to

NSW Architects Registration Board

CPD regulations the Institute is not permitted to issue documentation from seminars/workshops if registrants do not attend.
A certificate of completion is required by the NSW Architects Registration Board as evidence of attendance at formal CPD activities. For validity, this

must

include the participant's name and registration number. If you wish to claim formal CPD points for this activity, you MUST provide the Institute with your full name and registration number prior to the event.

As per NSW Architects Registration Board requirements, certificates of completion will only be issued to participants who have attended the entire activity. It is the responsibility of participants to ensure they are signed in and signed out of activities as evidence of attendance.
---