Description
ENGAGING BEYONG: NEW APPROACHES TO COMMUNITY COLLABORATION
Be part of a nation-wide event which will advance the practice of Community Engagement and create better outcomes for communities across Australia. The 2017 Community Engagement Summit Series has been designed with the belief that contemporary, high quality professional development for engagement practitioners is the cornerstone of delivering even better outcomes for our communities in the future.
We are excited to launch the first event of the nation-wide Community Engagement Summit Series 2017, taking place in Melbourne on Tuesday 23 & Wednesday 24 May.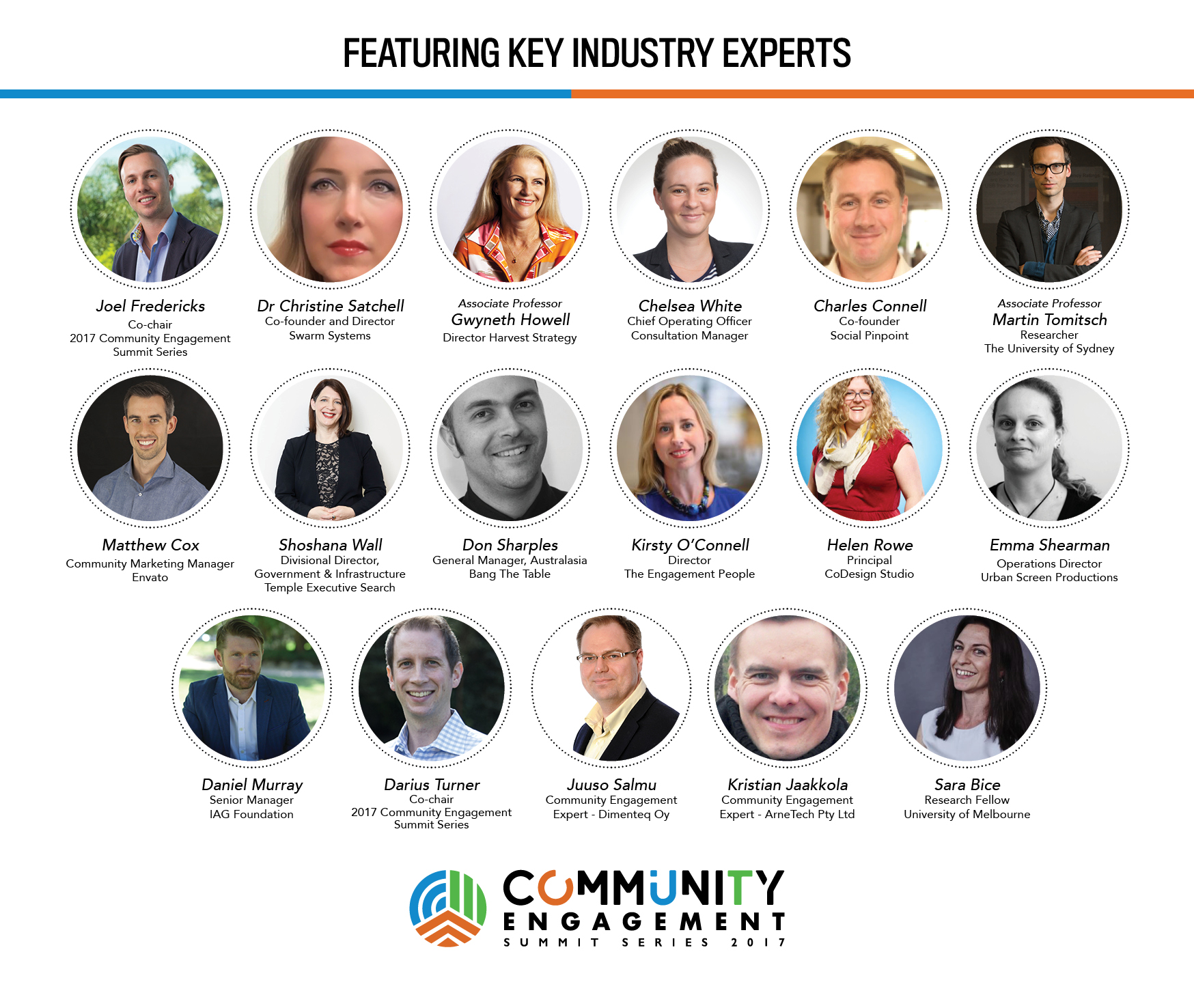 The Victoria Community Engagement Summit will launch the Series, and feature presentations and workshops tailored to address issues and challenges in engagement being experienced across Victoria.
The Victoria Summit will provide quality learning in the areas of Digital Place-making, Internal Engagement and Engaging Beyond Cultural, Social and Political Divides. The Summit will also provide information on Deploying Successful Engagement Strategies and will showcase the most up to date approaches, case studies, apps and online solutions for engaging with communities.
Key Benefits of Attending
Actively participate in hands on, workshop based learning lead by subject experts
Be part of the group that shapes the future of engagement practice across the nation
Learn about professional development opportunities and how to take the next step as a community engagement leader
You will meet face to face with consultants with a range of experience across the sector
Hear from leading academics on the latest research in community engagement and place-making
Many opportunities to ask for solutions to challenges facing you at your organisation
Learn exciting new techniques to better profile and target your audience
Become refreshed and inspired to put new ideas into practice for your community
Meet with like-minded people facing the same challenges as yourself
A great opportunity for team building and idea sharing
Learn and interact in a safe, positive and friendly atmosphere
"This unique professional development opportunity will provide access to networks and knowledge which will benefit you and your organisation for years to come."
What Makes This a Must Attend Event:
Location specific updates on the trends and gaps in community engagement in your state
Experience 50 industry leading engagement practitioners sharing their knowledge across 5 awesome events
A unique experience to be part of a first of its kind nationwide engagement series
A community engagement event run by community engagement people
A fresh approach to community engagement conference style events with a focus on participation and interaction
Contemporary and future-focused demonstrations of tools and techniques to help reach your audience
Updates from leading community engagement academics discussing place-making and engaging beyond political and social divides
Ongoing access to resources and information post-event
Take-away case study based resources which can be used to deliver high quality engagement with your communities
Don't miss this exciting opportunity to be part of 'Engaging Beyond: New Approaches to Community Collaboration'.