Description
12th Annual Christmas Day BYO Picnic Lunch 2017
***Everyone welcome - including newcomers, expatriates, repatriates, migrants and international students to Melbourne, Christmas Day orphans, people who are single, married, couples, families, students, tourists, migrants, local residents, Australian citizens, children, adults, young or old, any faith or religion - if you are looking for an alternative option for Christmas Day please join us - this event will go ahead - rain hail or shine. Free to attend, bring your own food and wear your own name tag.***
Christmas Day can be a lonely occasion if you are a long way away from family and friends.
It is also difficult if the traditional rituals cannot be recreated - as far as I know, there has never been snow in Melbourne on Christmas Day!
Even if you do not normally celebrate this religious occasion, it is still nice to have 'something to do' on Christmas Day as plenty of people at work will ask you 'what are you doing for Christmas?'
History

In 2006, Newcomers Network hosted an event in Catani Gardens, St Kilda (Victoria) and in 2007, we moved to the Queen Victoria Gardens next to St Kilda Road and opposite the Victorian Arts Centre. In 2016, Sue Ellson will be hosting the 12th Christmas Day BYO Picnic Lunch in Melbourne.
These annual events started in Sydney in 2010, Perth in 2010, Brisbane in 2011 and Adelaide in 2013.
We usually have between 70 - 200 people attending - bringing bikes, footballs, cricket bat and balls, frisbees, dogs, friends or coming on their own.
What to Bring
• a name tag with your first name on it
(a simple sticker or piece of paper and pin will do)
• hat, sunglasses, sunscreen
• whatever you would like to eat, drink and share (including water)
• picnic mat and/or chair (if you have one)

Public Transport

Public transport is free in Melbourne and will be running to the Sunday timetable. The nearest train station is Flinders Street. You can catch the tram one stop along and then just cross the road to the park. We will be under a big tree next to three palm trees and you will see the Newcomers Network banner hanging from the tree. We will also be joined by people from the Melbourne Social Club.

Finding the Group
We can never be 100% certain as to how many people will turn up on the day, but as this is our 12th year hosting the picnic, we are expecting quite a lot of people (and a few regulars from past years).

Please do not be daunted – everyone sits in small groups and if you arrive on your own, I will happily introduce you to others (I wear a silver sparkly Santa hat) and can provide a sticky label name tag if you forget.

If you could take a couple of photos and post them on our Facebook page at https://www.facebook.com/groups/newcomersnetworkmelbourneaustralia/, that would be fantastic!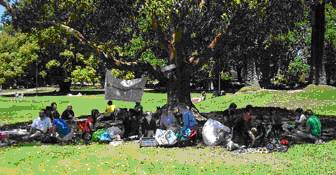 Christmas Day Picnic Lunch 2011
Also Listed Online
Sue Ellson (the organiser) will be attending this Meetup and the event is also being promoted on the following websites
• Newcomers Network
• Meetup
• Facebook
Christmas Day Picnic Lunch Videos
- fun spy version
https://www.youtube.com/watch?v=Mf4faEZEn4Y

- longer descriptive version
https://www.youtube.com/watch?v=fbOHENost6w
More Information
Visit http://www.newcomersnetwork.com/
Email melbourne @ newcomersnetwork.com
Telephone Sue Ellson + 61 402 243 271
Venue
Queen Victoria Gardens
Under the big tree next to three palm trees,
opposite the Queen Victoria Arts Centre
(building with a spire) on St Kilda Road,
Latitude -37.821314 Longitude 144.969850
Melbourne, Victoria, 3000, Australia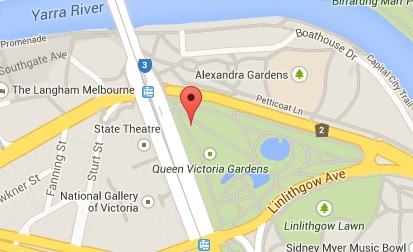 We look forward to seeing you there!
Register Online
If you would like an email confirmation, you can also register online at http://christmasdaybyopicniclunchmelbourne.eventbrite.com.au