Sales Have Ended
Registrations are closed
This event has reached capacity. Please contact EPLearningEvents@industry.gov.au for more information on future events
Sales Have Ended
Registrations are closed
This event has reached capacity. Please contact EPLearningEvents@industry.gov.au for more information on future events
Description
The Doblin 10 Types of Innovation framework is a simple, intuitive organising system - an underlying structure and order governing what works and what fails when it comes to innovation. Consciously understanding it makes innovation easier and more effective.
Ten Types of Innovation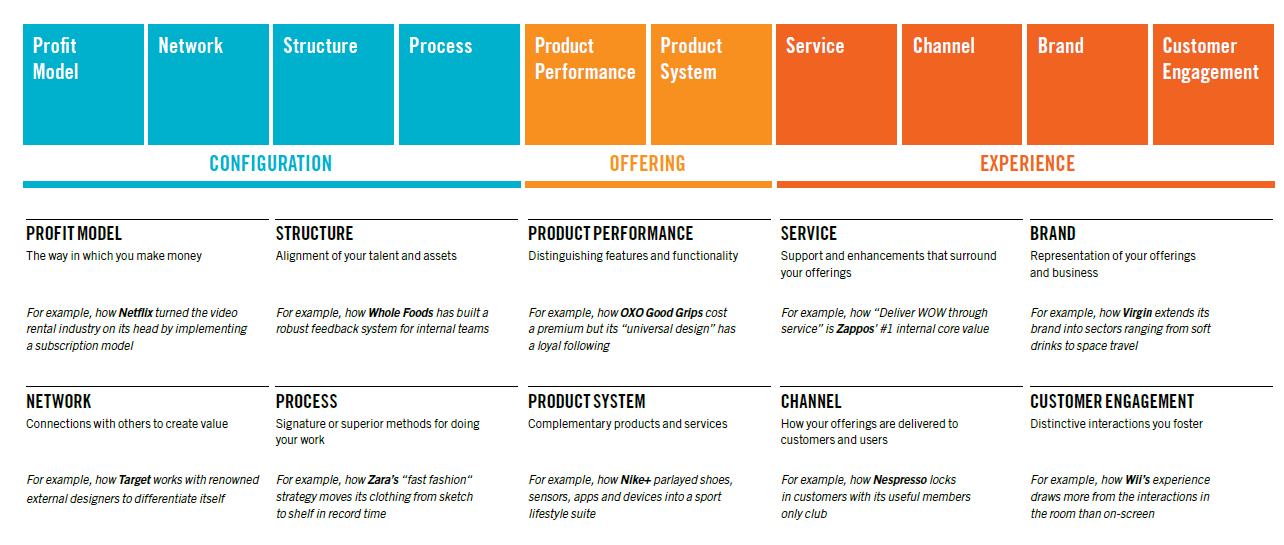 ---


Core Learnings
1. Understanding innovation:

What is innovation? When to use an innovation method, and when not to.
Why 96% of innovations fail and how truly innovative companies succeed.
What the 10 Types of Innovation are and how they can change your perception of ways to innovate.
What consitutes a good business idea, balancing variability, desirability and feasibility.
2. Managing innovation:
Understanding different ways to add value using the Doblin 10 Types of Innovation.
Reducing the risk and cost of running multiple innovation projects by using a portfolio approach aligned to the 10 Types framework.
Setting an innovation strategy and goals.
The psychological blockers which prevent effective innovation.
3. Commercialising innovation:
Undersanding what your customers really want, without them telling you.
Rapidly bringing new ideas to market using design thinking, experimentation and lean innovation methodologies.
Reducing the red tape in your organisation to enable you to launch new offerings faster.
---
Outcomes
An ability to immediately use the 10 Types of Innovation framework to spot new ways to innovate internally.
A deeper understanding of your current innovation capabilities.
Techniques and insights on finding out which new offerings are likely to grow your business.
Skills and methodologies you can start using in your organisation immediately.
---
Who should attend?
Chief Executive Officers
General Managers
Innovation Managers
Commercial Managers
This workshop is designed for companies with a turnover greater than $5m and may not be suitable for smaller companies.

As places are limited, only one place per company is available.
Consultants will not generally be accepted as applicants, unless they are EP clients.
---
Delivery methodology
A one-day, highly immersive workshop led by Deloitte Sydney's innovation expert, Nick Skillicorn, teaching attendees the exact methodologies it uses to build its clients' innovation capabilities.
Based on Deloitte's proven 10 Types of Innovation framework, attendees will learn the skills and tools required to assess and improve their own innovation programs and explore future opportunities.
Nick Skillicorn is a manager in Deloitte Australia's Strategy Consulting practice. He is an innovation subject matter expert and has run workshops and training in numerous innovation methodologies across the world as well as running his own boutique innovation practice in the UK before joining the Deloitte team. In addition to helping corporate clients and entrepreneurs understand and build their innovation capabilities, he is also at the forefront of evidence-based creativity research.
---
This is a free event hosted by the Department of Industry, Innovation and Science Entrepreneurs' Programme in collaboration with Deloitte.
This event is designed to benefit small and medium Australian businesses.
If you have any questions about this event or any future events, please contact EPLearningEvents@industry.gov.au

Organiser of 10 Types of Innovation
The Entrepreneurs' Programme (EP) delivers advice, networking and grants to help Australian businesses grow, innovate and commercialise nationally and globally. This helps to drive economic growth and jobs, improving broader community outcomes. For more information go to www.business.gov.au/EP