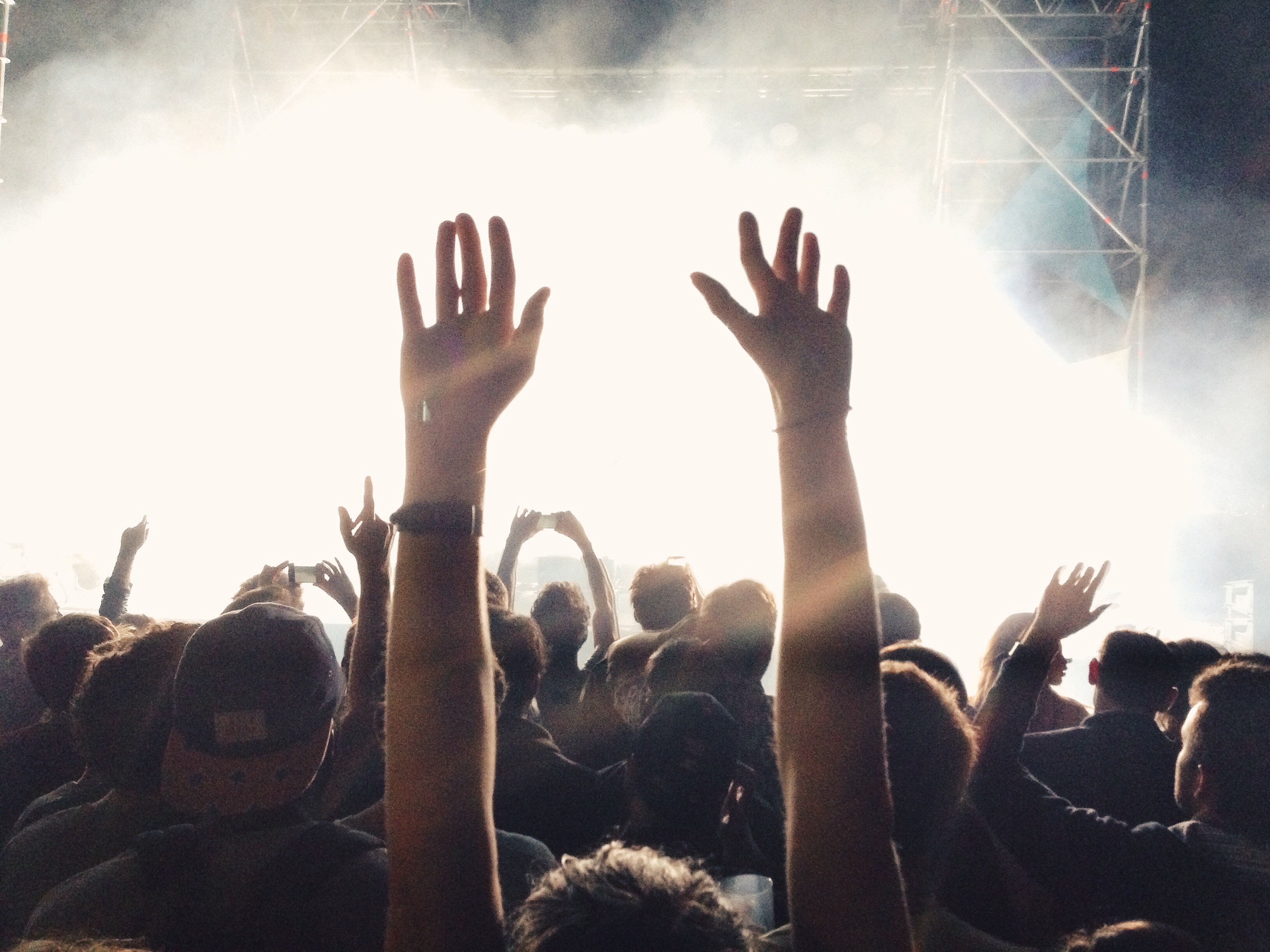 How to Use Discount Codes to Increase Ticket Sales
Discount codes are a smart way to incentivise a purchase — but what's the right way to discount your next event? You can offer discounts for attendees who register early, use discounts as a means to track the effectiveness of promotional efforts, or even give discounts to specific customer groups for a  more comprehensive view of your event's reach.
Intrigued? We asked an expert Eventbrite Account Manager to walk through Eventbrite's most popular discount codes.
Flash Sale
Flash sales are a great way to create urgency around your event. By creating a flash sale for a limited time only, you can control how many of these discounted tickets are purchased. Flash sales can also help you increase ticket sales during low ticket buying times. For reoccurring events, you may want to consider seasonal flash sales, such as discounts for Valentine's Day or Boxing Day Sales.
Eventbrite's discount code tool allows you to create your code, select which ticket type it is applied to, and decide how long the code is valid for. You can then track the success of the offer in the Promo Code Usage Event Report.
Below, you can see the "Discount Codes" tab under "Manage Your Event." We've decided to run a 25% off flash sale. We added a code ("FLASHSALE") and decided to offer this flash sale for General and Economy tickets (but exclude VIP). We've also specified that the sale will start at 9am today, and end at 7pm tomorrow.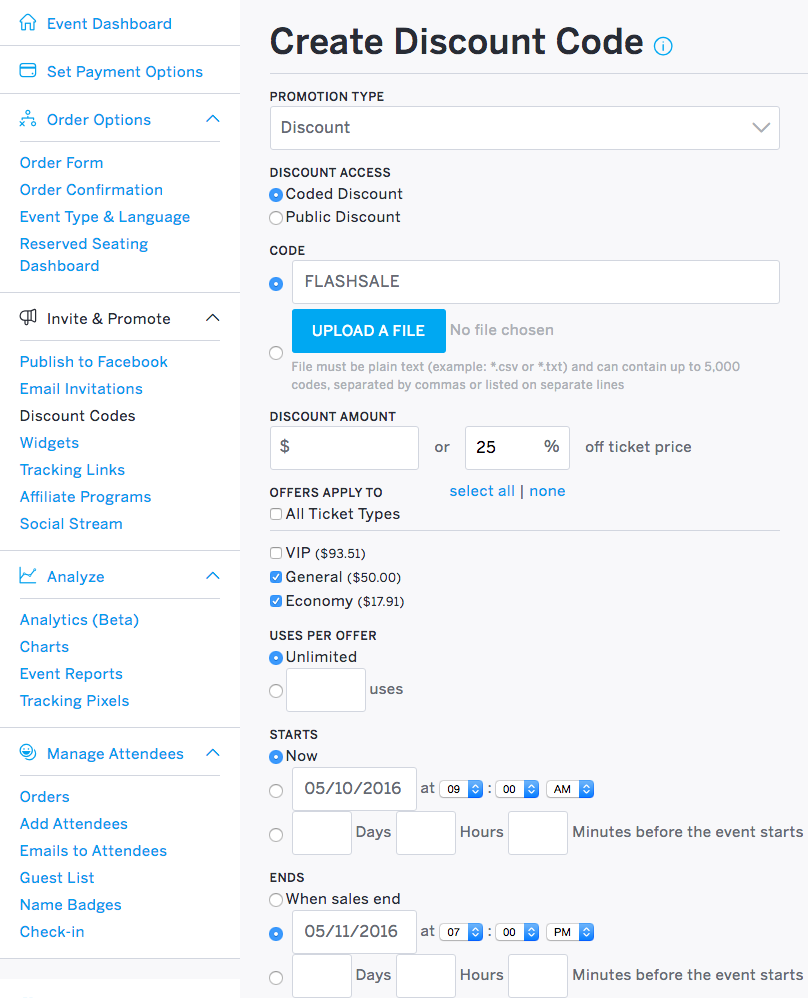 Once this sale is live, ticket purchasers will have the option of entering a promotional code at checkout. By entering "FLASHSALE", they will receive 25% off their ticket price.
Early Bird Offer
As we all know from personal experience, ticket buying is often left to the last minute. This creates a lot of stress — the earlier you can anticipate sales, the better prepared you can be.
To incentivise people to buy their ticket early, use the Flash Sale technique to offer an exclusive limited discount on tickets for early purchasers. This encourages attendees to register early, and helps create hype around the event. People will often share the fact they are attending the event via social, so an early bird offer can help drive awareness of your event.
Access Codes
Access codes are unique, special offers that are only available to select buyers. You might offer access codes to your super fans, VIPs, or any other group. Don't worry about other potential attendees finding out about the super-duper offer — you can hide that ticket type and assign an access code. Only the group with your special code will be able to access this offer.
Let's say you want to offer a deeply discounted VIP code to a client you're trying to impress, or an influencer you're hoping will attend. First, create a hidden ticket type that the code will reveal. You'll find this option in the "Edit" section, under "Create Tickets." Be sure to select "Hide this ticket type" under "Ticket visibility."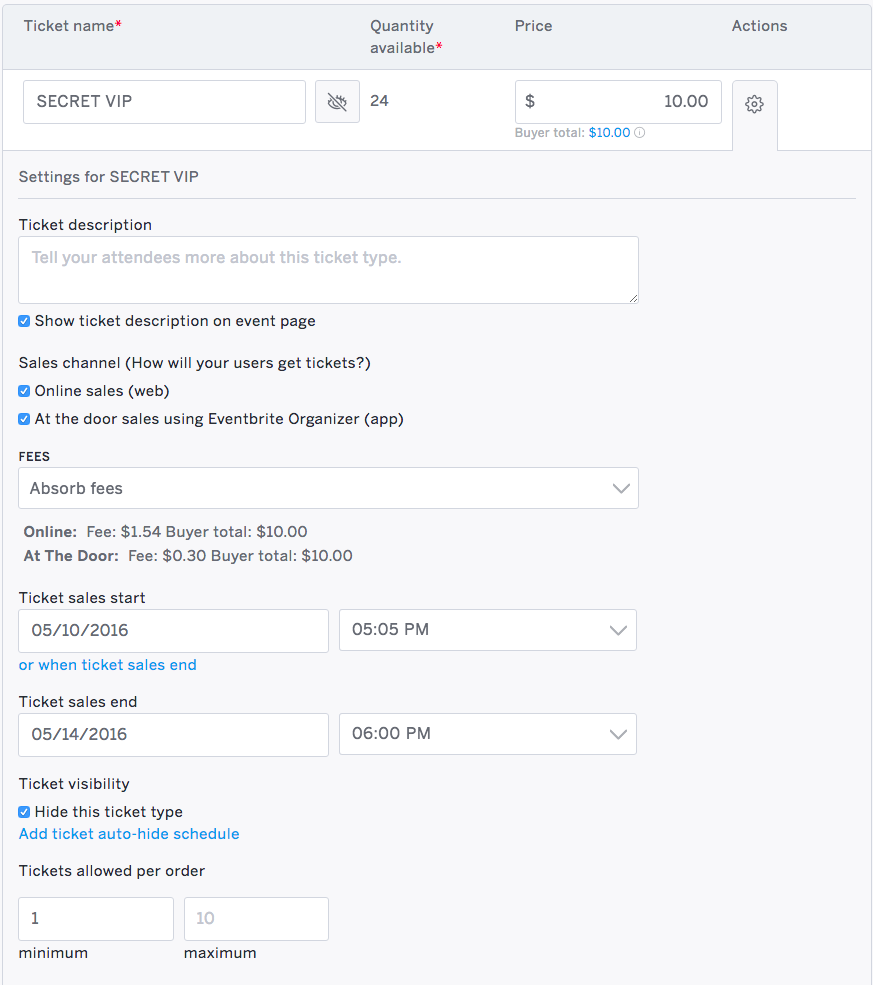 Save your work and return to the "Discount Codes" tab under "Manage Your Event." Change the promotion type to "access" and create a code. In the example below, we used the code "SECRETVIP."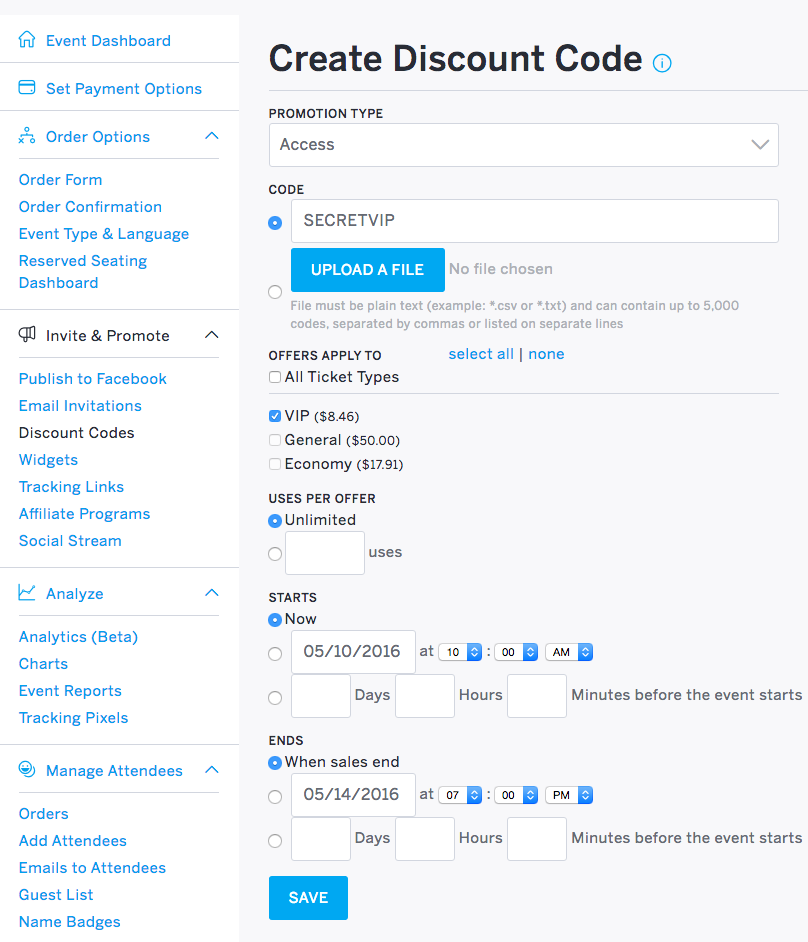 Now, when ticket purchasers enter "SECRETVIP" into the promotional code box, it will unlock your discounted VIP ticket. If they don't have the code, they won't see the option.
Public Discounts
Unlike hidden access codes, public discount codes can be seen by anyone. This type of discount allows you to offer lower price tickets for specific customer segments. For example, you might want to offer a discount to students or concession card holders. Note that public discounts don't require a promo code. In the example below, we're offering a 10% discount to students for our General and Economy seats.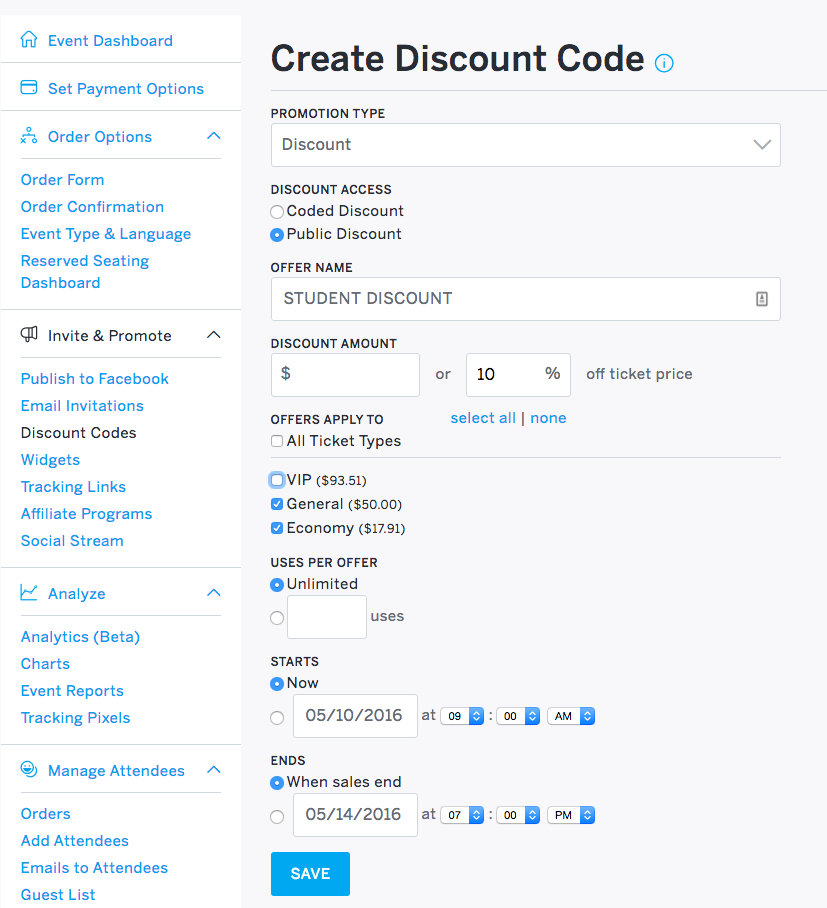 This ticket price will now appear publicly when consumers visit your event page.
As you can see, there are many different ways you can apply discounts to your tickets. Each discount type has its own function, but all allow you to take control of your ticket sales and adapt the pricing of your tickets depending on the demand.
Have more questions about growing your event? We're standing by. Get ahold of our team of event experts here!