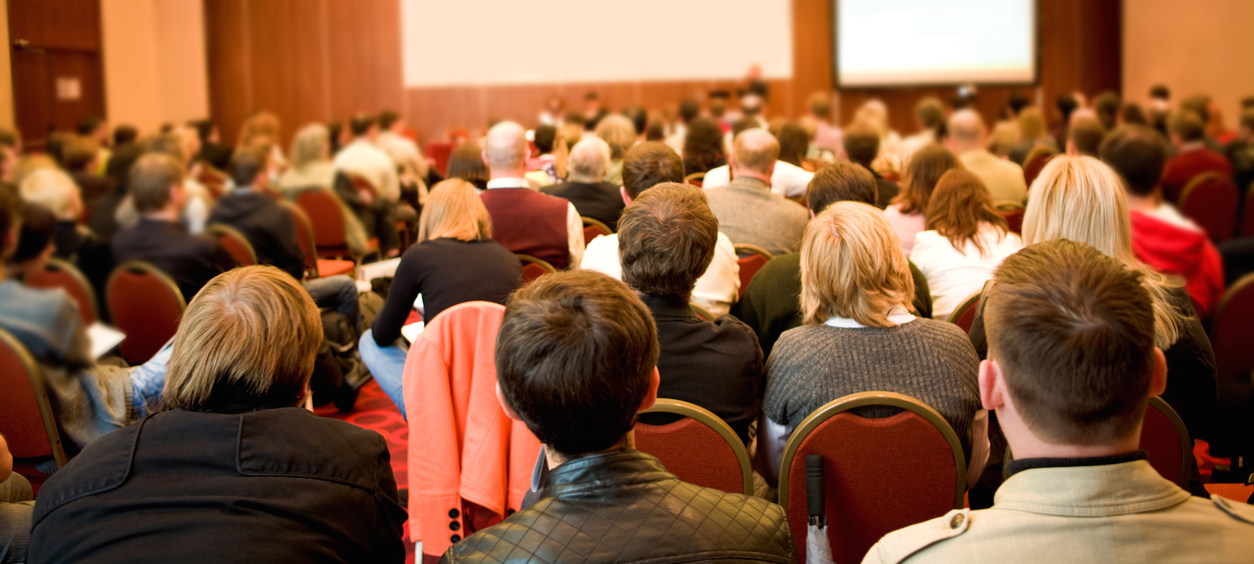 Find Your Next Great Conference Theme With These Creative Steps & Ideas
Annual conferences sometimes have a been there, done that feel. But if the same attendees come to yours each year, they expect to learn and experience something new and different each time. If they don't, your event — and your brand — will become dated.
The key to providing a memorable experience year after year is to come up with a creative conference theme. The right theme will capture attendees' attention and keep them engaged and energised. As a result, you'll attract more prospects, engage more customers, and build your brand.
Why conference themes are important
All too often, conference organisers play it too safe with branding. In an effort to protect their business, they go with a generic theme that doesn't fit. But branding is how you can differentiate your conference from all the other business events professionals can choose from.
Ask yourself: What do you want people to think and feel when they arrive your conference? Do you have a brand promise that's clear to everyone in your organisation? How can you convey that to attendees?
Once you figure out what you want to be known for or associated with, you can go to work on choosing a creative theme. Use your business's brand values as your north star, but don't be afraid to think outside of the box and take your brand a step further for your conference theme.
5 steps to inspire your conference theme
Once you've decided how you want your conference to reflect your brand, use these steps to inspire conference theme ideas:
Think about your industry.

You don't want to run a conference that's too similar in nature to your competitors. If there are other conferences in your space, consider how you can differentiate. You might choose to make yours more interactive, or offer more opportunities for

small group networking

. If you have a strong differentiator or unique format, you could build your entire theme around it.
Know your audience.

Who's attending your conference? Clients, prospects, or both? What's the age range? Will attendees all be from the same area, or will there be people from different parts of the country or world? Try to walk in the shoes of your attendees, and do your best to appeal to their interests.

Tie your theme into the location.

Having a conference in Melbourne, Perth, Bendigo, or Broome? Wherever it is, you can choose a theme from being in a particular city, small town, climate, or an area's culture.

Consider your venue.

Similarly, the venue you choose may provide your theme inspiration. For example, if you're hosting your event in a modern looking space, it could tie in well with a futuristic theme.

Rally around a great tagline.

Sometimes, a strong, positive sentiment can make a great conference theme. Consider a riff on or pun using your business's tagline as a way to start brainstorming.
Whichever you choose, just be sure that you make it your own, and tie it back to your brand.
5 conference theme ideas to get your creative juices flowing
Still stuck? Check out these themes for inspiration.
Tap into simpler times with a summer camp or outdoors-themed conference. Roast marshmallows, have delicious comfort food, and decorate cute outdoor places to relax between events.
Get attendees' hands dirty with an arts n' crafts theme. With so much time spent looking at screens, networking will come easy at a pottery-making class or a painting break.
Space out with a galaxy theme. Stage a moon landing, run a planetarium show, and get kitschy with screenings of classic space movies like Star Wars or Galaxy Quest.
Keep attendees on their toes with a central conference mystery or series of puzzles to solve throughout the event. Weave them throughout your whole conference with cryptography decorations, codes on programs and signs, and even a booklet for attendees to record their progress.
Let history power your theme with a decade-specific celebration. This theme can come from specific books or movies (Jane Austen, James Bond, or Clueless, for example) or can just be general. Most people already have items that can be repurposed for costumes from the 20s on, so leaning more modern (or completely futuristic!) is best.
Revisit your business goals
Once you think you have the perfect theme, be sure you can tie it to the goals of your conference, and your brand values. Then you can start promoting your theme to get attendees excited, and ultimately offer them a unique conference experience.
For more tips on creating a unique and creative conference, download The Executive's Guide to Creating an Out of This World Conference.