How Rhythm & Vines Music Festival Uses Self-Service Ticketing To Sell Out in Record Time
How Rhythm & Vines Music Festival Uses Self-Service Ticketing To Sell Out in Record Time
International music festival, Rhythm & Vines, arose from humble beginnings in 2003, when three friends from the University of Otago wanted to create a destination for their friends to celebrate New Year's Eve.
The first festival in the world to welcome the sunrise of the new year, New Zealand's Rhythm & Vines started with a single stage and hosted 1800 guests. Exploding in popularity, by 2008 the festival expanded to a 3-day event, attracting top international acts to perform for record capacity crowds of 25,000.
As a complex, multi-tiered event with as many as 50 different ticket types, Rhythm & Vines organisers have trialled more than half a dozen ticketing providers in an attempt to find the right fit, but none offered the control, flexibility, or responsiveness that their event required.
In 2016 they partnered with Eventbrite to create a single solution that was flexible enough to handle the event's ticketing needs, while giving organisers total control to manage ticketing as they wanted.
Eventbrite ticketing has allowed Rhythm & Vines to:
Manage a complex ticketing model in a simple, user-friendly way
Control their own ticketing needs, with 24/7 access from any device
Access analytics data to determine ROI on marketing investments
Learn and respond to vital information about their attendees in real-time
Create waitlists to drive urgency and sales for premium tickets
Reduce staff and volunteer workload by automating the ticketing process
Sell out their event faster than ever before
Want to use Eventbrite to power your music festival? Contact us by 

getting in touch here

 or calling 1800 820 172 (AU) or 0800 448 422 (NZ).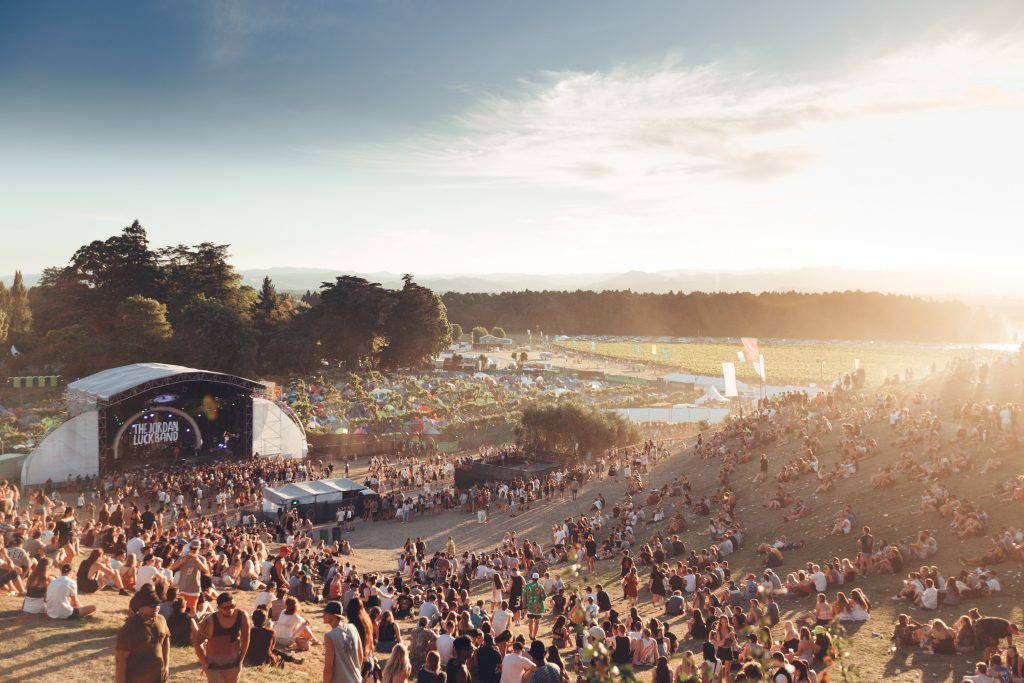 Taking control from setup to sell out
Rhythm & Vines organisers always wanted the ability to be in total control over their event and ticketing process, but didn't have the resources to achieve that on their own. Other service providers didn't give them the access they needed to manage
ticketing themselves. The process for making updates to their ticketing platform was clunky and time consuming, reliant on the responsiveness of others when changes were submitted. This impacted R&V's ability to drive ticket sales and respond efficiently to the needs of their attendees.
Solution:
By implementing Eventbrite's online ticketing platform to manage sales, R&V's organisers are given full control from the moment they set up the event page and have been able to sell out their event faster than ever before. Eventbrite allows organisers to manage the event's complex ticketing requirements, including multiple ticket tiers, multi-day passes, VIP tickets, camping, and more. Instant changes can be made any time from any device with a responsive self-service platform available on desktop and mobile. This year, first release tickets went on sale just 10 days after their 2016 event — which was only made possible by the flexibility of Eventbrite's technology.
"Eventbrite gives us a robust, world class event technology platform that truly puts the power in my hands. I control the whole ticketing process for the festival from setup to sell out. This includes making changes to our event page or ticket types in real-time on my laptop or my mobile phone. For a festival with as many moving parts as Rhythm and Vines the efficiency that this brings is critical to helping us sell out."


Kyle Bell, Marketing & Partnerships Manager

Optimising conversions and ROI
Selling tickets is the number one priority for any event, but keeping top of mind and engaging with an audience year-round can be challenging and relies on the right communication to drive sales and ticket upgrades. Organisers need to know what channels are working for them and where to dedicate spend in order to maximise their return on investment. Analytics solutions often give organisers insight into their website traffic, but when it comes to knowing where their sales are converting from, they are left in the dark.
Solution:
Eventbrite's real-time analytics solution allows R&V organisers to identify trends in their data and take immediate action. Eventbrite offers the ability to track advertising spend from social media channels and websites, providing insights into what marketing spend is not only driving the most traffic, but also calculate their ROI by determining which channels are driving ticket sales.
Having full visibility on user behaviour can also help organisers to communicate at the right time to drive conversions and sell premium ticket upgrades. With the help of Eventbrite's partner integrations such as MailChimp and Facebook Pages, organisers can not only access the right data — but also respond quickly and effectively. Utilising a powerful suite of tools within Eventbrite, R&V organisers have direct contact with attendees and tailor their communication depending on the type of ticket they have purchased, allowing them to up sell attendees to VIP tickets or merchandise upgrades.
"With Eventbrite's tracking pixel technology I can see exactly what marketing activity is driving the most ticket sales and can optimise our spend to maximise sales. I can also track where potential attendees are dropping off in the purchase flow and dedicate activity to converting the sale. This is not something I have been able to do with other ticketing platforms."
Kyle Bell, Marketing & Partnerships Manager

Using smartphones to make sales soar
Rhythm & Vine's core audience are young and tech-savvy, with 80% of attendees aged 18-22. Glued to their smartphones, it's critical that R&V communicates to these attendees in the right space, but they found previous ticket providers either had no mobile solution, or a very clunky experience that drove away sales.
From an organiser's point of view, Rhythm & Vines' ticketing strategy involves multiple releases of tickets, allowing people to secure the best deal and their favourite campsites by purchasing tickets early. To stay on top of things, organisers need to be able to access information on the go and not rely on having a laptop with them to make decisions.
Solution:
Eventbrite's ticketing platform is fully optimised with a seamless purchase flow on any device. With a simple, two-step purchase flow that works well on mobile, 60% of R&V ticket sales are made on mobile devices.
The Eventbrite Organiser App also gives full control to organisers from their smartphones. They are always connected to their audience and can be responsive, making decisions on the fly with access to data in real-time — including on the event day.
"The Eventbrite Organiser App delivers all of the critical data I need to track ticket sales to the palm of my hand. I am connected to my audience and their buying habits and can see the impact of specific marketing tactics on ticket sales in real time. When things are going well, this level of data is seriously sexy for organisers! We learn so much more about the audience, when they are buying, and peak periods, in real-time."


Kyle Bell, Marketing & Partnerships Manager
Key Results
With the help of the Eventbrite platform and a multi-tiered ticketing strategy, Rhythm & Vines went from selling tickets up to the day of the event, to selling out faster than ever before. Tickets are released five months earlier than with previous providers, and up to 50% of tickets are now sold out before the line-up is even announced.
Eventbrite's mobile-optimised solution allows R&V to connect with their young, tech-savvy audience, with 60% of ticket purchases made from a mobile device. Organisers can stay in the know 24/7 with the Eventbrite Organiser App giving them access to information at their fingertips.
Want to use Eventbrite to power your music festival? Contact us by 

getting in touch here

 or calling 1800 820 172 (AU) or 0800 448 422 (NZ)