| | |
| --- | --- |
| 21st Century 2 Day Education for Life Seminar - 2017 TBA | |
Event Details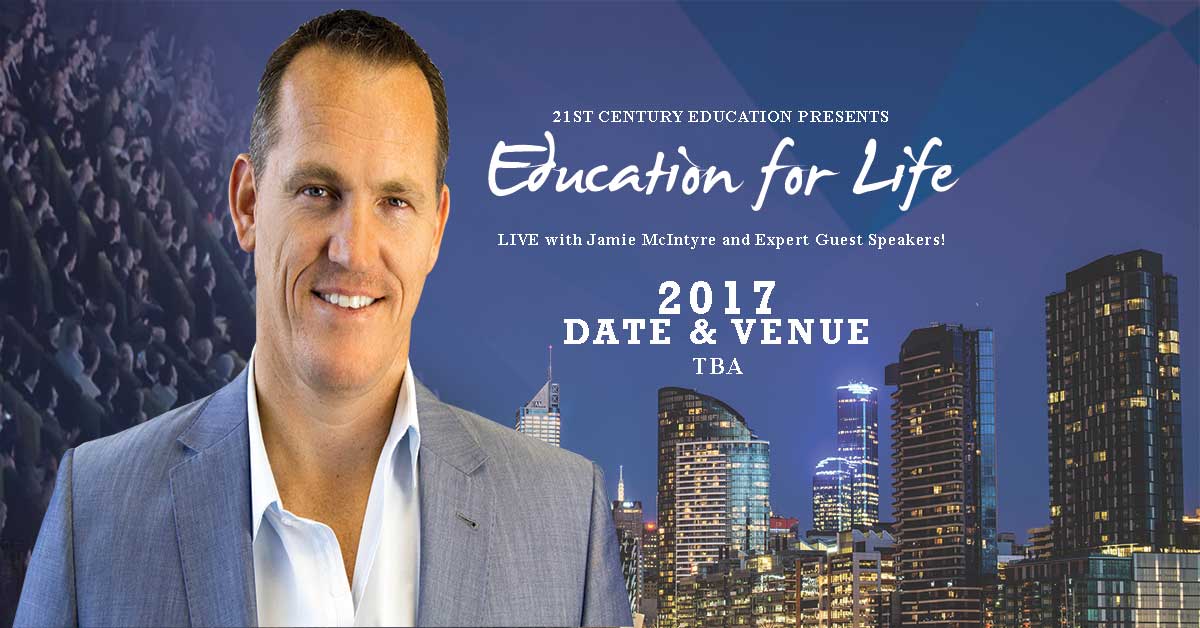 2 DAY EDUCATION FOR LIFE
Date and Venue TBA

2017 Seminar with Jamie McIntyre & Guest Speakers
---
Free

Free for 21st Century Education for Life Homestudy Members and their Spouse.
Non Members
$495 a ticket (early bird) or $995.00 at the door (if any seats left)
---
What is the 2-Day Education For Life?
Your journey to financial freedom starts with the 21st Century Homestudy Program or the 2 Day Education for Life Seminar.
Do you believe you are capable of more than what you¹re currently producing physically, emotionally & financially?
If so then apply to join us at this life changing event that can be the catalyst for your rapid advancement in all areas of your life!
At the 2 Day Education for Life Seminar, learn leading edge financial & personal strategies and develop the mindset of those who outperform. You may desire a new house, thriving business, steady income, travel, charity work, anything. Encompassing one¹s complete transformation ­ mentally, emotionally and financially, the 2 Day Education for Life Seminar teaches you what we should have been taught at school but weren¹t, ultimately giving you the power to create your own destiny. Why settle for less? When you know deep down you were born with a purpose and destiny for greater things.
The 2 Day Education For Life Seminar is your opportunity to develop the mindset required to excel in the 21st Century plus it will open your eyes to the latest, most cutting-edge positive cashflow investment strategies available. Designed for you to develop a true EDUCATION FOR LIFE, you will learn from Jamie McIntyre and a team of expert guest speakers, that will teach you the strategies to excel in the 21st Century.
No theory, no nonsense at the 2 Day Education for Life Seminar you will also learn about real life lessons from those who started with nothing but excelled.
How to potentially earn a 6 figure income by blogging

Learning about future trends and how to profit from them

How to earn while you learn

How you could make $30,000 within 90 ­ 180 days from just one

Simple strategy that the average Australian can use, and also covered in major TV shows

How to avoid the mistakes that cause most people to fail financially

Develop the mindset required to become a millionaire

Tax minimisation strategies used by the world¹s most successful entrepreneurs

Powerful Australian & U.S. Property investing strategies taught step by step by the experts!

How to build second and third incomes

How to generate passive income (money that can come in while you are sleeping ­ the ultimate goal of any investor)

How the average Australian that is paying off a house can replace their income within 90 ­ 180 days from one simple stock market strategy
And much much more!
Watch the Recap of our 2 Day Education For Life Event in Sydney! 
www.youtube.com/watch?v=AbROXbjV4ZI
These event numbers are strictly limited to provide maximum value.
For more information about the 2 Day Education for Life Event please visit: www.educateforlife.com.au/
DISCLAIMER: Any information presented in this document is given purely as illustrations and should not be construed as specific investment recommendations; It is general in nature and does not take into account your objectives, financial situation or needs. The laws relating to investment, taxation, benefits, and the handling of money are constantly changing and are often subject to changes in government policy. Whilst every care has been taken to ensure the accuracy of the material contained herein at the time of publication and presentation, the author, presenter, promoters nor the publishers will bear any responsibility or liability for any action taken by any person, persons or organisations on the purported basis of information contained in the document herein. Without limiting the generality of the a foregoing, no person, persons or organisations should invest monies or take other action on reliance of the material contained herein but instead should satisfy themselves independently (by seeking expert advice or otherwise) of the appropriateness of any such action. All investing carries some risk and you should seek professional financial advice prior to investing.