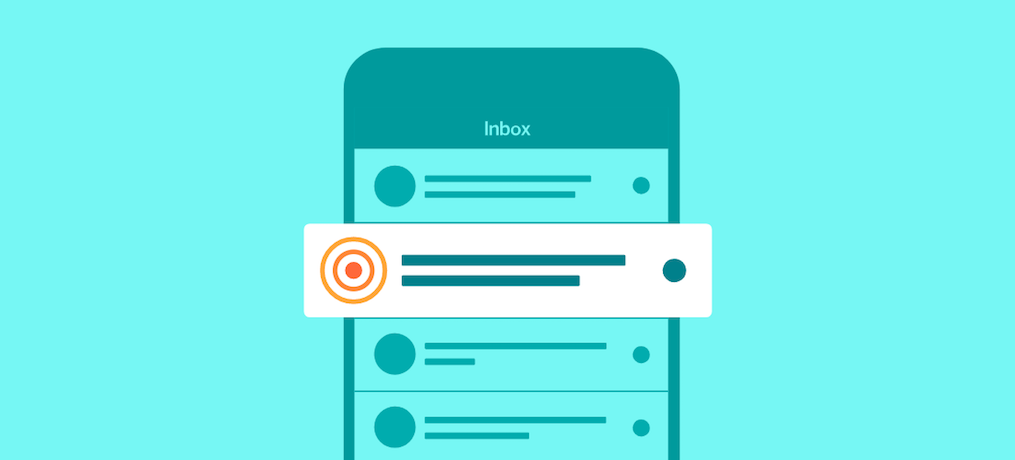 6 Excellent Examples of Event Emails Done Right
This is a guest post from McKenzie Gregory of Emma.
In the modern inbox, it can be difficult for your event emails to stand out. After all, you aren't just competing with other events and promotional messages — you're also competing against real people your prospective attendees know and trust. 
However, when you get that subscriber experience right, it leads to major results. In fact, relevant emails drive 18x more revenue than broadcast emails, according to Jupiter Research. That means it's important to optimise your email marketing strategy for engagement, not just conversion.
So, how can you make your event emails more engaging? To help you get started, here are six examples from Emma clients that showcase how to do event emails right.
1. The mobile-friendly example: The Tennessee Titans
We all live on our phones, so it's unsurprising that's where most people open their email. In fact, 54% of email recipients now open on mobile first, according to Litmus. And according to BlueHornet, 70% of consumers will delete an email that doesn't render properly on their device.
At this point, it's passé to even consider designing your event emails without mobile in mind, but there's a reason we come back to it over and over again: event creators still send emails that don't render on a small screen!
To provide a great mobile experience, stick with a scannable, one-column design, like this example from the Tennessee Titans. You'll also want to include a big, tappable CTA button and only use text that's 14px or larger. Finally, if you're directing recipients to a landing page, make sure that page is mobile-friendly, too.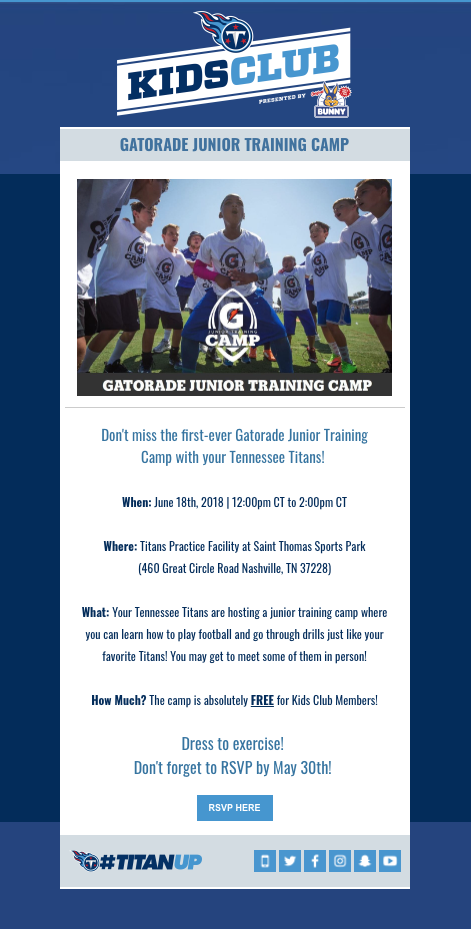 2. The GIF genius: China Chilcano
You're not seeing GIFs everywhere because they're trendy: You're seeing them because they work. Experian found that 72% of email marketers who use animated GIFs have higher conversion rates, compared to bulk emails to the same customers.
The majority of ticket sales tend to happen right after the announcement or right before the event. For all your other sends, including a compelling GIF in your email can be a great way to grab subscriber attention and boost sales during the down period.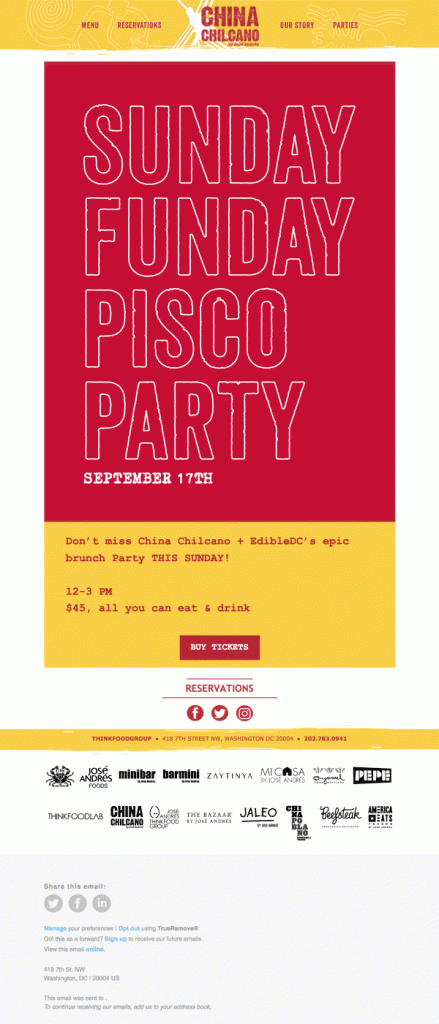 3. The sponsor send: Yoga in the Field

Another great way to fill the time between your announcement and the actual event? An email promoting your sponsors. Your event wouldn't be possible without your sponsors, so show them some love with a dedicated email to attendees.
Not only will it make your sponsors happy, it will provide value to attendees by making them aware of helpful products or services that will be at your event. This example from Yoga in the Field showcases how to promote a sponsor while still keeping the imagery and messaging relevant to the event.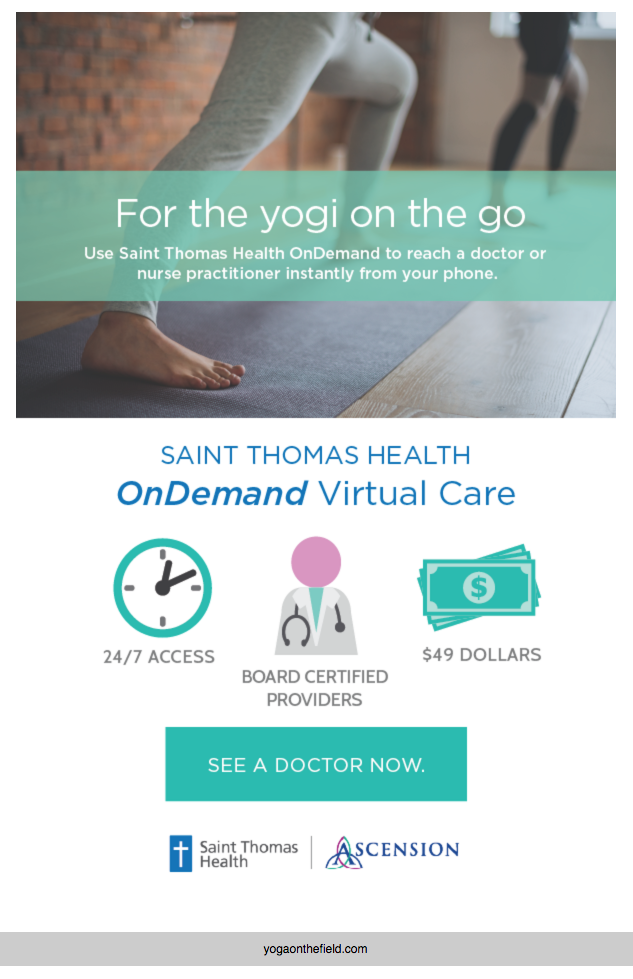 4. The post-event thank you email: Marketing United
Many event promoters put a ton of time and effort into their promotional emails, then neglect their post-event communications. Yet, your post-event follow-up email is one of the most important you'll ever send.
Your post-event email is your best opportunity to thank attendees for their time, follow up with any promised content, and ask for invaluable attendee feedback. Plus, thank you emails generate a staggering 42% open rate on average, according to Remarkety.

For Emma's Marketing United conference, we follow up the day after we wrap with the post-conference video recap, some valuable takeaways, and our attendee survey.

5. The content-based email: charity: water
Even after your event has wrapped, you can (and should) continue to serve attendees valuable content. This applies especially in the nonprofit and university space: if you want to encourage donations, it's crucial to finish the thought and maintain a connection with attendees after you've engaged with them in person.
Emma client charity: water does this better than anyone, following up with impactful content after every in-person event they host. Note how they use this as an opportunity to remind attendees to fulfil their pledged donation, too.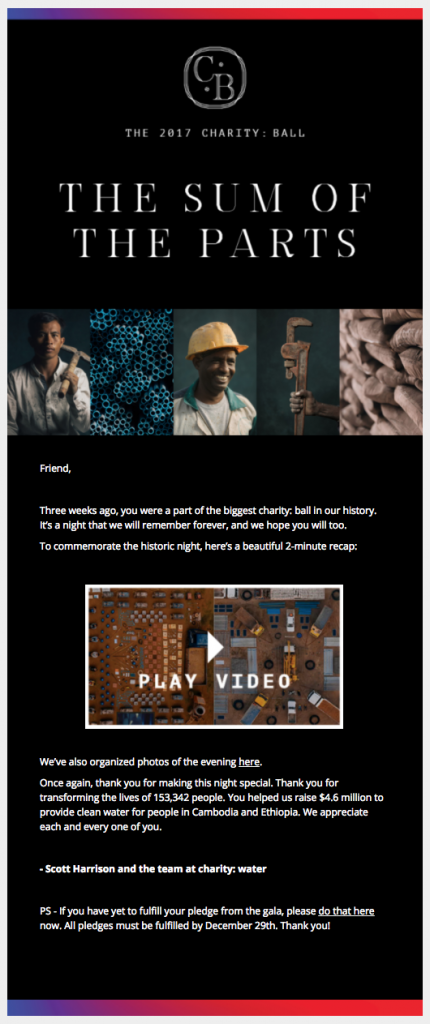 6. The win-back email: Vans Warped Tour
While you want to reach as many potential attendees as possible, you also want to keep your email list clean. This is vital to preserve your sender reputation and avoid deliverability issues (aka, landing in the dreaded spam folder).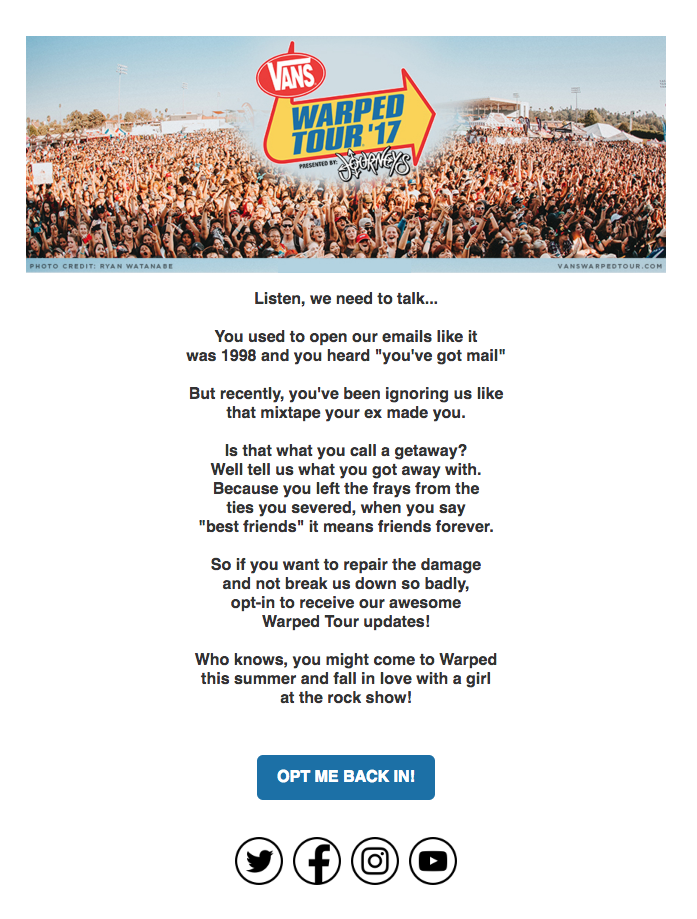 One effective strategy to maintain list hygiene is to send the occasional re-engagement email to your list, asking them to opt into future communications if they still want to hear from you. Past attendees may not want to be able to return in the future, so allow them to self-select to ensure you're getting the right message to the right people.
Interested in more marketing strategies for your next event?
Check out Emma's guide, How to Sell Out Your Next Event in Record Time, to learn how to sell more tickets, boost revenue during sales lulls, and actionable strategies to make your emails more likely to convert. Or, for more email inspiration, check out Email Marketing Tips: Turn More Email Addresses into "Yeses".