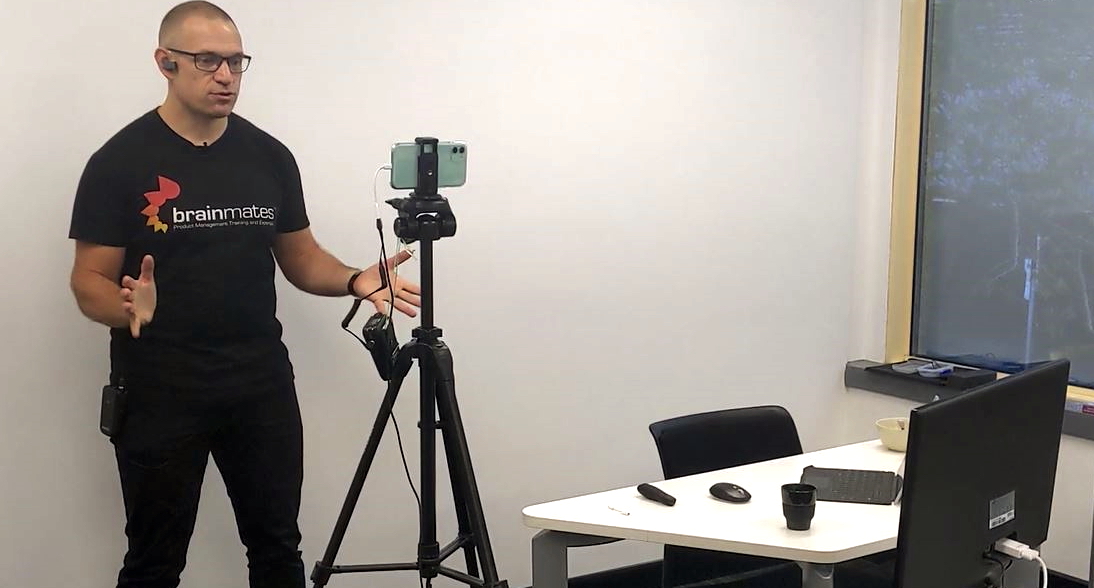 How Brainmates Pivoted From Classroom Learning To Real-Time Remote Courses
It goes without saying that times are tough for event organisers. Many of you will have your heads down in strategy docs, or on calls with suppliers, trying to plan the best way forward for your event. 
Whatever your situation, we want to show you that you're not alone. We grabbed a (virtual) coffee with Nick Coster and Jake Waddell of Brainmates, a product management training provider, to provide inspiration and learnings that you can plug into your own strategy. Nick and Jake share with us how a call from a client helped transform their face-to-face teaching model into providing real-time and remote courses. By running their training events online, the team at BrainMates aren't just surviving this crisis — they're unlocking new opportunities for their business. 
Tell us about Brainmates and the kind of events you usually run?
Our business is all about product management — we provide courses for this career niche, and improve product management capabilities within businesses through learning and consulting. With training courses running every month, we run at least 24-30 events per year, plus a large annual conference. 
How has the COVID-19 situation affected your business?
When news first started to break of the public health crisis, we had a number of clients immediately react and start cancelling classes. By March 17, we knew we needed to change quickly in order to survive. Our public face-to-face courses were no longer viable in the near future. 
One client stood by us however. AustralianSuper were keen to up-skill their staff and asked if we could provide the learning remotely to those working from home. So within seven days, we had to replicate an entirely face-to-face experience in an online environment.
What did you need to do to bring your in-person event experience to life online?
The way we approached it was we wanted to give the same theatrical experience that participants would have in a classroom. We didn't want to go into this offering a standard 'online course' experience where people watch pre-recorded videos or spend days staring at a close-up 'floating head' on a webinar screen. We cobbled together a new rig with milk crates and webcams, working hard to ensure trainers could stand up, maintain eye contact with participants, and monitor engagement. 
Usually our classroom environment would have 16 attendees, broken up into smaller groups of four to engage in very interactive activities. It's high energy, people are often standing up and scribbling on walls and post-it notes. More than anything, we didn't want to lose this energy when running virtual events. 
To create our real-time remote course, we used Zoom conferencing which has been fantastic. It has a breakout room feature, so we could continue to take the approach of having four smaller teams with mini-conferences. Our host and facilitator could bounce around between the calls, and all participants were still able to put their hand up and request support if they had a question.
The other technology we implemented is called Miro. It's an online collaboration tool which has allowed us to replicate that in-class experience. We spent four days producing prefabricated whiteboards to recreate the experience of scribbling post-it notes on a chart. We were really looking for a way to have people actively participating for the full three days. We didn't want people to receive small chunks of information and have to go off and work alone, so keeping the collaborative team aspect of our course was really important. In fact, because all participants had their contributions displayed visually on screen, we found everyone was the most collaborative they've ever been.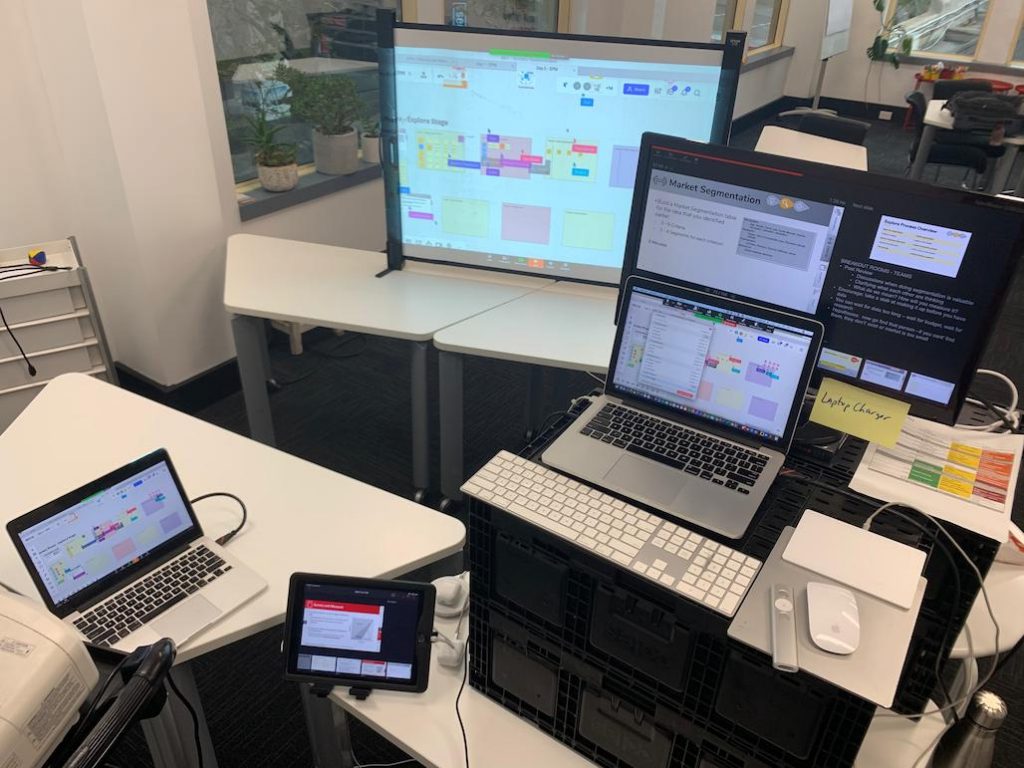 What was the response like from your attendees?
Beyond all expectations! This was already a very successful course and we felt very protective of our brand and reputation going into this trial. Close to 3,000 participants have completed our courses in person and we use a Net Promoter Score (how likely someone would be to recommend it to a friend) to judge our participant satisfaction. We already average 70/100, but our first real-time remote learning experience achieved 100/100 with all participants saying they would recommend it. 
How did your staff manage the switch to working online?
Our whole team really pulled together. We ourselves had only just transitioned to working entirely from home, so using these virtual tools like Zoom and Miro really helped our own team learn how to collaborate online instead of in person. 
How do you think this experience will change your business going forward?
Our initial response when social distancing measures came into place was to contact all booked participants and move them to courses later in the year. Most customers felt it would be better to complete the course in person and a few weeks ago we would have agreed. 
Now that we have a prototype that we're confident is as good — if not, better — than our classroom experience, we're able to prove the concept and transition over to a new virtual model. Rather than postpone all of our events, we have started inviting people to come back and join us online.  
We're also excited to start offering our remote learning approach to a wider audience later this month. While everyone working from home has its constraints, it also opens a new world of opportunities outside our geographical footprint. 
For one of our trial courses we had a participant registered from Townsville, who previously would have needed to travel to Melbourne for three days to complete the course. Now we're open to any location, any time zone, and have full flexibility to provide the same quality of learning to those who wouldn't normally attend in person.
Key takeaways for workshop and training event organisers
If your workshop or class event business has been disrupted by Covid-19 safety measures, take note from creators like Brainmates:
Communicate with attendees:

If you have upcoming events, survey your registered participants to find out if they would be interested in trialling your class or workshops online.

Evaluate your event model

: If you're thinking about starting a new online workshop, survey past customers and

evaluate your past events

to focus on what people value most, so you can replicate this in the online experience. 

Brainstorm with your team:

Consider how you could bring the real-world experience to life on screen, rather than feeling like a static presentation.

Think beyond the crisis:

Rather than focusing on the situation you've been forced into, consider the longer term opportunities for your classes and workshops. Getting it right could provide new revenue streams even after the recovery process has started.
To get started with an online-only event, check out our blog post 'How to Host an Online Event or Webinar That Live Event Attendees Will Love', or find more resources on our COVID-19 resource hub.