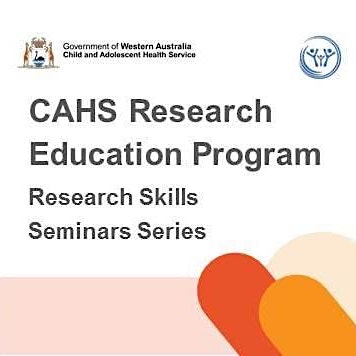 CAHS Research Education Program
The CAHS Research Education Program is pleased to present the Research Skills Seminar Series, hosted by the WA Department of Health, Child and Adolescent Health Service, Department of Research.
Our exclusive and informative series of Seminars and Workshops are presented at Perth Children's Hospital throughout the year, with an aim to facilitate research projects by busy students, and staff from any clinical background (e.g. medical, nursing, allied health, pharmacy, laboratory etc.). 
The Research Skills Seminar Series offers open-access, free seminars on key topics across the whole research process, with comprehensive handouts including additional information and resources. All our Seminars can be attended during your lunch-hour and are broadcast live online through various hosted video-conference sites, and available for viewing on your PC or personal device using the Scopia application. Recordings from each seminar in the series are also accessible from our website.
For a copy of our latest calendar of training opportunities, visit:
https://cahs.health.wa.gov.au/Research/For-researchers/Research-Education-Program/Research-Skills-Seminar-Series-calendar
SUBSCRIBE
Click here to subscribe to our mailing list to stay informed of our upcoming events and training opportunities.
DISCOVER
Visit our website for more information about the Research Education Program.
CONTACT
Phone: +61 8 6456 4585
Email: researcheducationprogram@health.wa.gov.au