Sales Have Ended
Ticket sales have ended
We are sorry the Registration Time Limit of 20 minutes has expired.
Sales Have Ended
Ticket sales have ended
We are sorry the Registration Time Limit of 20 minutes has expired.
Description
Become a Marine Biologist for a Day and be immersed in a full day of marine science:
Get up close and touch live marine creatures

Find out why animals look and feel the way they do, how they function and what their role is in the marine environment

Learn what problems humans create for them and why we need to look after them.

Learn about Sharks and the important role they play in the marine ecosystem

Understand why sharks sometimes attack humans

Touch real shark jaws
In Marine Biologist for a Day, our aim is to educate students with the right information based on science to create informed, future custodians of the ocean and all its wonderful creatures within it.

Parents are invited to arrive half an hour before the conclusion so they may be educated by their children, giving the kids a chance to show off the wealth of new information they have acquired. Parents will be amazed just how much their kids remember.

Marine Biologist for a Day will be an experience they will never forget.

Spaces are limited, bookings essential!

About your Presenter
Richard Coward is a marine ecologist and co-founder of Ocean Life Education. Richard's incredible passion for the marine environment and vibrant personality allow him to educate and inspire children and adults to care for the ocean and its inhabitants. Richard has extensive experience managing exhibits in local and overseas aquariums, working with sharks, seals, penguins, turtles, sea jellies, fish, octopus and invertebrates to name a few. He has been involved in research projects such as buoyancy syndrome turtle research, shark research and breeding programs as well as whale rescue. Richard's knowledge has been reported on the Totally Wild television series and various news broadcasts. As a father of three he enjoys the fascination sea animals bring to young minds.
FAQs
Are there age/grade requirements to participate?
Yes, students must be in grades 2, 3, 4 or 5 in 2017.
What time does the day start and finish?
Start time is 9 am and finish time is 2.30 pm. Please arrive at 8.45 for a 9 am start.
Parents are welcome from 2 pm to be educated by their children and view the live marine animals.
What to bring?
CLOTHING
Children are asked to bring a hat, for morning tea and lunch times.
Dress comfortably, casual with enclosed shoes.
MEALS
There is no food provided. Bring drinks, morning tea and lunch.
Please Do NOT bring foods containing nut or nut products.
Supervision?
**Please note parents are not required to stay. However, if necessary, you may touch base with your child during break times.
The children will be supervised at all times by the workshop leaders both in workshop times and break times. During break times children are supervised in designated areas. Parents are asked not to take children away from the supervised area before notifying the event organisers.
How can I contact the organiser with any questions?
You can contact the Ocean Life Education office phone: 07 5443 8545 or Email us: info@oceanlifeeducation.com.au
What do I do if my child is unwell?
Please notify the event coordinator as soon as possible. Unfortunately refunds will NOT be possible.
Refund Policy
Refunds will not be possible for this event.
Organiser of Marine Biologist for a Day - April 2017
Ocean Life Education 'brings the sea to you' providing fun environmental education programs designed to inspire students of all ages to appreciate and take responsibility for the marine ecosystem.
Interactive programs aim to impact the learner's attitudes, beliefs and behaviors with the long-term outcome being sustainability of our marine environment.
Marine educators arrive with fascinating live marine animals, artifacts, games and information, blending 'hands on' interaction with science and entertainment.
We have been providing curriculum based workshops in schools, early learning centres, outside school hours care and environmental events since 2006.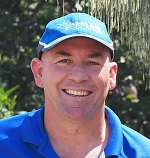 Richard Coward is a marine biologist, teacher and our Director of Education.
"Ocean Life Education is committed to making a difference. We believe that early awareness and understanding form a basis for life-long learning and appreciation of our marine environment," Richard Coward.