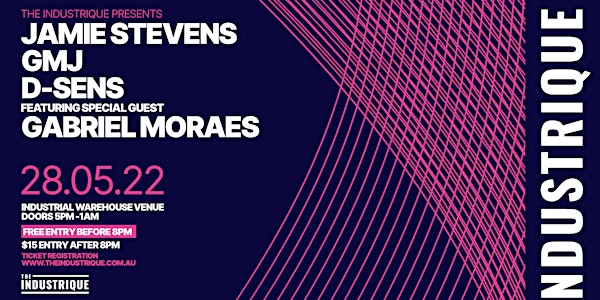 JAMIE STEVENS//GMJ//D-SENS//Feat. Special Guest GA
Location
The Industrique
5-7 Louvain Street
Coburg North, VIC 3058
Australia
2 HOUR SETS // FREE ENTRY BEFORE 8PM (WITH ONLINE REGISTRATION)
About this event
In celebration of 'Vibrante Lumiere EP', a collaboration recently released on Sprout Records, The Industrique presents a night of Jamie Stevens, GMJ & D-Sens, featuring special guest Gabriel Moraes, who will play his first Melbourne set since returning from Brazil!
REGISTER HERE FOR FREE ENTRY BEFORE 8PM ($15 ON THE DOOR AFTER 8PM)
**LINEUP**  (2 HOUR SETS)
JAMIE STEVENS
GMJ
D-SENS
GABRIEL MORAES
Expect the ultimate sound and visual experience as each artist unleashes a special two hour set 
_________________________________________________________
**EVENT DETAILS**
* Saturday 28 May 2022
* 5pm-1am
* FREE ENTRY BEFORE 8pm or $15 on the door after 8pm . Ticket registration is essential for both paid and unpaid entry - register here: https://www.eventbrite.com.au/e/jamie-stevensgmjd-sensfeat-special-guest-gabriel-moraes-tickets-324487229037
JAMIE STEVENS - A stalwart of the scene.  From the legendary electronic outfit 'Infusion' through to his solo career.  Jamie's releases include Bedrock, microCastle, Guy-J's Lost & Found and Dave Seaman & Steve Parry's 'Selador', with some of his latest work in collaboration with Anthony Pappa. Jamie's sets always bring a unique sound experience, each one taking you on a new journey through the body and soul of this mastermind of the electronic music scene.
GABRIEL MORAES - Causing a serious international stir, Gabriel's music has been played and praised by Eric Prydz, Solomun, Victor Ruiz, Coyu, John 00 Fleming, ANNA, Richie Hawtin, Pan-Pot along with an abundance of the world's most influential artists. It's clear the masses are recognising this soaring act, with Prydz recently vocalizing his support for Gabriel on live radio.
GMJ - Gavin Griffin is a pioneering force in the Melbourne scene and has performed in all corners of the globe. Releasing music on some of the most recognised and progressive labels such as Hernan Cattaneo's Sudbeat, Mango Alley, D-Nox's Sprout Records, Viscera, as well as running Meanwhile Records with music partner, Matter - a label fast becoming one of the most proficient in Australia.  Constantly reaching top charts, his carefully crafted music showcases the finest in deep and progressive sound from around the world.
D-SENS - Hailing from the 90's Electronic French scene, Matt has been traveling all over the globe through music and sound, producing, playing and also sound engineering for some incredible artists and events. Music is his vessel, crafting his art, training his ears and tuning his heart to always extend the limit of acoustical beauty and quality. His sets reflect his passion and love for music, people and our community.   Having recently jumped back into the studio, his latest releases on D-nox's Sprout Records has been reaching top of the charts and resonates his artistic delightful touch.
___________________________________________________________________________________________________
- Industrial warehouse venue in premium northside location
- Top of the line production, Nexo Geo sound in acoustically treated warehouse
- 1400 square metres of indoor/outdoor areas
- Delicious food by Burwood Cafe
__________________________________________________________________________
R18. Photo ID required. You must register for a free ticket to gain both paid and unpaid entry.
The venue reserves its rights.
www.theindustrique.com.au