Sales Have Ended
Registrations are closed
Thank you for registering for the the GSA Annual General Meeting and Mawson Lecture. You will be sent a link to attend the webinar in Zoom prior to the meeting.
Sales Have Ended
Registrations are closed
Thank you for registering for the the GSA Annual General Meeting and Mawson Lecture. You will be sent a link to attend the webinar in Zoom prior to the meeting.
Join us online for the Geological Society of Australia Annual General Meeting followed by the Mawson Lecture by Professor Allen Nutman (UoW)
About this event
The Mawson Medal and Lecture recognises outstanding contributions to Earth Science in Australia and commemorates the work of the late Sir Douglas Mawson OBE FAA FRS, geologist and Antarctic explorer. The award is made to a scientist normally resident in Australia and whose work has relevance to Australia.
The 2021 Mawson Lecture will be delivered by Professor Allen Nutman, School of Earth, Atmospheric and Life Sciences, University of Wollongong.
Topic: 50 years of the Eoarchean: The case for evolving uniformitarianism
Abstract: It is 50 years since the recognition of some gneissic crust (~3000 km2) in Greenland surviving from Earth's first billion years. This overturned the then prevalent ideas that the young Earth was far too violent for rocks from its first billion years to survive. In the following few years it emerged how 'normal' this early Earth appeared to be, with oceans by 3.7 billions of years ago and 'continental' crust dominated by rather normal granitic sensu lato rocks and even Barrovian-style metamorphism. This was compatible with Eoarchean lithosphere development by a geodynamic regime with some similarities to Phanerozoic plate tectonics. However, the literature in the recent years is increasingly turning to model-driven non-uniformitarian 'heat pipe' and 'stagnant lid' geodynamic scenarios for the Eoarchean.
This presentation examines the Eoarchean geological record focussing on Greenland. The Eoarchean is a particularly difficult part of Earth's geological record interpret because: (i) Only about 1 millionth of the present crust is of that vintage; over the past 3.6 billion years the rest was destroyed by the restless Earth. (ii) Of that millionth, most was tectonothermally reworked in the late Archean, so that in most places the Eoarchean tectonic/structural relationships and metamorphic assemblages were destroyed - but fortunately many gross geochemical and isotopic features of the protoliths survived. Surviving Eoarchean features such as tectonic thickening bringing older rocks thrust over younger ones, upper mantle rocks overlying crustal ones and relict metamorphic assemblages ranging from ultra-high-pressure to low pressure granulite (apparent geothermal gradients from <250 to ~1000°C GPa-1) and mafic rocks resembling island arc tholeiites and boninites, favour some form of mobile lid regime operated in the Eoarchean (resembling, but not identical to, Phanerozoic plate tectonics); under an umbrella of evolving uniformitarianism. Contrary to this, entirely non-uniformatarian interpretations do not fit the broad range of field and laboratory evidence extracted from Greenland's scant Eoarchean geological record
Biography: Allen has made some fundamental discoveries concerning the evolution of early Earth, through numerous field campaigns in arduous conditions. He has revolutionised our understanding of Greenland geology by applying necessary, detailed geological mapping and applying necessary geochronological dating obtained through state-of-the-art geochronological techniques that he personally obtained. He is considered to be one of the leaders in the understanding of the early history of Earth. Allen also made significant contributions to ancient rocks through successful international collaboration.
Once you have registered, you will receive a link to attend the meeting on 18 May.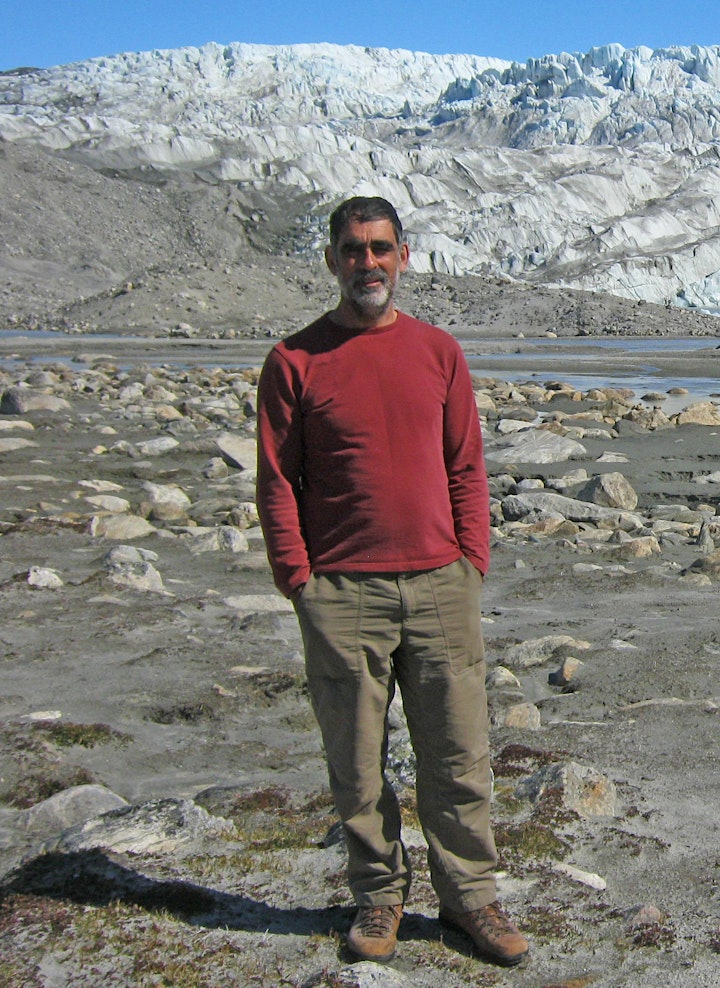 Organizer of GSA Annual General Meeting and Mawson Lecture