The 5th Mission - Diversity Station Annual Dance Showcase - 5th Anniversary Show!
About this event
In celebration of our 5th anniversary, we invite you to join our mission to stars! 🚀
Our annual showcase is the perfect event for friends and family, packed with an exciting line up of out-of-this-world performances from our crew and students. With nearly❗13 MILLION❗ views on YouTube, these performances will leave stars in your eyes. 🤩
Oh, and did we mention there'll be GIVEAWAYS and FREEBIES on the night? 😯
⭐ LOCATION
THE ROYALE THEATRE | PLANET ROYALE
12 Lake St, Northbridge WA 6003
⭐ TIME
Thursday 9 December 2021
Doors: 5:30pm
Show First Half: 6pm
Intermission: 7:PM
Show Second Half: 7:15pm - 8:30pm
⭐ TICKETS
🎟 Theatre seat tickets: $20
🎟 Bar standing tickets: $15
🎟 VIP booth package: $100
Includes: Booth seating for 4 people + complimentary bubble tea (limit 1 per person)
🎟 VVIP booth package: $175
Includes: Booth seating for 6 people + complimentary bubble tea (limit 1 per person)
TICKETS AVAILABLE ONLINE ONLY
Hit GOING on the Facebook event to get the latest updates on our event and invite your friends and family for an evening of dazzling performances!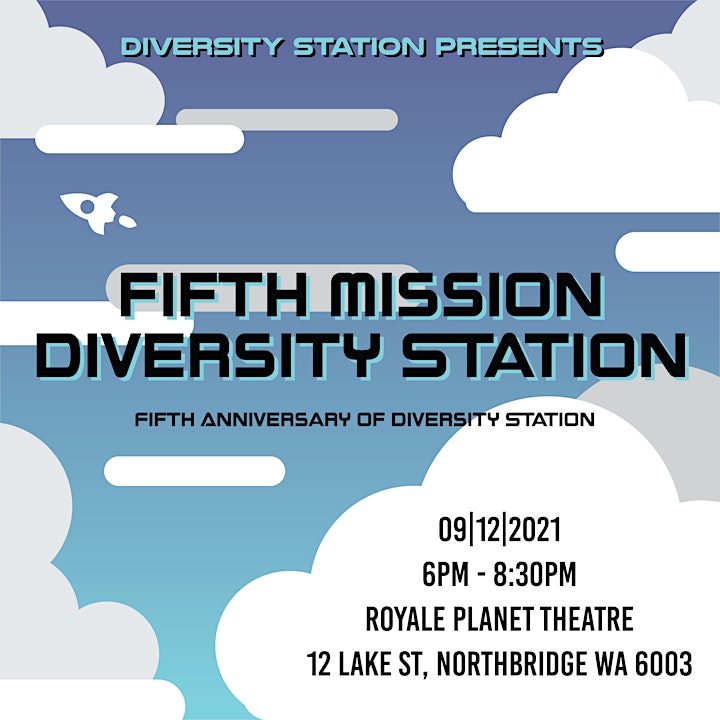 Organizer of Diversity Station Fifth Anniversary Show
A once purpose-built IMAX theatre, the Royale Theatre is now home to live entertainment, and boasts incredible sound and visuals, the most comfortable seats in Perth, and an in-theatre bar. The Royale Theatre is part of Planet Royale, where you can eat, drink, play and enjoy live entertainment all under one roof. Button mash with your mates on our vast array of retro arcades and marvel at arguably the GREATEST public collection of pinball machines in the whole of Australia. Re-spawn your soul and your stomach at Pulp Kitchen, where you'll find an epic food offering that would have even Vincent Vega drooling. Level up (quite literally) and indulge in a bespoke cocktail at Major Tom's, our cocktail lounge that oozes good vibes and good tunes, before catching a show in The Royale Theatre. Situated in the heart of Northbridge, Planet really is a one-stop entertainment destination! You are welcome to arrive early before your show to enjoy Planet Royale, or stay on after the show!
NOTE ABOUT VIP BOOTHS: For VIP Booths, you only need to purchase 1 ticket to buy a booth. VIP Booths seat 4 people per ticket, VVIP Booths seat 6 people per ticket.
NOTE ABOUT TICKET RESALES: Please note our tickets are only available for resale through TIXEL. Please do not accept ticket resales on any platform except Tixel, and please do not send anyone you don't know money for tickets, as they are most likely to be a scammer selling fake tickets.