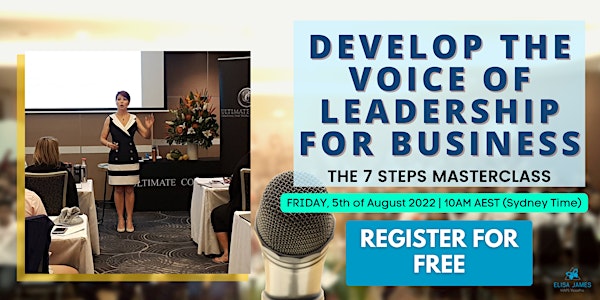 Develop the Voice of Leadership for Business - the 7 Steps Masterclass
FREE 60-Minute Masterclass for Business Owners & Professionals who want to master their presentation skills on camera.
About this event
This new Masterclass by Elisa James is part of her brand new Anti-Webinar series of live events for business professionals.
In this short, 60-minute 'Anti-Webinar', Elisa gets straight to the point right off the bat and gives you tangible tools to feel and sound more confident when you are speaking in public, both on camera or off.
"If you are sick of the old-school webinar model, full of fluff and fillers where you actually learn nothing... then you are in the right place. "
I have thrown the old webinar model out the window this month and created a brand new "anti-webinar" in its place.
It's going to be a short, succinct training where you'll actually learn stuff (gasp!) that you can take and put into action right away!
(Spoiler alert: there will be a soft pitch at the end if you need more of my help – I am in business, after all – but even if you don't need it you'll learn lots of useful tips and tricks to help you improve your public speaking skills)
In this 60-minute live event, you will learn the 7 most commonly used speaking patterns that disempower you when you speak.
When you learn to avoid these patterns, you will be one step closer to being seen and heard as a Leader in your field.
Learn the 7 Steps to Sounding Like a Leader so you can powerfully take your rightful place in this world as a confident and competent leader.
Register for my anti-webinar NOW.
Many people suffer from a fear of Public Speaking....
But it doesn't have to be like that.
I help business professionals cure their fear of public speaking every single day in my studio.
If you freeze up on camera every time you press that "live" button..... 🤔
Or perhaps get tongue tied when your boss asks you for an update in the boardroom.... 🤔
YOU ARE IN THE RIGHT PLACE!
Many people struggle with nerves and anxiety around public speaking, and for some people, the very thought of being on camera, or in the 'spotlight' (what ever that means for them) is enough for them to go weak at the knees and start to sweat!
If that sounds like you - then I'VE GOT YOUR BACK!
Whether you struggle with:
➡️ A fear of public speaking
➡️ A fear of being on camera
➡️ You hate the sound of your voice on audio or video
➡️ Your colleagues or boss don't pay attention to you when you're speaking
➡️ You get super nervous during work presentations..
This Anti-Webinar Is for YOU!
💪 It's time to learn to win over any audience with a holistic approach to Public Speaking & Performance from Australia's #1 Voice and Speaking Performance Coach - Elisa James M.Mus.,T.h.M
Ready to be valued, trusted and respected every time you speak or present?
Then REGISTER for FREE NOW!!! ✍️
Who is this for?
BUSINESS OWNERS: Who want to raise their visibility and credibility through social media videos, podcasts, interviews or webinars.
CORPORATE PROFESSIONALS: Who want to speak with confidence and authority in business meetings, job interviews, public speaking events, training events, or on-camera meetings.
HUMANS: Who want to build more confidence around speaking up for themselves in life and business. Anyone who wants to learn how to love their voice and feel empowered by their ability to calmly and effectively communicate.
📅 Join us, LIVE on for our unique FREE 1-hour Masterclass on:
Thursday, 4th August 2022: 7pm CST (Chicago) / 8pm EDT (New York)
Friday, 5th August 2022: 10am AEST (Sydney)Friday, 5th August 2022: 10am AEST (Sydney Time)
Elisa James M.Mus., T.h.M., is a professional voice and presentation coach to speakers, singers and actors all over the world.
As an On-Camera Performance Coach she helps Business Owners, Entrepreneurs & Coaches get on video with confidence so they can grow their business faster using the power of Video Marketing.
Elisa holds a Masters Degree in Voice Production and is passionate about helping people bring their voice and their message to a bigger global audience.
After 35 years on stage and on camera worldwide as a professional entertainer, Elisa now coaches business owners, authors, and speakers in the art and science of successful public speaking and on-camera performance.
She has coached some of the world's most esteemed coaches, speakers & organizations including:
Tony Robbins Coaches and Speakers, T.Harv Eker Coaches and Speakers, Brendon Burchard Coaches, Apple, Google, Get Motivated Events USA, TV Presenters, Radio D'J's, Celebrities, Olympians and many more...
Here's what some of Elisa's Students have to say:
"Elisa will help you move forward FASTER!
- Dre Job Search Specialist