Description

Click here if you can't view the video
As part of Vivid Ideas 2017, join us for a panel discussion with selected academics, arts workers and NGOs to discuss the themes covered by the Cause & Effect exhibition, what perspectives and insights the artworks bring to the conversation, and how artists can play a more active role as agents for social change.
Speakers include:
Grace Patridge: NSW Leader, Amnesty ARTillery Action Group
Jiva Partipan: Cultural Development Officer,(STARTTS)
Lena Nahlous: Executive Director, Diversity Arts Australia
Mia Zahra: Community Development Coordinator, NSW Family & Community Services
Miriam Cabello: Artist/Curator/Academic, MLC Gallery
Paula Abood: Writer, Creative Producer, Director & CACD Worker
Priscilla Brice-Weller: Managing Director, All Together Now
Emcee: Sunil Badami
WHY ATTEND?
Hear stories from heads of NGO, government and arts workers/artists about their projects, their inspiration, successes and challenges
Discuss the themes covered by the Cause & Effect exhibition and see what perspectives and insights the artworks bring to the conversation
Get ideas on how the arts has been used to engage and facilitate social change
Learn interesting ways to engage with your audience or community, or create social impact programs
Meet other like-minded individuals who are also looking to understand how the arts can be used effectively to create social change
This forum is part of Cause & Effect, a visual arts exhibition which kicks off with a launch night and ends with this forum - we invite you to join us for both events!
---
FREE EXHIBITION: 24 May - 4 June 2017
As part of Vivid Ideas 2017, Carnival of the Bold and MLC Gallery present "Cause and Effect", a 2-week visual arts exhibition by six artists, designed to shine a spotlight on some of the more current and pressing social issues faced by Australian society: War & Conflict, Environmental Destruction and Racism.
The exhibition will prompt audiences to consider and deliberate some complex, multi-faceted and sensitive themes, aiming to raise awareness and conversation around these social issues and also give a voice to marginalised communities.
---
LAUNCH NIGHT & ARTIST SHOWCASE: Saturday 27 May 2017 @ 8pm-10pm ($35)
As part of Vivid Ideas 2017, come and meet the six participating artists who developed work for this exhibition. They will share their inspiration, personal connection with the cause, process, reflections, perspectives and hopes. Artists include Andrea Srisurapon, Mandy Schöne-Salter, Marwa Charmand, Miriam Cabello, Sherine Tan and Tia Kass.
Emcee: Eleanor Jackson
WHY ATTEND?

Be inspired by artists who have championed social change via their art

Hear their perspectives and approach to these social issues

See how the artists can give a voice to marginalised communities and raise the profile of social causes

Meet, network and seed collaborations with an engaged community of artists and changemakers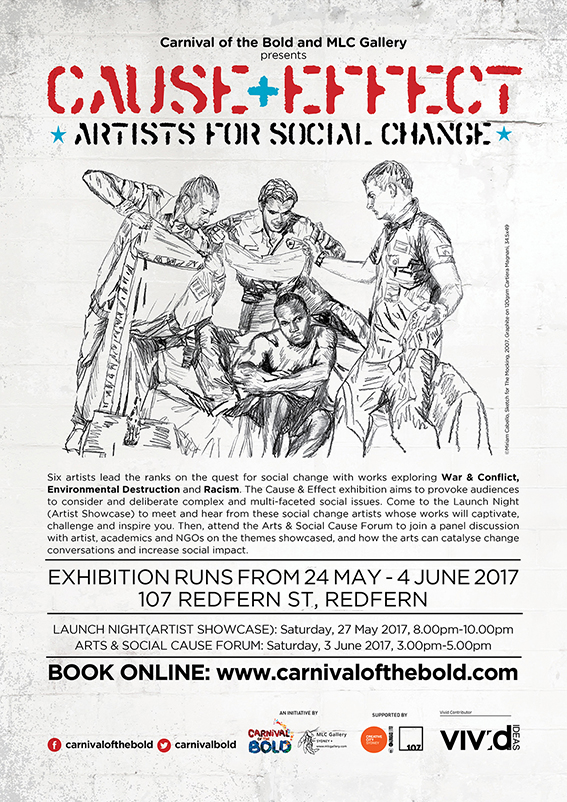 Organiser of Cause & Effect: Arts & Social Cause Forum
We seek to champion the arts for social change. Together, let's create a movement of social change and a coming together of artists and other leaders who drive important issues of our time - to create deeper engagement around social causes. We aspire to bring important issues to the mainstream agenda, raise public consciousness and shine new light on what it means to live with greater humanity.