Description
Program Summary
This workshop is a 2 day intensive experience where you, (yes, YOU) will be building your very own 3D printer. Not only will this teach you the vital components that make up 90% of 3D printers but it will also give you the ability and freedom to repair, modify and upgrade it yourself (similar to a PC). Learn the method of how to use it effectively with an interactive walk-through on the slicing software and all the settings to ensure your prints come out amazing or what to do if they don't. We will not let you leave unless your printer is working as it should be.
Concluding this workshop you should walk away a 3D printing whizz!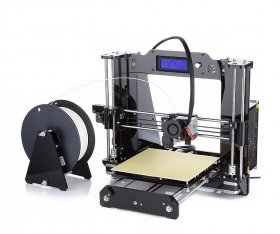 Learn to build, calibrate, upgrade and maintain the Prusa Mendel i3 3D Printer!
Why A DIY Printer?
A DIY printer is not only the most affordable printer but also gives the user an ability to upgrade or modify it as they wish to suit a specific task. Need a taller build height to print figurines? A wider build plate for shoes? A bigger nozzle for large, strong prints? Finer accuracy for small, detailed models? Being open source, most of these upgrades can be downloaded, printed and upgraded at minimal cost – this is kind of like comparing a PC to a MAC.
The most popular open source 3D printer to ever come to market featuring huge amount of online support, thousands of modifications and an abundance of resources. Print with a wide variety of materials (PLA, ABS, Rubber, Nylon etc.) or even have the option of attaching a laser cutter
Features

– Large Build Volume (XYZ): 200mm x 200mm x 180mm
– Aluminium Heated Build Platform capable of 100 degrees C
– 0.4mm Direct Drive Nozzle
– ACME Z-Axis Screws
– Automatic Bed Levelling
– LCD Control with SD Card Support
– Motherboard: MKS Base v1.4 with Arduino MEGA2560 and RAMPS1.4
– 1kg PLA filament
– 4gb SD Card
The Agenda
Cost: $999 + $250 to bring a partner
Time: Running over a 2-day weekend (Saturday and Sunday)
Location: Blackburn High School Main Library
Duration: 2 full days; 10am – 5pm
Capacity: 10
Requirements:
> Basic assembly skills

> Laptop Computer
Content:
Day 1: Introduction and assembly
> Learning the components of a 3D printer and how they work together

> Assembling the 3D printer step by step

– Frame

– X-gantry

– Y-gantry

– Heated Bed

– Extruder

– Hotend

– Z-axis

– Motherboard wiring (no soldering required)

– Power Supply wiring (no soldering required)

Day 2: Software and printing

> Installing the recommended drivers

> Uploading the firmware to the printer

> Introduction to slicing and GCODE (Cura 15.04)

> Slicing a model and pre-printing preparation

> Calibration

> Maintenance

> Making changes to the firmware using Arduino
The Workshop Experience
UNDERSTANDING
By building a 3D printer yourself, gain the necessary skills to allow the freedom of modifying, repairing and upgrading it as you wish – like a PC.
It will only just keep getting better.
EXPERIENCE
Be confident you will be getting the best experience with tutors having built countless machines to guide you through the process and answer all your questions
ENJOYABLE
Learn this revolutionary technology in a fun and interactive environment and feel accomplished by building a fully working machine where your imagination is your limitation.