Description
Get ready to be entertained, informed and inspired at this never before conducted special event - 100 Not Out Unplugged. Fresh back from the 100 Not Out Longevity Retreat in the Greek island of Ikaria, Damian Kristof and Marcus Pearce share the gold nuggets of longevity learnt on the "island where people forget to die."
From nutritional insights to relationship secrets, the meaning of life to the way through the government web of healthcare, no stone is left unturned in this fun, dynamic, and always provocative evening.
When these two get on the stage together there's only two things you can be sure of - one hell of a good night and some deep and meaningful truth bombs you won't hear anywhere else!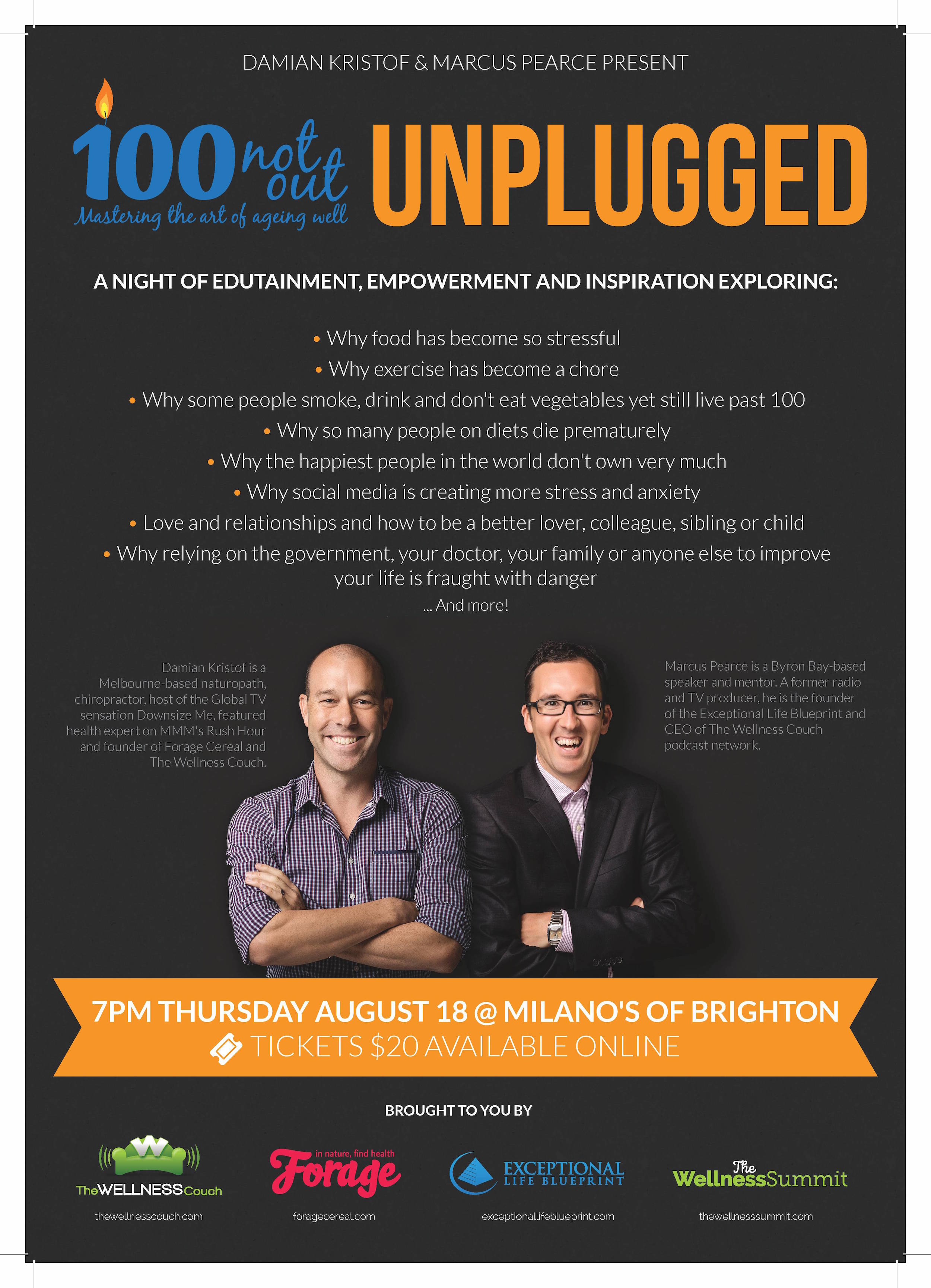 Organiser of 100 Not Out Unplugged
Marcus Pearce is the CEO of The Wellness Couch podcast network and founder of the Exceptional Life Blueprint - the 8-step transformational program designed to help humanity rise from mediocre to magnificent in each area of life - and not just one - thereby creating their own exceptional life.
Each year Marcus travels to the Greek island of Ikaria - known as the island where people forget to die. Ikarians experience 25% less, 50% less heart disease and 75% less dementia than the rest of the world. Why? How?
In developing the Exceptional Life Blueprint, Marcus has interviewed an incredible range of Exceptionals. From Holocaust survivors, war widows and world record holders to little old ladies, health experts and centenarians, Marcus brings a unique blend of timeless wisdom and modern research to his events and presentations. 
In his own words, 
"I never thought I would grow up to be helping people live exceptional lives. In my former life I was a sports-mad workaholic journalist, radio and television producer. That life included an obsession with AFL football, which led to working as an associate producer at Channel Nine's The Footy Show. 
That life also included years as a smoking, binge-drinking, overweight, pimply statistic-waiting-to-happen.
The beginning of the revolution came when I met my now-wife Sarah, a wellness chiropractor. Embarking not just on a magnificent relationship but a complete lifestyle and philosophical change, I began to slowly take away my least healthy habits and replace them with life-enhancing, empowering ones. 
Today I find myself inspired to teach people the difference between mediocre and exceptional living. I do this through my podcasts, presentations, online programs, live events and more. 
On a personal note I reside just outside of Byron Bay with my wife Sarah and our four beautiful children (soon to be four), Maya, Darby and Tommy. I'm the eldest of three (I have two wonderful sisters, Olivia and Georgia) and live within a functionally blended family including step-parents, step-siblings and so on.
I wear two professional hats – one as the founder of the Exceptional Life Blueprint – an 8-step process to creating a magnificent life – and CEO of The Wellness Couch podcast network, Australia's #1 podcast network with lifetime downloads exceeding 8 million and over 2.5 million annual downloads. I host the weekly podcast 100 Not Out and can also be found on Your Exceptional Life, the Go Vita Podcast and archives of Inside The Champion's Mind."