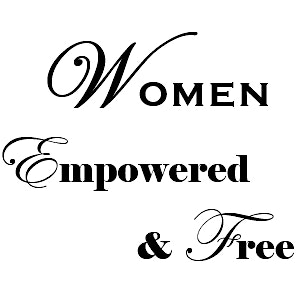 Women Empowered and Free
LET'S LIVE EMPOWERED and FREE...Together!
My vision to build an international community of empowered and free women, that impacts millions of lives all over the world and supports initiatives to set women and girls free everywhere!
I believe we are each created with a unique identity, gifts and a purpose - a message or service that others out there need.
The outcome of our upcoming Women Empowered and Free Challenge is to:
Reclaim Your Authentic Identity & Confidence
Clarify Your Vision for Your Life & Form a Success Plan
Start Your Transformational Journey to Create the Life You Desire in 2021
So that you're living with Vitality, Passion, Purpose and JOY!
Imagine you have a clear vision, you know what you want and have a plan to achieve it!
Imagine having unstoppable confidence, feeling filled with hope and excitement about your future and feeling FREE...enjoying the now and knowing you are creating the vision you have for your life!
Imagine the joy and peace you would experience and how this would flow through you to impact all of those around you.
When you are living this way as your authentic self you were created to be, that is what I call Women Empowered and Free.
Are You Up For The Challenge?
This is for...Driven Women who are ready to Transform their Life into one of Passion, Purpose and Joy!
Women who have a burning desire to be who God has created to be, reclaim their authentic identity and step into God's vision and calling for them.
AND women on a mission to impact the world and use their gifts to help others.
If you're ready to take action and step onto the pathway to successfully increasing your vitality, passion, purpose, income, time, and happiness, NOW is the time to join me and the vibrant community of...
Women Empowered and Free!
Let's finish this challenge and be Empowered, Confident and Free together!
Sorry, there are no upcoming events