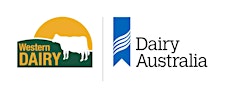 Western Dairy
Western Dairy is one of eight Regional Development Programs across Australia delivering research, development and extension programs to help improve the profitability and sustainability of dairy farms in the region.
About Us
Western Dairy is a not-for-profit organisation funded through dairy farmer levies that are matched by Federal government funds channelled through Dairy Australia to Western Dairy. In addition to this funding, our activities are substantially augmented through additional funding partnerships, lead by the WA Department of Primary Industries and Regional Development. 
Western Dairy works closely with the South West Catchments' Council, who is our delivery partner and where our offices are based. In supporting WA dairy farmers to be the best they can be, we also work closely with WA Farmers Dairy Section, South Regional TAFE, South West Development Commission and the Department of Environment, Water and Regulation.
Western Dairy's key areas of operation
Western Dairy focuses on six key areas of operation:
Animal Systems
Feedbase
Human Resource and Farm Business Management
Natural Resource Management
Industry perception and image
Western Dairy operation and management
To learn more, review our Annual Report and three-year Strategic Operating Plan.
Sorry, there are no upcoming events