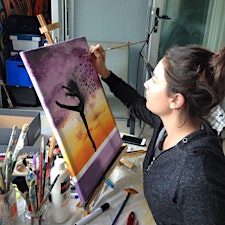 Wesley Taylor Art Studios
Wesley Taylor Art Studios is runs events through out Brisbane with two locations Friday nights in the city and valley, and on Tuesday nights. 
The new 'Paint & Sip' sessions are a great way to socialize while exploring your creativity!
Booking a 'Paint & Sip' session deals vary on the venue. We currently have a '2 for 1' introductory offer that allows you to bring along a friend or simply book two lessons for yourself.
No experience is required to attend these sessions. Wesley Taylor is a professional artist who will be glad to guide you through the entire procedure or making your personal masterpiece.
What's more? You can take your artwork home afterwards. Decorate your house or gift the self-made artwork to a friend for their birthday or special occasion. The artwork can also be picked up at a later time if required.
All essentials are provided including a 40cm x 30cm canvas, easel, paints, brushes and glassware. 
The paints are water-based but aren't so easy to wash off. Therefore, we have aprons available if required.
The location is easily accessible through bus, train or ferry. Street parking is also available.
It is recommended to book in advance due to limited seats, Sessions for larger groups however, can be arranged