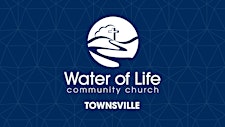 Water of Life Community Church Townsville
We are thrilled to be in Townsville at Youth With a Mission (YWAM). Just talking about planting a church in this community is exciting for us. As you look around Townsville you see a city with a great heartbeat. We believe establishing a church in this community will be a launching pad for great opportunities for us to serve and share our Passion for God and Compassion for People.
Outreach ministry is at the very heart of Water of Life Community Church. It is what we are passionate about. We reach neighbourhoods we live in, and we reach nations all over the world.
Water of Life has three different campuses in Southern California. The campus in Townsville will be our first international campus. Although this campus is 8000 miles away from our main campus in Fontana, we believe that we have come here with the same purpose…to share the love of Jesus.
There are many needs in the community here. People need healing, both physical and emotional. People need a supernatural touch from God, in a church setting, where they can experience community and relationship with other people. People also can become equipped and trained, discipled, and released to minister in other places. That is the heart of Water of Life. That's what we do well. We are really excited about what the future holds and want to invite you to join us in the journey.
Water of Life Community Church Townsville • Townsville, QLD