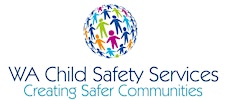 WA Child Safety Services
WA Child Safety Services is Western Australia's specialist provider of Protective Behaviours, Cyber Safety and Pornography education programs and resources. We work with children, young people, parents, educators, and professionals to create safer communities.

Our team of Child Safety Advocates and Trainers collectively brings decades of experience in abuse prevention education. We are a multidisciplinary team that share specialist backgrounds in education, social work, psychology, policing and specialist child interviewing.

Each year thousands of Western Australians access our programs. Protecting children from harm is a shared responsibility. Contact the WA Child Safety Services team today to find out more about how we can work together to create safer communities for children.
Katharine Susannah Prichard Library • BOYA, WA
$40