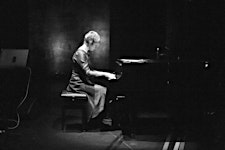 Therese Milanovic
Dr Therese Milanovic is in demand as both performer and pedagogue. In 2009, Therese completed her Taubman teacher training with the Golandsky Institute in New York City, the subject of her completed PhD, which has now been published. She reached Associate level certification with the Golandsky Institute in 2012, became Associate Faculty in 2014, and is currently the only certified Taubman Instructor in Australia. Therese regularly travels to the US to attend the Golandsky Institute Summer Symposium to continue her Taubman training, in addition to working frequently with her teachers Edna Golandsky and John Bloomfield via Skype.
Earlier in 2014, Therese organized John Bloomfield's first visit to Australia to conduct private lessons and a weekend workshop, which attracted participants from across Australia, and brought her colleague violinist Sophie Till and the Taubman / Golandsky Approach to Strings to Australia for the first time in May with similar success and acclaim.
Therese has presented numerous workshops on the Taubman Approach to piano technique for Queensland Conservatorium Griffith University (QCGU), the Music Teachers' Association of Queensland (MTAQ), and was an Invited Speaker at the Australasian Piano Pedagogy Conference (2011). Teaching the Taubman Approach is the focus of her teaching at QCGU and privately, attracting students from interstate, as well as regional and international students via Skype.  The students in her studio include beginners, high-level and professional pianists, and those looking for answers to issues of fatigue, tension, pain and injury at the instrument.
She has performed with Brisbane-based Topology since 2009, including recordings for ABC, collaborations with the Brodsky String Quartet, superstar drummer Grant Collins, Brisbane Festival, Queensland Music Festival, national tours, performances in Indonesia, Singapore, and touring the Netherlands and Belgium with the Kransky Sisters. Previously, Therese was a founding member of Collusion, with whom she toured nationally with Musica Viva Country Wide, Musica Viva in Schools, and released their debut CD "In Depth" with Move Records.
Therese loves performing chamber music with fellow kindred spirits, and bringing both traditional and lesser known repertoire to the stage.
Sorry, there are no upcoming events