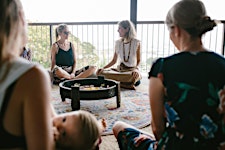 The Motherhood Gathering
Your facilitator for the current gatherings and programs is Belinda Haan.
Belinda is a Masters-level certified professional coach and has worked with executives and leaders in various Fortune 500s and companies including Facebook, Visa, LinkedIn, Australia Post, Telstra, Macquarie Bank, NAB, Westpac, The Benevolent Society, Symantec, Salesforce, Logitech, and UberEats across four continents. 
Belinda became a mother in 2010 and has two beautiful children. But, the transition into motherhood was not linear and 15+ years of coaching and leadership development experience and education could never have prepared her for this life-changing role. Eighteen months of chronic sleep deprivation and anxiety bubbling under the surface left her yearning to be part of a mother's group that actually nurtured the well-being of the mother and encouraged vulnerability and sharing their experiences. But nothing like that existed.  
Then in early 2019, Belinda had a series of synchronistic encounters that reignited the fire in her belly to connect with mothers in all seasons. Her sister's birth as a mother, along with a visit to the inspirational New York Motherhood Center meant she could no longer ignore the inner yearning to support mothers at a deeper level. 
Belinda wholeheartedly believes that if the mother thrives, the whole family thrives and this was the motivation that spurred her to start the Motherhood Gathering - an alternative to the traditional mother's group where the focus is solely on supporting the mother. 
In addition to running gatherings, Belinda also offers an integrative approach to individual and small group personal development. She draws on evidence-based coaching psychology, Acceptance and Commitment Therapy (ACT), neuroscience, integrative wellbeing, meditation, stress-reduction techniques, ancient wisdom and restorative yoga to facilitate inner wisdom and mind-body connection. She is an iRest Yoga Nidra Teacher (Level 1).
the Body Method Cornerstone • Currumbin, QLD
$160