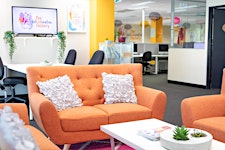 The Lab Factory Cosharing Space
Located in the very heart of Rockingham, Western Australia, our collaborative space of 510 square meters is spread over the entire ground floor with direct disability access. Everything from the building itself, to the decor and amenities have been chosen to line up with the recommended standards. The large expanses of windows that allow natural light to flow through the space, to the balance of open work spaces versus private meeting rooms have all been tailored and chosen to fit with the most up to date research on collaboration and productivity.
It's not only about ergonomic chairs and desks or three fully equipped conference rooms. You'll also find chill-out areas with sofas, self-service tea and coffee facilities in the fully functional kitchen and lunch tables. The Lab Factory offers the perfect conditions for businesses to thrive and grow.
Sorry, there are no upcoming events