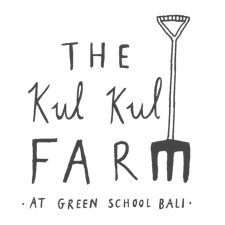 The Kul Kul Farm
The Kul Kul Farm is located walking distance from the Green School main campus in Bali. We are passionate about growing clean food and bringing people together in meaningful ways to learn and live closer to the land. 

We offer courses and workshops in regenerative farming and permaculture in Bali that will give you practical knowledge and skills to help change your gardens, communities and lives.
We provide food-garden implementation and revitalisation services, and will soon be selling tools, seeds and all the things you need to get started on growing awesome food in your home.
We work with skilled teachers from different parts of the world with down-to-earth expertise and experience on regenerative agriculture and environmental leadership. 
Sorry, there are no upcoming events