Teck Design & Marketing
About the Presenter
Esther Anderson's online journey has travelled many paths over the past 15 years. From eCommerce, digital marketing, domain name trading, eBay and Amazon stores, building websites and online training courses,  event promotion, social media management and personal consulting taking brick and mortar businesses from offline to online eCommerce, to name just a few.
Esther founded several businesses online. A successful web design agency Teck Design and Marketing; a virtual staff agency: Smart Office Online Services (SMOFONSE); two podcasts: The Ins and Outs of Outsourcing and The Digital Technology Podcast Happy Hour With Tan and Esther.
Esther conducts training both in Australia and the Philippines. Her expertise in assisting Business Owners to build their digital strategy brought her to appear on ABC Radio to talk about Cyber Safety and Deciphering the Internet.
Esther is also writing her next book and creating an online training course to simplify understanding the internet easier for all.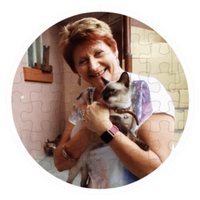 Sorry, there are no upcoming events