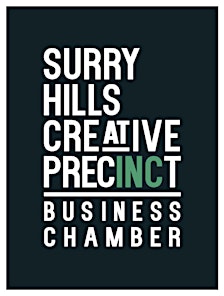 Surry Hills Creative Precinct - Business Chamber
The Surry Hills Creative Precinct is a non-profit organisation established to promote Surry Hills as a creative cluster and cultural hub. We are a rich collective comprised of like-minded local businesses committed to seeing Surry Hills and its businesses flourish; to promote and advocate for the area and its needs.
We seek to highlight and encourage the area's vitality; support new partnerships; to bring new projects to fruition: to have Surry Hills as a recognised international destination for outstanding design.
The Surry Hills Creative Precinct is also the first Chamber of Commerce of Surry Hills, we are now able to offer not for profit status to all projects under our banner resulting in access to a world of new collaborations and funding sources. 
Sorry, there are no upcoming events