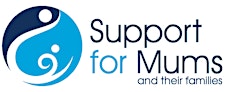 Support for Mums and their Families
Support for Mums and their Families Inc. was established in 2012 to support families through circumstantial crisis. Many families may never have the need to access support services until crisis occurs and prevents the family to function to their normal capacity. Support for Mums and their Families Inc. offer a non-judgemental service providing practical support, information and referral to families through times of circumstantial crisis.
Crisis that occurs such as premmie baby, unwell baby or child, depression/anxiety in the family, perinatal depression (pre/post natal) relationship breakdown, sudden change of circumstances can cause much stress on the family. We offer information and referral, practical assistance and funding where needed to ensure that practical tasks are carried out to relieve pressure on families during these times. 
Sorry, there are no upcoming events