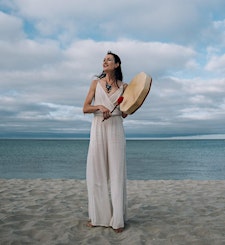 Stacey Smart Rhythm
Stacey Smart is an Embodiment Facilitator, Drummer/Percussionist and Western Australia's first certified Qoya Dance Teacher. She has played and taught drums and percussion professionally for 25 years, performing in classical ensembles and orchestras, rock bands and African drumming groups to more recently also leading workshops, circles and classes. Music is her life and festivals are her spiritual home.
After the birth of her second daughter and returning to instrumental music teaching work in 2016, she experienced adrenal fatigue, burnout and knew something had to change. Starting a morning Qoya movement practise and birthing her own ritual drum initiated the healing and awakening of the sacred feminine within. She is passionate about helping women reconnect to their inner goddess, get out of their heads into their bodies, reclaim their creativity, sensuality, power and voice through dancing, drumming, singing and self-care.
Stacey has a Bachelor of Music (Performance Major in Classical Percussion), Graduate Diploma of Education (Secondary Music), is spurred on by her insatiable love of learning and the desire to fulfil her divine potential while also encouraging and inspiring others to step into who they came here to be!
Subscribe to Stacey's new & full moon newsletters:
www.StaceySmart.com
for rhythmic rituals, embodiment tips and to hear about upcoming events such as retreats, Qoya dance classes, drumming workshops and women's circles based in Dunsborough, Western Australia.
Sorry, there are no upcoming events