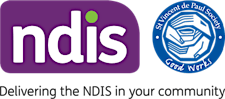 St Vincent de Paul Society NSW
St Vincent de Paul Society NSW
Delivering the NDIS in NSW
Vinnies is partnered with the National Disability Insurance Scheme (NDIS) to deliver Local Area Coordination (LAC) services in NSW. We support people, aged 7 and above, to connect to the NDIS and other mainstream and community supports. 

Our LAC services are available to residents of the Central Coast, Hunter, New England, Central Sydney, South East Sydney and South West Sydney.
To help you build your NDIS skills we run regular information sessions and workshops. At these events, our experienced LACs are on hand to answer your questions and support you to navigate the NDIS.
If you have any questions about events in your area please get in touch
Phone: 1800 794 934
Email: LAC@vinnies.org.au
Sorry, there are no upcoming events