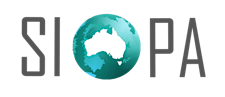 Society for Industrial and Organisational Psychology Australia
SIOPA is an independent and incorporated association with a purpose to create growth, supervision and professional development opportunities for Organisational Psychologists and related disciplines in Australia. 
SIOPA is an inclusive industry group designed to engage not just Organisational Psychologists but related disciplines such as Human Resources, Organisational Development/Capability, Recruitment, Business Psychologists, Registered Psychologists, students etc. SIOPA offers its members an engaging and informative website, regular CPD and networking events, supervision opportunities and a growing network to advocate, support and connect our community.